I'm A Hormone Expert: This Is The Recipe You Should Eat In Your 30s To Stay Full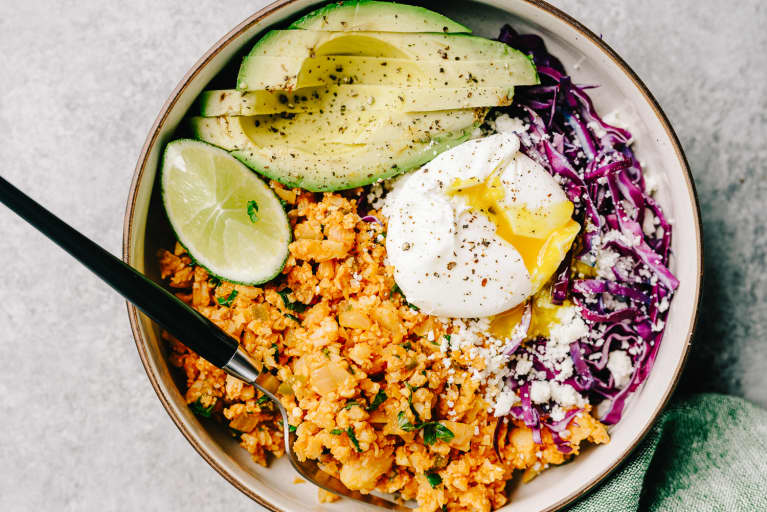 When it comes to hormone-enhancing foods, hormone expert, midwife, and integrative medicine doctor Aviva Romm, M.D., is chock-full of recommendations (she even gave us a grocery shopping list for each decade, in case you want to bookmark). All healthy, antioxidant-rich foods are worth adding to cart, don't get us wrong, but she does offer a few superstars to focus on with each hormonal shift—considering your hormones fluctuate throughout your lifetime, it can be helpful to get granular with specific foods.
For today's highlight, let's dive into your 30s: At this age, Romm suggests you indulge in a nice, big macro bowl.
Why macro bowls are great for your 30s.
Here's the thing about macro bowls: They help you get all the nutrients you need in one hearty, oh-so-satisfying meal. "If you get a nice [macro] bowl in, you get some good whole grains that help prevent PMS and help keep your blood sugar steady," Romm explains. Plus, the balance of grains to protein to veggies helps you stay fuller for longer: "You're getting some kind of legume, fish, or poultry that [provides] really good energy; and you're getting all those really helpful vegetables," she adds.
While you're more than welcome to build a beautiful macro bowl at any age, Romm tells us that they're especially phenomenal for your 30s—namely, because they're so easy to meal prep and chuck together. "Women in their 30s are often really busy," she notes. To that end, she recommends foods that stabilize your blood sugar and keep you satiated for longer—things like whole grains, legumes, and sources of clean protein—as well as recipes you can whip up in five minutes flat. Oh, hello, macro bowls.
How to create a satisfying macro bowl.
Macro bowl recipes run the gamut (here are a few yummy options with quinoa as a base), but we'll go ahead and offer a Romm-approved recipe for your meal-prepping pleasure. For her bowl, she recommends you have some sort of base (greens and grains), beans or legumes, vegetables, protein, and healthy dressing. Based on those requirements, feel free to play around with the below:
½ cup whole grains (brown rice, quinoa, etc.)
½ cup greens (kale, spinach, arugula, etc.)
½ cup beans or legumes (lentils, chickpeas, et al.)
1 cup vegetables of your choice. Romm especially loves sweet potatoes, but any antioxidant-rich veggie will do.
1 serving protein. Romm has a thing for wild-caught fish ("[It's] great for your hormones, great for your hair, great for your skin, great for your mood") as well as eggs, if you can tolerate them. "Eggs [are] phenomenal for choline, for supporting healthful fertility," she says. Or, always feel free to stick to the beans and legumes for your protein.
1 to 2 tablespoons tahini. "Drizzle some tahini in there; I'm a huge fan," says Romm. The sesame seed paste is packed with healthy fats and heart-supporting benefits—but you can also opt for another fatty-acid-rich dressing (like avocado or olive oil), as fats are the building blocks for hormones.
Prepare your veggies however you please (roasted, sautéed, steamed, etc.), as well as your whole grains, legumes, and protein. You can even do this the night before to make assembly a breeze.
Lay a bed of greens in a bowl, followed by the whole grains and legumes.
Top the bowl with your protein and veggies of choice.
Drizzle the tahini (or other dressing) on top, season to taste, and dig in!
Macro bowls are top-notch for your 30s, as they're easy to whip up and help stabilize blood sugar—which is important for those who are seemingly always on the go. Feel free to use Romm's recipe as a template and concoct your favorite creations with whatever healthy foods you've got.