A Terrarium Jungle & Tabletop Greenhouse Make This European Home Truly Wild

mbg Sustainability + Health Director
By Emma Loewe
mbg Sustainability + Health Director
Emma Loewe is the Senior Sustainability Editor at mindbodygreen and the author of "Return to Nature: The New Science of How Natural Landscapes Restore Us."
February 10, 2022
We carefully vet all products and services featured on mindbodygreen using our
commerce guidelines.
Our selections are never influenced by the commissions earned from our links.
It's common for people to bring the outside into their spaces using houseplants, but Karen (Ren) of @whoputalltheseplantshere has gone a step beyond to actually foster entire landscapes in her Erlangen, Germany, home. Here, Ren shares how she has packed an aquarium, organic table, and multiple terrariums into limited square footage and crafted a home that is alive in every sense of the word.
What inspired you to fill your space with houseplants? Was there an "aha" moment, or have you always loved keeping greenery at home?
I've always felt very connected to nature. As a child, I used to collect cacti, but they all died, which made me feel like I didn't have a green thumb and disheartened me. In my first year of university, I moved in with a friend of mine who had a lot of plants. Her room was always so pretty because of all the greenery and she gifted me a cutting of her pothos plant, which I managed to keep alive! Finding my green thumb with her help was my "aha" moment.
What's your favorite part of being surrounded by so many plants?
Mostly it's watching all the growth around me. I can have a bad day but then seeing my favorite plant pushing out a new leaf makes me feel better. I love taking time to care for a plant and then watching it grow big. I'm also always inspired by my plants, and I like finding new ways to display them.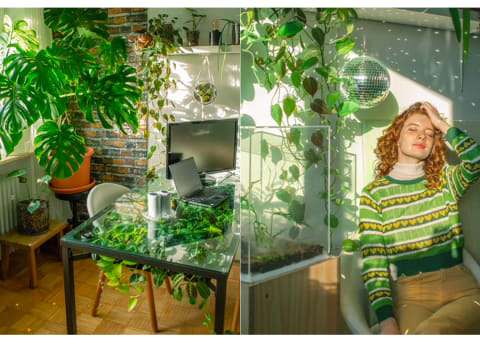 Image by @whoputalltheseplantshere
I'm obsessed with your plant table! Can you talk through how you created it/how you care for it?
Thank you! The idea honestly started out as a joke. My partner and I were looking for a secondhand dining table and found this glass table with a metal grid below the glass plate. Jokingly, he pointed out that I could put plants into it, "like I do with all our furniture." Well, the joke's on him—I did exactly that!
To make it, I built a tray for the substrate and then placed the plants on a grid on top. It took some trial and error, but I made a little video on the process to help people who want to try it. Once built, it's very easy to care for. Since the substrate is hydroponic, I just refill the water reservoir every two months in winter and every month in summer. I add fertilizer while watering, too, and prune the plants if needed. But that is it!
What are your favorite plants to place in terrariums and why?
I would say it depends on the setup of the terrarium. Sometimes I like to keep it very minimal and only put one or two plants in. In that case, I usually use plants that look unusual, to highlight them. For example, in one of my terrariums, I have a Monstera obliqua, which I won in a plant DIY contest! It is a very special plant I never thought I'd own one day.
For terrariums I want to look more full, I'll add plants in a variety of leaf sizes, shapes, colors, and textures. I love combining bushy plants with climbing/trailing plants to create the illusion of a small forest landscape. Aroids, ferns, and calathea are the best plants for terrariums in my experience. They really love the humidity!
It looks like you have limited square footage. What are some ways you maximize the space you have?
Yes, the flat is quite small! In the beginning, the hardest part was finding a way to store all the things that I didn't want to display all the time. (I've found that closed cabinets and shelves tend to make rooms look smaller and less open, so I try to use them as little as possible.) My solution was making use of spaces under the bed and sofa for storage.
The living room, where you'll find most of my plants and decor, is also small and has a sloped ceiling, which is suboptimal. Since we use it as both a living and dining room, I've divided the two areas by placing a sofa in the middle. It sounds counterintuitive, but I've found that this creates clear zones and makes the room look larger. Not using tall cabinets and furniture makes the ceiling seem higher, too!
I also try to not use too many different colors, or else the room might look too crowded. I keep the decor (except for plants, of course) minimal. Decentralized lighting also gives the illusion of more space.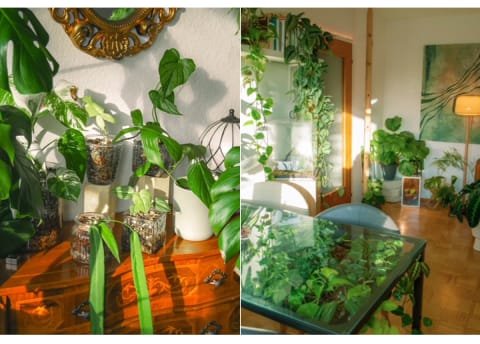 Image by @whoputalltheseplantshere
What noises can be heard in your home? What smells are there?
Our home is pretty quiet. Sometimes you can hear the dripping of the water in the aquarium. When it rains outside, you can hear the raindrops falling onto the roof and windows. We adopted a hamster last year, and sometimes during the day, you'll be able to hear him chew on his food or turn around in his sleep. And every now and then, when I build something, you'll hear a hammer, a saw, or a screwdriver. My partner plays the piano, and I play the cello, so sometimes you'll also get music.
In the morning and afternoon, it smells like coffee! I also love nature-scented candles. Every few hours when the ventilator in one of the terrariums is turned on, the living room starts smelling like fresh damp moss in a forest.
What object in your home brings you the most joy and why?
This might be a controversial answer...but for sure my weighted blanket! It's so comfortable and really helps with my stress and anxiety.
How does your home support your health & well-being?
Before COVID, I didn't put as much effort into my home as I do now. Spending so much time at home made me realize that I want to feel comfortable and safe; I'm sure a lot of people can relate.
So now, my home is kind of my safe space. I've been struggling with depression and anxiety for a while now, and redecorating helps me take my mind off things and get a feeling of accomplishment. My plants calm me down and bring nature into my home, and displaying my art and creations within my own four walls helps me express myself!
What does the word home mean to you?
For me, home is not one place. I've lived in different cities and countries, and all these places feel like home to me. Home is all the places that I miss when I'm not there. Home is people that I've grown to love. Home is a place in which I feel content.
Recreate the look: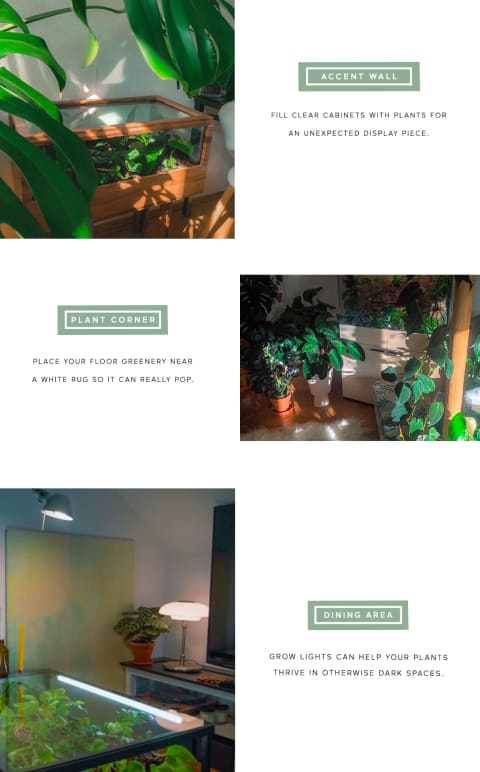 Image by @whoputalltheseplantshere
This interview has been lightly edited and condensed.