Hilary Duff On Aging: Her Best Beauty Hacks, Favorite Skin Foods & More

Beauty & Health Editor
By Jamie Schneider
Beauty & Health Editor
Jamie Schneider is the Beauty Editor at mindbodygreen. She has a B.A. in Organizational Studies and English from the University of Michigan, and her work has appeared in Coveteur, The Chill Times, and Wyld Skincare.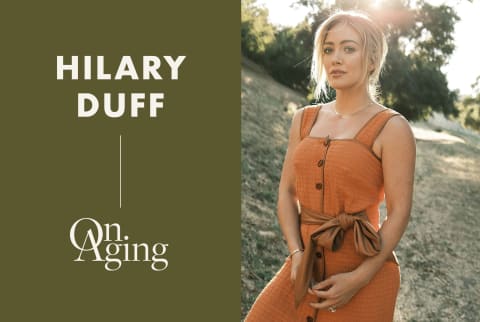 Image by Ashley Barrett / mbg Creative
September 13, 2023
We carefully vet all products and services featured on mindbodygreen using our
commerce guidelines.
Our selections are never influenced by the commissions earned from our links.
Welcome to On Aging, a series that highlights industry icons' approach to beauty through the decades. They'll share what makes them feel most beautiful, their biggest beauty experiments, and, of course, all of their skin and hair care tips.
This series typically highlights icons 40+ with multiple decades of beauty experiments, tips, and defining habits under their belt. But as someone who has been working in the industry since the age of six (and became a household name not long after), Hilary Duff certainly has those formative years of experience.
At 35, the actress and mom of three carries a wealth of insider knowledge and a unique perspective on aging in the spotlight—I'd say it's pretty uncommon to have millions of people trailing your major skin shifts, from teenage textural concerns to that very first fine line. And besides, there's no one more iconic than Hilary Duff.
I recently had the opportunity to sit down with Duff and chat about all the aging skin, hair, and makeup tricks she's honed over the years. Let me tell you, she's just as warm and dazzling IRL as she appears on-screen, so prepare for some *very* relatable recommendations below.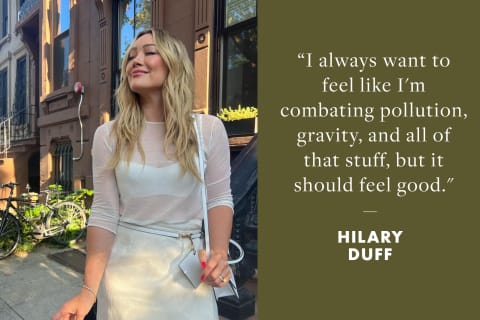 Image by Hilary Duff / mbg Creative
On her current beauty philosophy
"I think that once you start experimenting with makeup and skin care, you have to just really find out what works for you. Everybody's skin is different, everybody's face is different.
"My philosophy as I've gotten older is just to do less. I wear way less makeup than I used to. I have way less time than I used to, and I actually feel a lot better doing less. I care more about my skin care routine than having makeup on."
On her sunscreen wardrobe
"I wear so much sunscreen. My bag is usually filled with a couple different kinds for different things that I'm doing outside, whether it's sitting in the park while my child's playing soccer, or if I'm playing tennis. I always want to feel like I'm combating pollution, gravity, and all of that stuff, but it should feel good.
"I love EltaMD—the one that's tinted. I just really like the texture and the coverage. The color's really good for me. I don't love pink tones; I love yellow tones for my skin.
"And then there's a Kosas one that I'm obsessed with. It's so good. I like the Supergoop! Glowscreen, and then I have a stick—it might be EltaMD, too—and it does have a little bit of a white tone, but I need that when I play tennis. I need something a little stronger."
EltaMD UV Daily Tinted Sunscreen
$ 36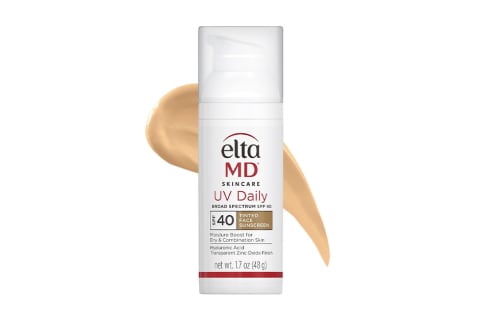 Kosas DreamBeam SPF 40
$ 40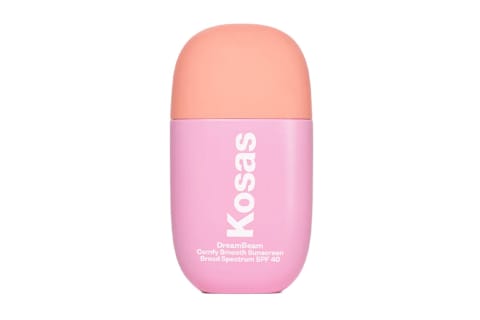 On the best beauty hack she ever heard 
"So my makeup artist is here, and we were recently talking about this. It's weird to think about a 'hack,' because it's usually just something that you do naturally [and] in a hurry.
"But we were talking about this, and it is genius: When you are putting mascara on and it transfers somewhere, most people wipe it and then it [smears]. And then you've destroyed your makeup, or it's just a bigger mess. Instead, let it dry, finish what you're doing, and then take a dry spoolie and fleck it off. It comes right off.
"Another one to clean up your makeup is putting a little bit of moisturizer on a flat brush and going around [your eyes] and cleaning them up.
On her current makeup routine  
"I think that probably as I get older, lasers, peels, and things like that are going to be more important to me than what foundation works the best. But I'm already doing pretty minimal stuff daily.
"I love a highlighter, and I love glowy skin. I love to curl my lashes, put mascara on, and use a little brow product and comb them up. It's gotten really fast, and it's gotten really minimal, and it feels so much better.
ILIA Fullest Volumizing Mascara
$ 28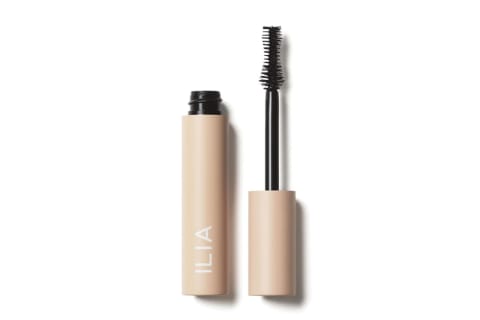 On her bedtime beauty tips 
"I'm the worst, but I try not to sleep in a rubber band, because it's hard on your hair to be in that tight [style]. So I'll do a loose braid, or I'll just let my hair down. And I have a giant [glass of] water beside my bed."
On her favorite skin foods 
I take collagen powder. In the morning, I usually make a smoothie, and I try to get a lot of my protein and my greens in there. I totally believe that eating [healthy] fats makes your skin look good. Avocados…bacon sometimes can fall under the same category. [Editor's note: You heard it here first—bacon is skin care!]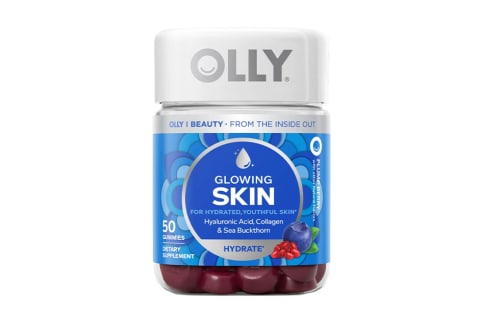 On what she would tell her younger self 
"Take it easy on the eyeliner and the accessories. And the [intense] highlighted face. It was of the time, so when I look back I know I wasn't [the only one]. But it was just such a different time. Everything was all about highlighter, a dark kohl eye, and just so much."
On what makes her feel most beautiful 
"Honestly, getting a really great night's sleep, waking up on the weekend with my family, and just being in the backyard, all of us in our natural state. That makes me feel the most confident, the most happy, and the most beautiful. Usually when I feel confident and happy, I feel beautiful.
"It's not typically a state of mind that I'm in, you know? Like, I feel so beautiful right now. But it's usually when I am not dolled up."
On what a perfect day looks like 
"Waking up, opening all the doors in our house, having the dogs running in and out, going for a swim, ordering a delicious coffee, and getting a workout in.
"We've recently been going bowling as a family, which has been so much fun. They have these funny little rails on top—it almost looks like a ski slope. You wheel it up to the lane, and [the kids] just drop the ball in. It's very cute. So the whole family can do it. [My son] Luca is at this age where when he has a sleepover, I barely see them. So it's actually really fun to just have them running amok.
"I'm really lucky that I have weekend help, so [my husband] Matt and I can have some time together. Sometimes it's even grocery shopping: We'll leave the kids at home and really enjoy ourselves in the grocery store. I married a guy who loves to grocery shop, so I never feel bad when I'm like, 'Oh, before you come home can you go get this?' He's so funny, he'll go to three different stores to find it."
*These statements have not been evaluated by the Food and Drug Administration. This product is not intended to diagnose, treat, cure, or prevent any disease.

Jamie Schneider
Beauty & Health Editor
Jamie Schneider is the Beauty Editor at mindbodygreen. She has a B.A. in Organizational Studies and English from the University of Michigan, and her work has appeared in Coveteur, The Chill Times, and more. In her role at mbg, she reports on everything from the top beauty industry trends, to the gut-skin connection and the microbiome, to the latest expert makeup hacks. She currently lives in Brooklyn, New York.