We Tested A Dozen Of The best Silk Pillowcases & These Are Our Top Picks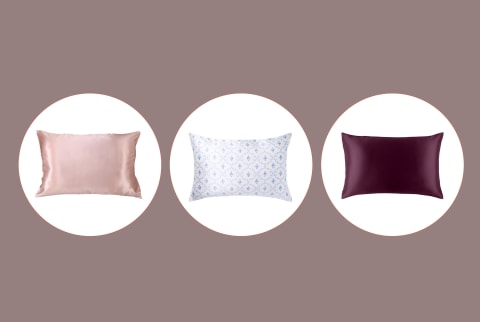 May 5, 2023
Our editors have independently chosen the products listed on this page. If you purchase something mentioned in this article, we may
earn a small commission
.
The best silk pillowcases of 2023:
Silk can make any bedroom look and feel more luxurious—but the benefits of the best silk pillowcases go far beyond aesthetics. If you've ever woken up with puffy skin, frizzy hair, or excess shedding on your bedding, swapping to a high-quality silk pillowcase with a gentler surface could be your trick to clearer skin and tamer strands.
The best environment to your beauty sleep, a silk pillowcase is a natural swap for cotton and linen. While the former aren't bad per se, they're both rougher and more porous materials than silk. As a result, they're more likely to snag or pull at hair, which causes physical damage to the strange. These fabrics are also more likely to absorb sebum and bacteria (as well as your expensive skin care products).
On the flip side, silk is hypoallergenic, moisture wicking, breathable, and antimicrobial1. What's not to love?
If you're ready to add this under-the-radar addition to your bedroom set-up, find a few of our favorites, below. And yes, we really slept on each and every one of these silk pillowcases to help you choose the right one.
Our picks for the best silk pillowcases of 2023:
Advertisement
This ad is displayed using third party content and we do not control its accessibility features.
Advertisement
This ad is displayed using third party content and we do not control its accessibility features.
Advertisement
This ad is displayed using third party content and we do not control its accessibility features.
Advertisement
This ad is displayed using third party content and we do not control its accessibility features.
Advertisement
This ad is displayed using third party content and we do not control its accessibility features.
The difference between silk & satin pillowcases
Our beauty team has been raving about silk and satin pillowcases for years now—and there are a few factors that differentiate the two materials. Silk tends to be more expensive, but with that extra investment comes a higher quality.
Just keep in mind, silk is not vegan. In case you want a cruelty-free pick, we also included a few silk-alternative options for those who follow a vegan lifestyle.
While satin is typically considered to be of lesser quality than silk, it is vegan and budget-friendly. However board-certified dermatologist, certified makeup artist, and skincare expert Ramya Garlapati, MD, says, "Silk pillowcases are superior to satin ones for many reasons, but both will benefit your skin and hair. Silk pillowcases tend to be more expensive than satin so if you are looking for a more budget friendly option that still offers skin and hair benefits then opt for a satin pillowcase."
The benefits of silk pillowcases
When you consider your skin- and hair-care non-negotiables, your bedding might not come to mind. But (as our testers quickly found out), the quality, materials, and design of your pillowcase could be to blame for redness, dryness, shedding, and the overall health of your skin and hair.
While fabrics, such as cotton, jersey blends, or linen, can strip your hair and skin of its natural oils, silk is a much gentler option that can prevent lines and wrinkles and keep your hair and skin looking healthy and fresh.
Not only is silk hypoallergenic and antimicrobial2, the material also helps maintain your hair health. Garlapati agrees that there are many benefits to sleeping with a silk pillowcase. "[Silk pillowcases] are hypoallergenic making them a great option for those with eczema or sensitive skin," she explains, adding that they provide anti-aging benefits since they do not tug at the skin.
"Silk pillowcases also have antimicrobial properties and prevent the transfer of skincare products which offers a benefit to those with acne prone skin," Garlapati says. "They don't absorb moisture from skin and hair, which reduces hair frizz, breakage, and shedding."
We love the natural cooling effect of silk, too, which makes for a more comfortable sleep no matter what time of year it is (or what climate you live in). These pillowcases are also aesthetically pleasing and help bring a sense of luxury to your bedroom, without needing to overhaul your whole decor or bedding.
The only downside Garlapati notes is that silk pillowcases are often on the pricier side. When you consider the amount of money many people spend on skincare and hair products, though, investing in a silk pillowcase feels like a no-brainer—especially if the alternative options could be stripping your skin and hair from those very products you're counting on.
How we picked:
Expert insight
We took our expert's advice into consideration when determining the best silk pillowcases.
Design
There's a lot to consider when evaluating the design of a silk pillowcase. We paid close attention to momme count, additional materials, closure, and color options.
Price
Silk pillowcases are an investment in your sleep quality, hair health, skin health, and in your home. We know everyone's budget is different, so we included options at a range of costs.
Testing
Our commerce editor, Carleigh Ferrante, spent months testing these pillowcases and slept on each one for multiple nights to ensure that each one is a worthy recommendation.
Who should use a silk pillowcase
People with sensitive skin, eczema, or acne-prone skin will all benefit from a silk pillowcase, according to Garlapati. But truly, anyone who wants to improve the health of their hair and skin should try a silk pillowcase.
How much does a silk pillowcase cost?
Silk pillowcases are often more expensive than other materials, like cotton, jersey, linen, and even satin. That said, these products span a fairly wide range, and the price is dependent on other materials used, the brand, and other factors. The options on our list range from $10 to $89.
How to choose a silk pillowcase
Needless to say, not all silk pillowcases are created equal. We learned a lot about what to look for when choosing a silk pillowcase, and below are the most important factors to consider.
Momme count: Similar to the thread count in sheets, momme count represents the quality of the silk. In short: Higher momme means higher quality. The options on our list range from 22- momme to 25-momme. There are many 19-momme pillowcases on the market, too, which is still a solidy quality but not quite as soft.
Design: More goes into the design of a silk pillowcase than just the quality of the silk. When searching for the best silk pillowcase for you, you'll also want to consider other design factors, like the pillow's closure. Some have a classic envelope closure, while others have zippers. Both have their advantages, but zippers do help the pillowcases fit more seamlessly over your pillow.
Colorways: Color variety is another design factor to consider. Some brands offer only one or two shades, and some have dozens to choose from. Just keep in mind, silk stains easily. So while a crisp white pillowcase is gorgeous to look at, there's something to say about shades that won't show small stains as easily.
Cost: Silk is often more expensive than other materials—but it's an investment that benefits your skin, hair, and sleep quality (which has a slew of benefits on its own). We have a range of options on our list, and our testers enjoyed the budget-friendly option just as much as some of the higher priced pillowcases.
Care: While most silk pillowcases can be machine-washed on a delicate cycle, some are hand wash only. Pay attention to these instructions when deciding which to purchase, as care is key in extending the lifetime of your pillowcase. We've also noted which pillowcases seem to wrinkle most easily, which is something to keep in mind.
How to care for a silk pillowcase
Silk is a delicate fabric, so these pillowcases do require some extra care. According to Garlapati, "There's no consensus on how often you should be changing your pillowcase, but it's best to change it once a week at a minimum."
Each pillowcase will come with its own care instructions, but generally silk pillowcases can be machine washed on a cold, gentle cycle. We recommend washing silk pillowcases on their own, or with similar items. Do not put silk pillowcases in the dryer. Instead, hang or lay flat to dry. Some pillowcases are dry clean only, so be sure to pay attention to each brand's instructions. Proper care will help the pillowcase last longer.
FAQ:
What type of silk is best for a pillowcase?

Silk is measured in momme, which represents the weight. Silk with a higher momme count is going to be better quality and will weigh slightly more. Typically, silk pillowcases start at 19 momme and can go up to 30 momme. Our testers found 22- and 25-momme to be the best options, without too much of a difference between the two.
Which silk pillowcase is better, Slip or Blissy?

We tested silk pillowcases from both Slip and Blissy and did not notice too much of a difference in quality. Both were made from 22-momme silk that felt smooth and gently against the hair and skin. They're both machine-washable, feature a zipper closure, and cost $89 each.

Slip does have a logo sewn into the outside, which could be a deterrent for some. That said, the brand offers more color options. Blissy is available in standard, queen, or king sizes, while Slip only offers queen or king.
What is the downside of a silk pillowcase?

Cost is the biggest downside of a silk pillowcase, as these products tend to cost more than pillowcases made from other materials. That said, they typically last longer, are more aesthetically pleasing, and can make a difference in the health of your hair and skin (not to mention the quality of your sleep).

The only other downsides our team found were that a few of these pillowcases slid around on the bed and silk is more wrinkle-prone than other materials.
The takeaway
Your sleeping environment could be to blame for red skin, breakouts, or bad hair days—but the best silk pillowcases can make a difference in the appearance and health of your skin and hair. What's more, these pillowcases are cool to the touch, comfortable to sleep on, and elevate the vibe in any bedroom. Pro tip: If you really want to sleep in luxury, try slipping into a new silk pajama set or giving your bedding a full upgrade with the best silk sheet sets.