5 Culinary Herbal Aphrodisiacs Used To Support Centuries Of Great Sex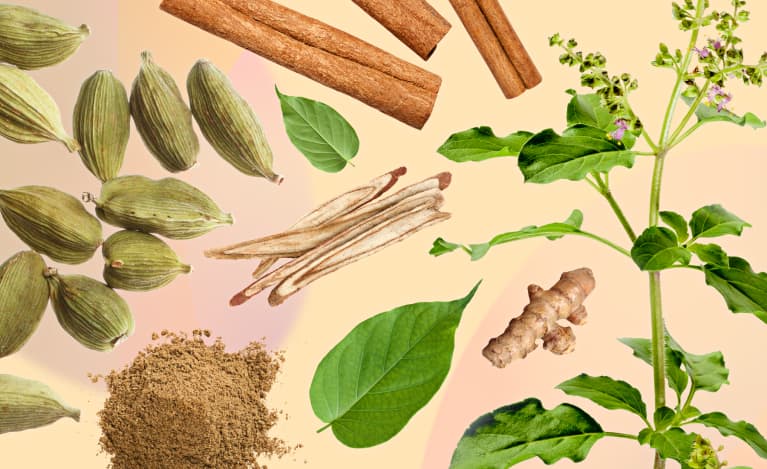 Our editors have independently chosen the products listed on this page. If you purchase something mentioned in this article, we may
earn a small commission
.
For centuries, humankind has been searching for the perfect cornucopia of love foods that boost sexual desire and juice up the senses. From ancient civilizations to contemporary times, so many cultures have an assorted collection of mythology, beliefs, and tradition around food's sexual and libidinous powers. Aphrodisiacs (derived from the Greek goddess of love, Aphrodite) are natural substances touted for their ability to increase sex drive and arousal.
When it comes to the intersection between sex and food, "Like hunger, libido is a primitive instinct. They can both affect the way you behave, making you prioritize them above other things," says Uma Naidoo, M.D., nutritional psychiatrist, chef, nutrition expert, and author of This Is Your Brain on Food. "Hunger and libido also involve similar chemicals, such as dopamine, a neurotransmitter that plays a role in the brain's pleasure and reward center."
While you've probably heard of oysters or dark chocolate sparking some frisky feelings, you might be less familiar with aphrodisiac herbs. While there isn't a significant amount of research to back their benefits, plants have long been used in various cultures to help spark sensual pleasure. With Valentine's Day just around the corner, let's dive into some traditional herbs thought to amp up your extra amorous spirits.
(Note: Most herbal aphrodisiacs don't have significant research to back up their aphrodisiac qualities. Even if they're considered healthy foods, you may want to start with small doses. Also, consider consulting with your doctor before giving these herbs a try, particularly if you're currently taking medication.)
According to early herbalist folklore, vanilla is a mighty nervine thought to stimulate sexual appetite. Its captivating, pleasureful perfume makes it an ideal spice to elevate your mood, ease your senses, and perhaps even ignite sexual stamina. Used initially by the Totonac Indigenous people of Mexico as a love-inducing elixir, vanilla is considered one of the world's long-established, luscious aphrodisiacs.
For an extra dose of sweetness guaranteed to make your heart (and belly) beam, check out these lovely, easy-to-make blueberry cheesecake overnight oats or no-bake peanut butter cookie recipes.
This native Chinese tree has a number of reported health benefits: it may increase circulation, support brain function, alleviate stress by decreasing cortisol, and even potentially treat erectile dysfunction. Although ginkgo biloba (also known as maidenhair) is readily available in tablet, capsule, or tincture forms—making an herbal brew is another popular way to give the brain an aphrodisiac lift.
As one of the most expensive spices worldwide, saffron (derived from the Crocus sativus flower) and its active components have been widely used in ancient medicine because of its anti-inflammatory, antioxidant, and antidepressant properties. Regarding sexual health, one small study of 38 women published in Human Psychopharmacol suggested that saffron might improve lubrication and pain issues during sex, specifically for women experiencing antidepressant-induced low libido.
Of course, saffron is also a delicious spice to add to your cooking—so testing out its potential aphrodisiac abilities might be well worth the splurge. Go for this healthy pumpkin soup or warm-spiced milk recipe to zest up your senses!
Tribulus Terrestris (gokhshura in Sanskrit) has been used medicinally for centuries, in both Ayurveda and traditional Chinese medicine, to support sexual function. More modern studies have also observed the effects of this small plant; however, the evidence is inconclusive so far, and more research is necessary to confirm its sex-enhancing properties.
Tribulus Terrestris, frequently mixed with other ingredients, is commonly found as a supplement throughout health food stores and online marketplaces. Still, it would be best to consult with your health care provider before supplementing with this herb.
This mighty Ayurvedic plant "has been used for centuries in traditional Indian medicine as an overall health-improving and mood-enhancing herb," says Naidoo. "Due to its anti-inflammatory properties, Ayurvedic practitioners also use ashwagandha to improve erectile dysfunction and sexual desire in both women and men."
In more modern research, ashwagandha has been linked to supporting mood and stress levels. What's more, one study of 50 participants found that ashwagandha root extract supplements may improve sexual function in healthy women.
Before taking any new herb or supplement, it's important to consider potential reactions or side effects. "A little bit can go a long way, and, as with any other type of food, even something good and healthy, when eaten in excess, can be unhealthy or even toxic," says Naidoo. "Also, tune into your body intelligence, bring awareness to the effects the spice has on your body and brain, and, if you notice anything unpleasant, limit your intake or ask your medical provider." She also notes it's important to be aware that dried herbs and supplements are more concentrated and therefore more potent than fresh herbs, "so be mindful of the suggested doses."