A Guide To Hair Contouring: How To Strategically Highlight Different Face Shapes

Beauty & Health Editor
By Jamie Schneider
Beauty & Health Editor
Jamie Schneider is the Beauty Editor at mindbodygreen. She has a B.A. in Organizational Studies and English from the University of Michigan, and her work has appeared in Coveteur, The Chill Times, and Wyld Skincare.
Image by Liliya Rodnikova / Stocksy
August 22, 2023
We carefully vet all products and services featured on mindbodygreen using our
commerce guidelines.
Our selections are never influenced by the commissions earned from our links.
Your hair styling choices can totally change the shape of your face. For example, long, airy layers will soften up angular features, while a blunt bob or lob creates width at the jawline. Soft curtain bangs open up the face, accentuating the cheekbones, while a wispy, eyebrow-grazing fringe brings attention to the eyes. Pick a feature to enhance, and there's surely a styling trick out there for you to optimize!
But why should you stop at styling? If you're open to dyeing your strands, you might want to consider "hair contouring" at your next appointment. According to the pros, it's an effective (and relatively low-lift) way to naturally snatch your bone structure—without a drop of makeup, mind you.
What is hair contouring? 
You know how you might swipe a creamy contour stick across your cheekbones to create the illusion of depth and a chiseled bone structure? Well, you can effectively do the same thing with hair color. Hence the term, hair contouring.
"Strategic highlights can transform your face shape and enhance bone structure," says celebrity colorist and founder of Abby Haliti Color Studio Abby Haliti. (And she would know: Haliti is a world-renowned master of French balayage). "By using lighter highlights to accentuate specific areas and darker lowlights to add depth, you can create the illusion of well-defined contours.
Of course, it's not like hair color can actually transform your face shape, just as a swipe of bronzer won't completely alter your bone structure. "However, it can really enhance your features based on the placement and tone," shares colorist Tylor Johnson, founder of Nous Haircare.
You'll still want to choose a color that complements your undertones—otherwise, you'll wash out and age your appearance, Johnson warns—but certain pigments can add some strategic dimension.
For example, a hair color darker than your skin tone will create contrast in the skin, Haliti says, which adds definition to the face shape and can make certain angles appear more prominent; lighter hair colors, on the other hand, can soften those edges.
As you can probably tell, hair contouring techniques will vary greatly from person to person—unlike makeup contouring, which involves some general guidelines. That said, you should consult a professional you trust who is well-versed in the art of light and shadow. "A skilled hairstylist who understands visual effects will know how to follow your hairline and place highlights with the right amount and weight to achieve natural movement," says Haliti.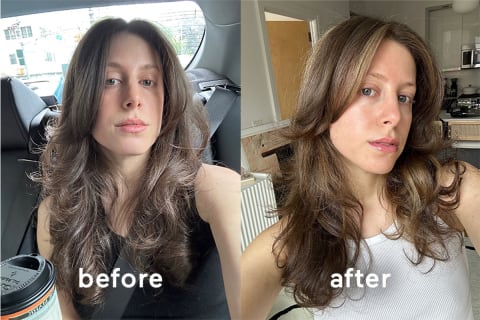 Image by Jamie Schneider / mbg beauty editor / mbg Creative
How to strategically highlight different face shapes
Allow me to emphasize that hair color ultimately has no rules—you can totally choose a hue based on your personal style and experiment as you please. Go ahead with those fantasy hues!
That said, think of the below as general guidelines, rather than hard-and-fast rules, but if you're curious about which technique suits your natural bone structure best, take a peek at Haliti's recommendations:
Oval: Oval-shaped faces have no sharp angles, yet they have slightly curved outer edges—so adding or softening angles isn't too necessary. "To enhance your features, consider adding highlights around the cheekbones and jawline to create definition and draw attention to those areas," says Haliti. (A universally flattering tip for all face shapes, as you'll see in a moment.)
Round: Round faces have no sharp angles. To add some dimension, "opt for highlights or lighter shades around the crown and upper sections of your hair," advises Haliti. "This can add verticality and make your face appear more oval."
Heart: Heart-shaped faces have a narrower jaw with a wider forehead. That said, Haliti recommends adding depth and width around the jawline: "Lowlights or darker shades near the chin area can help achieve this," she notes. She also recommends side-swept bangs or layers to balance out the forehead and chin, if you're open to adding a haircut to your color.
Square: "Soften the angles of a square face shape by incorporating highlights or lighter shades around the hairline and temples," Haliti adds. "This technique helps to create a more rounded and softer appearance."
Diamond: Finally, we have diamond faces, which are quite angular with a narrower forehead and chin. "Consider adding highlights or lighter shades to the forehead and chin area," Haliti shares. "This technique can help soften the angles and draw attention to the center of your face."
A universal tip: As a general rule of thumb, Johnson recommends brightening wherever the cheekbones sit. "Have the lighter parts of the highlight start at the cheekbone and flow through the ends of the hair to open the face and create an overall brighter appearance of the complexion," she says. So when in doubt, identify those cheekbones—then you can't go wrong.
The takeaway 
What color should you dye your hair? The answer is ultimately up to personal preference, but if you're in the market for some natural-looking highlights, you might want to consider a hair contouring method to enhance your bone structure. Granted, most hairstylists will take one look at your complexion and hair goals and know exactly how to create dimension—but it can't hurt to show up to your appointment with some extra hair color literacy.

Jamie Schneider
Beauty & Health Editor
Jamie Schneider is the Beauty Editor at mindbodygreen. She has a B.A. in Organizational Studies and English from the University of Michigan, and her work has appeared in Coveteur, The Chill Times, and more. In her role at mbg, she reports on everything from the top beauty industry trends, to the gut-skin connection and the microbiome, to the latest expert makeup hacks. She currently lives in Brooklyn, New York.