10 Habits Of People Who Never Have Clutter At Home
mbg Sustainability Editor
By Emma Loewe
mbg Sustainability Editor
Emma is the Sustainability Editor at mindbodygreen and the author of "The Spirit Almanac: A Modern Guide To Ancient Self Care."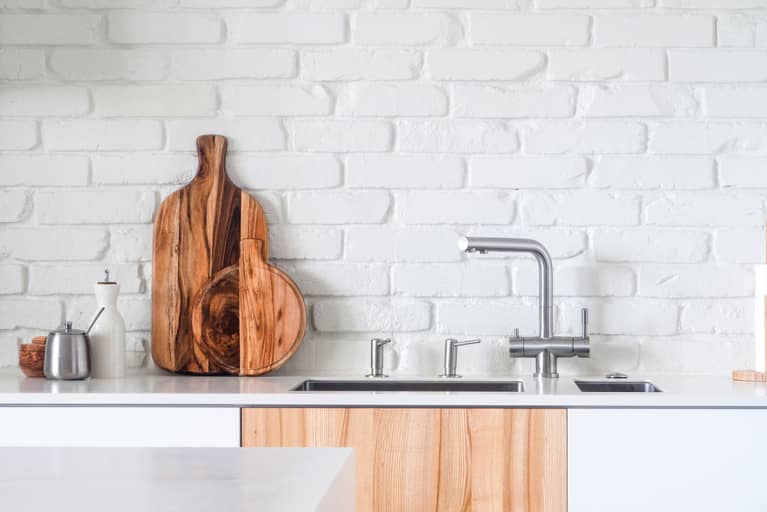 Our editors have independently chosen the products listed on this page. If you purchase something mentioned in this article, we may
earn a small commission
.
Decluttering your home is only half the battle! Keeping it looking clean and pristine in the long run takes some serious will power. Here, some of the cleanest people we know share the hacks and habits they use to keep their spaces eternally tidy.
1. Be nice to your produce.
"Take the stickers off of every piece of fruit and produce you buy. Welcome them in. You'd be surprised how different it feels when you treat everything else in your home with the same amount of attention and care."
—Lisa Viscardi, professional organizer
2. Make a weekly date with donations.
"I hold myself accountable for gathering nine items a week that I can donate and drop them off on my way to an appointment. (Nine is an auspicious number in feng shui!) I have a weekly meditation class that has a donation drop-off, Housing Works, right across the street. I put the donation date on my calendar as well as my weekly to-do list and leave the bag by the front door so I don't forget it on my way to meditation."
—Anjie Cho, architect and feng shui expert
3. Designate a drop-off zone.
"Have a place for items that can't get put away right now: A basket in the kitchen for mail, a bin for miscellaneous toys, etc. When life gets busy and you can't pick up every day, it's important to have a place where things can go to get off the floor. Then, when you have more time, empty these receptacles."
—Bonnie Joy Dewkett, organizing expert
4. Keep your things in plain sight.
"My kitchen has open shelving, and my apartment does not have many hiding spots for clutter. I've thought about covering the shelves or creating some storage spaces, but having everything out on display helps keep me accountable and sort of shames me into putting things back in the right place in a timely fashion."
—Carrie Farrell, mbg's (notoriously organized) event director
5. Take a minute every day to sort through the important stuff.
"The one-minute rule is a really good thing. Here's the mail: I can take one minute to go through the catalogs, the junk mail, stuff I don't need and just put the valuable mail in a drawer. That takes me less than a minute. Your life is just better when you deal with things like that every day."
—Gretchen Rubin, happiness expert and author of the upcoming book Outer Order, Inner Calm
"In feng shui, the kitchen is symbolic of our health and wealth—so it's a very important space! In order to keep my kitchen tidy and ready for the day, each night I make sure the sink is clear of the evening's dishes. The first thing, every morning, I empty the dishwasher and replace all the items from the sink rack to their rightful place in the cabinet. Now the day can begin to unfold with clarity."
—Maureen K. Calamia, feng shui consultant
"My No. 1 habit for keeping my home clean and clutter-free is to reset the kitchen every evening before bed. Dishes washed and put away, counter cleared. Your kitchen is basically the central nervous system of your home. If it gets cluttered, the surrounding rooms will as well."
—Joshua Becker, author of The Minimalist Home
"I have an unofficial 'jacket rule' that I created for myself. When I return home after being out and about for the day, I have to put everything away (groceries, etc.), before I take off my jacket. It basically signals to my brain that I'm not done entering the house until I've put away the groceries or unpacked my laptop, etc."
—Kyle Quilici, pro declutterer
8. Make the floors and counters off-limits to storage.
"I pick anything up off the floor that doesn't belong there—shoes, toys, bags, etc. I also refrain from using/keeping baskets on the floor because those tend to become clutter depositories. Also, countertops morph quickly into clutter havens, so we keep those clear daily. Bottom line: Energy goes where the eye goes. When we put our stuff away, our home immediately feels so much cleaner and lighter."
—Amanda Gibby Peters, feng shui consultant
9. Think of cleaning self-care.
"I look at cleaning and clearing things as a form of self-care, especially since a mess creates so much stress for me! When I'm cleaning or organizing, I know now (especially after seeing this happen for over a decade!) that I'm creating space for so much fresh energy, creative inspiration, and strong intention to thrive in my space and my life. Cleaning may not be as lush a habit as a bubble bath or meditation, but it has definitely done wonders for my mind, mood, wellness, and creativity!"
—Dana Claudat, feng shui designer and mbg class instructor
10. Give everything a home.
"In my home, everything has a home. Everything has a place to live. I'm not afraid to live my life. If I'm tired I drop bags on the floor and leave dishes in the sink. But when it comes time to pick up I do so with ease as I don't have to fret about where things live. I swear by my front hall drop zone. Everyday items–like my keys, wallet and bag–live mere feet from my front door, so I never trail them into my home. When you've got a home for the things that you use and love it's easy to keep home clutter-free, as even a messy day is only temporary."
—Maeve Richmond, organization coach