17 Green-Powered Recipes To Ring In St. Patrick's Day

By Elizabeth Gerson
mbg Contributor
Elizabeth Gerson is a former mindbodygreen intern and a student at Stanford University studying Psychology and Communication with a specialization in Health & Development.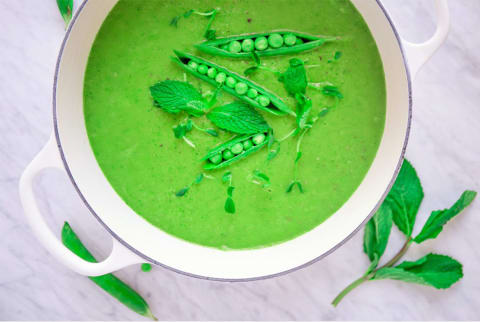 March 16, 2019
Sure, you may want to wear your greens (nobody likes getting pinched), but St. Patrick's Day can serve as the perfect excuse to eat your greens, too. Whether your St. Paddy's Day plans involve green beer or hunting for four-leaf clovers, you can get lucky with some of mbg's all-time favorite recipes, supercharged by greens and way more fun than stewed cabbage.
Advertisement
This ad is displayed using third party content and we do not control its accessibility features.
1.
Asparagus, fennel, and spinach soup
No, winter isn't quite over yet, but we can still dream. This soup is the best of both worlds: While needing to cozy up with a warm bowl of soup may be in order, this recipe utilizes some of the spring's best ingredients like spinach, asparagus, fennel, and onion.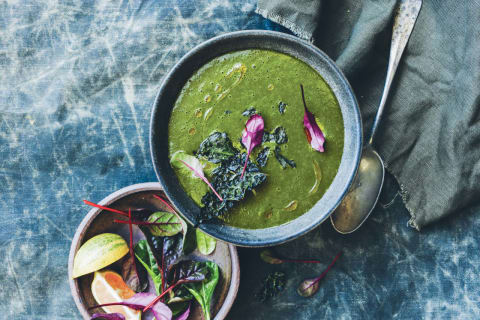 Advertisement
This ad is displayed using third party content and we do not control its accessibility features.
2.
Kale, hemp & flaxseed oil pesto
This superfood-packed pesto is pasta's best friend. Just send kale—or other greens of your choosing like spinach or watercress—through a blender with other flavor-packed ingredients like garlic and lemon for a quick and easy way to elevate Italian night.
If you closed your eyes, you'd never guess this sweet smoothie is packed with spinach. But with its vibrant green color and potent punch of skin-saving vitamin A, it's the way-better alternative to a Shamrock Shake.
Advertisement
This ad is displayed using third party content and we do not control its accessibility features.
This bowl is a plant-based and gluten-free way to have you glowing from the inside out. Plus, it's packed with other nutrient-dense ingredients like broccoli and ginger and comes together in just 20 minutes.
If a green detox juice isn't really your vibe, let this soup do the trick. It's powered on Swiss chard, a bitter green packed with nutrients, and kale, a certified superfood for good reason. It's also flavored with garlic, leek, and lemon zest for added zing.
Advertisement
This ad is displayed using third party content and we do not control its accessibility features.
6.
Kale noodle bowl with avocado miso dressing
This bowl calls on minimal ingredients but still has maximum flavor. With standout stars like white miso, avocado, and dino kale, it's health-food heaven. Bonus: The recipe uses gluten-free buckwheat noodles, which are rich in iron, selenium, and zinc.
7.
Chocolate mint green smoothie bowl
Chocolate and mint are a match made in heaven. This smoothie bowl can be a sweet way to start your day, but don't be fooled—it's got a nutritious kick with kale, avocado, and raw cacao, which is high in antioxidants and can help boost your mood.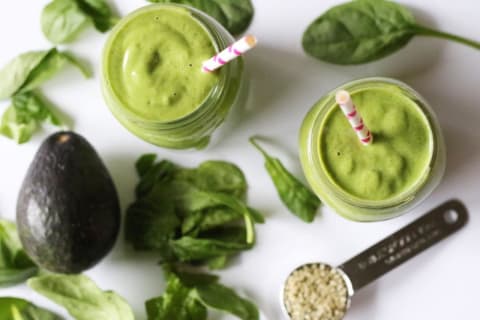 Advertisement
This ad is displayed using third party content and we do not control its accessibility features.
By using ingredients like wild arugula, shallot, and pistachios, this is similar to your average basil pesto, but more grown up. Whether it's tossed in pasta, added to scrambled eggs, or spread on toast, it's sure to please.
This drink gives your favorite childhood treat a healthier twist, without sacrificing taste. By using the natural sweetness of pear and apple, you'll forget the spinach is even there.
10.
Warm kale & quinoa salad
Sure, kale and quinoa are tried-and-true favorites for many health-conscious people. But tossed with this tamari, agave, and lemon dressing and served in this warm dish, they're taken to new heights. Pro tip: To give the quinoa a nuttier flavor, toast the dry grain in a drop of coconut oil on a stovetop for a couple of minutes.
11.
Farmers market salad with wild spinach & asparagus
This standout salad gives some much-needed love to microgreens, the less common but equally nutritious cousin to your spinach, kale, or spring mix. Additionally, by using wild spinach, you'll get an extra boost of vitamins A and C, zinc, magnesium, calcium, and riboflavin.
12.
Green juice gummy bears
This has to be the cutest way to eat your greens maybe ever. Made with just two ingredients and just two steps, this recipe, inspired by the Pressed Juicery and Sugarfina collab, is a simple way to satisfy that sweet tooth. And who says eating healthy can't be fun?
13.
Spicy shrimp with zoodles & cilantro avocado sauce
This recipe will have any plain pasta dish green with envy, as it's loaded with flavor and nutritional benefits. It's got all your bases covered—protein from shrimp, healthy fat from avocado, and fiber from zucchini—for a well-rounded meal.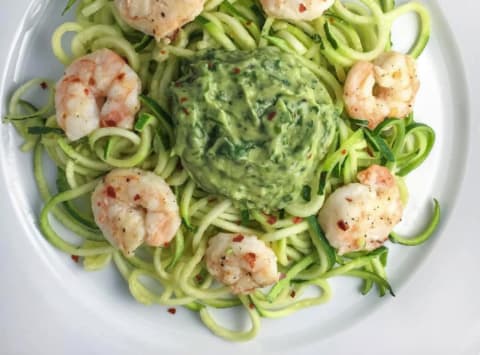 Image by Rachaels Good Eats
14.
Mango, avocado & herbed baby spinach salad
Sweet and savory work together in this salad with a tropical twist. It's simple, fresh, satisfying, and perfect for busy nights when you've just got time to throw something together.
15.
Sauteed kale & butter beans
Kale, butter beans, white wine, and Parmesan come together in this dish for a flavor combination that can't be beat. It stands out on its own but also works as a perfect side for eggs or pasta.
16.
Roasted broccoli anti-inflammatory dip
You can chalk up broccoli's magical powers to kaempferol1, a flavonoid found in many plants that's known to be anti-inflammatory. This dip is a creamy, dreamy way to reap these benefits and works perfectly served with crudités or flaxseed crackers.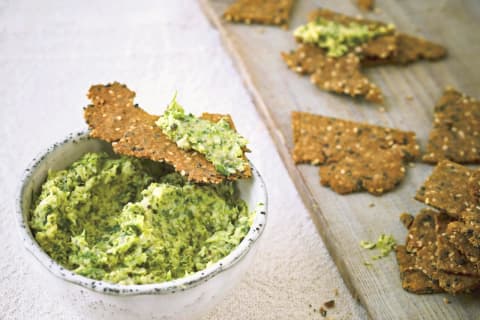 Image by Nassima Rothacker
17.
Chicken zoodle bone broth soup
There's nothing quite like mom's chicken soup to nurse you back to health when you're under the weather, but this is a pretty solid rival. By using bone broth, you can soothe the GI tract and better utilize protein. By using zucchini noodles, you get an extra boost of fiber to aid digestion.
Want to turn your passion for wellbeing into a fulfilling career? Become a Certified Health Coach! Learn more here.