Close Banner
Advertisement
This ad is displayed using third party content and we do not control its accessibility features.
I'm 70 Years Old & Running My 44th Marathon: My Secret To Fitness At Any Age

mbg Sustainability + Health Director
By Emma Loewe
mbg Sustainability + Health Director
Emma Loewe is the Senior Sustainability Editor at mindbodygreen and the author of "Return to Nature: The New Science of How Natural Landscapes Restore Us."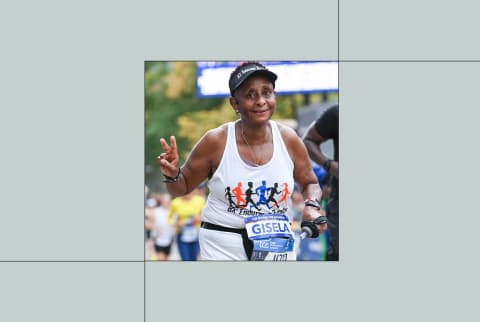 Image by Gisela Perez/ New York Road Runners
Gisela Perez fell in love with running the second her shoes first hit the pavement. Growing up in the Bronx, she ran competitively in college and returned to the sport recreationally after the birth of her first child. Over the years, running has helped her cope with stress, overwhelm, and loss—and her love story with it is still going strong. This Sunday, Perez hopes to complete her 24th TCS New York City Marathon and 44th marathon overall at the age of 70.
People from all walks of life will undoubtedly be cheering her on, as Perez is a coach for two very different New York Road Runners (NYRR) groups: Run for the Future, for high schoolers, and Striders, for older adults looking to get and stay fit. "I personally feel that there's no age limit to exercise," Perez says on a call with mindbodygreen.
As for how she's managed to lace up her sneakers week after week, here are six strategies that have helped Perez keep up with running for decades:
1.
She's formed a community around running
When Perez first started running recreationally, there weren't many women doing it in her neighborhood. So she joined a local group of guys who dubbed themselves "weekend warriors" and did grueling back-to-back long runs together on Saturday and Sunday. Nowadays, the running community in New York couldn't be more different: Perez notes that there's a group for everybody, regardless of their gender, background, age, or body type.
Since getting started, Perez has joined many of these groups and even started her own in the Bronx in order to stay motivated to get moving. "When you run with a group, they offer you a safety net and a social outlet. You also have accountability. On days when you don't feel like running, you think, 'Oh wait, there's a group out there, and they're probably waiting for me,'" she says.
The social aspect of group running has also helped her forge strong new bonds over the years. "When you join a running group and get to know other people, you become one; you become family. You look out for each other."
2.
She's revved up her cross-training
Perez notes that in her 20s, 30s, and 40s, she could run six days in a row without taking a break. But to be able to continue running, she's needed to make cross-training more of a priority.
"If I do a run, the next day I'll cross-train. I'm not going to go back and run again because then my body's not totally recovering. If my body is super tired from the run, I'll do a light yoga class or go for a long walk the next day." Weight training, resistance band exercises, and spinning are a few of the exercises Perez will do on her off days to maintain muscle mass—which she knows only becomes more important with age.
3.
She's prioritized sleep
Sleep is another recovery tool Perez has prioritized over the years. "I try to get as much sleep as possible after my long run because I know it's going to help my muscles to heal." Indeed, research shows that high-quality sleep can help muscles recover after exercise and reduce injury risk1, while sleep deprivation is associated with muscle damage2. Thankfully, running (or doing any kind of exercise) regularly has a positive impact on sleep quality and helps reduce one's odds of insomnia3.
4.
She's been diligent about eating enough protein
"I definitely make sure that I have protein within the hour after my run because that will help me to recover," Perez explains. Research shows that eating at least 25 to 30 grams of protein4 following a workout is essential for maximizing muscle growth and recovery. Active people can get a quick hit of easy-to-digest protein after a workout with a protein shake, smoothie, or Perez's favorite: chocolate milk!
5.
She's leaned on mantras and visualizations
Running is as much mental as it is physical. Perez has been able to get through countless grueling moments during workouts and races with the help of personal mantras. "I know it's corny, but I always say, 'You got this. You can do this, Gisela. You can get through it. You've done hard things. All things are possible,'" she says. Doing visualizations the night before races has also helped her out. She'll picture herself getting through difficult portions of the course to show up to the start line feeling strong and confident.
6.
She's challenged herself regularly
In addition to racing 43 marathons (for a total of over 1,126 miles), Perez has completed over 100 half marathons and countless 10Ks and 5Ks over the course of her life. She estimates that on the average year, she'll still take part in 12-15 NYRR races to stay on top of her fitness and continue to challenge herself.
"When you do races, it helps you to keep your speed up.... You also see the result of your training. Races are a reward for all the hard work that you've done."
To gear up for Sunday's marathon, Perez is taking this week easy and reflecting on all that the sport has done for her over the years. "Running is my saving grace. It's my everything," she says. "It's my escape. It's my me time. It's my only selfish moment that I don't need to share with anyone. Running is my passion."
The takeaway
Through a combination of solid recovery, nutrition, cross-training, and community engagement, Gisela Perez has managed to stay running for decades—and she's not done yet. "I don't see myself ever without running," she says. "Running is my way of life."