The Most Important Factor To Look For In Your Ginger Supplement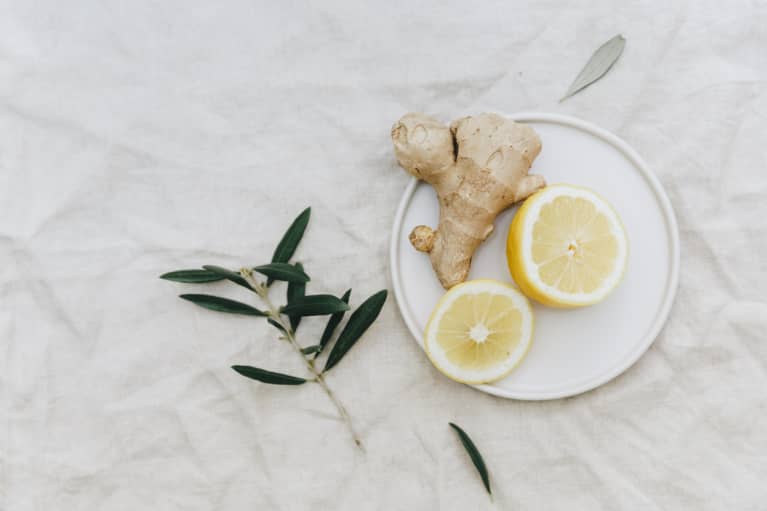 Long adored for its ability to help with digestion, ginger offers many reasons to incorporate it into your well-being routine. And when you do, you'll want to make sure you're getting the most out of it, by focusing on potency and bioavailability.
Cooking with fresh ginger is wonderful, but did you know that you can also reap the plant's targeted benefits by taking it as a supplement? Allow us to introduce mbg's pioneering formula, turmeric potency+, which combines ginger with turmeric and black pepper—and uses a special polar-nonpolar-sandwich (PNS) technology for maximum absorption and biological activity.*
Why polar-nonpolar-sandwiching makes ginger that much healthier.
Polar-nonpolar-what-now? Don't let the technical name throw you off. In simple terms, polar-nonpolar-sandwich (PNS) technology protects the native plant compounds from losing bioavailability and efficacy by arranging them in a way that makes them easier for the body to absorb and utilize.*
In turmeric potency+, we leverage PNS technology to protect the main bioactives in ginger, gingerols. In addition to gingerols, you'll find the full spectrum of ginger plant compounds preserved in a way that's been scientifically shown (via preclinical research) to have high antioxidant capacity and stability.*
The turmeric in our product is also packaged using this advanced PNS technology, ensuring that all of its beneficial curcuminoids are protected and optimally available for our use.* Together, these optimized plant compounds form a perfect match for helping promote joint and muscle health, digestive function, immunity, and more.*
As mbg's vice president of scientific affairs Ashley Jordan Ferira, Ph.D., RDN, explains "Turmeric and ginger interestingly belong to the same plant family (Zingiberaceae). They act in similar ways in the body through key antioxidant and immunomodulatory actions to support a healthy inflammatory response. While turmeric and ginger have their similarities, they also work via unique biological pathways, too, giving these powerful spices synergy and individual benefits."*
Then, with 5 milligrams of black pepper fruit (and its bio-enhancer piperine) to top it off, turmeric potency+ comes together to make a supplement with ingredients that work synergistically. In fact, turmeric, the hero of the formula, boasts up to 10x higher bioavailability than standard turmeric extract.*†
We're big fans of whipping up a ginger stir fry or sipping on golden milk, but if you want to up the health benefits of your ginger routine, go for a supplement that uses PNS technology, too. That way, you—and your body—can be sure you're getting the most out of this almighty root.