Study Reveals Slowed Gait Speed May Be Linked To Dementia — What That Means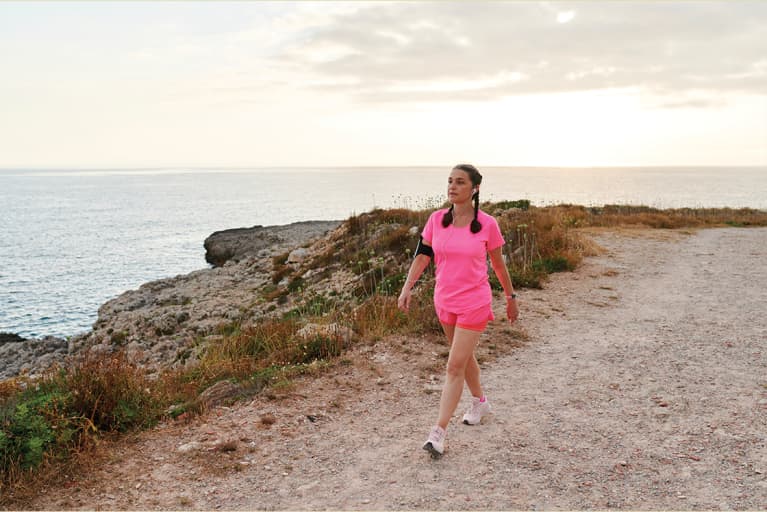 If you're an able-bodied person, walking is likely a large part of your daily life. Recently, thanks to the rise of the "hot girl walk," and over the last couple of years of the pandemic, walking has become the exercise of the moment.
As it turns out, those daily walks may hold even more value than we realized. A new study has revealed that a slowed gait may actually be tied to dementia in older adults. Data from the participants, which consisted of 19,114 "relatively healthy older people" in the U.S. and Australia, revealed that walking decline may indicate a heightened risk of dementia down the line.
How does your gait relate to cognition?
Throughout the seven years of this study (from 2010 to 2017), the gait of otherwise healthy adults was measured alongside brain cognition every two years to determine whether the participants' experienced a slowed gait, declining mental function, neither, or both.
What exactly does a slowed gait entail? Gait decline is classified by walking at a speed of 0.05 meter per second slower each year, and cognitive decline was determined by a series of cognition and processing speed tests to check for processing speed, cognitive function, delayed free call, and verbal fluency.
Authors of the study were able to posit that there was a correlation between participants who experienced a slowed gait over the years and those who later developed dementia. More specifically, out of the more than 19,000 participants, 16,855 of them were determined to be at a greater risk of dementia. This risk increased if the participant was found to have a decline in both gait and cognition.
How the study was conducted.
The study was conducted over the course of seven years, testing the gait and cognitive rate of participants every two years. At each of these intervals, the "participants completed two walks of three meters at usual pace from standing start, with at least one meter at the end of the course to prevent slowing. The mean average of two walks was used for analysis," the study explained.
Cognitive function, delayed free call, processing speed and verbal fluency were all studied as well throughout a series of tests.
While the study pool started large, by the end of the seven years, 1,600 people had withdrawn from the in-person study, and 2,259 were excluded from the final data due to failure to complete the study in one way or another. However, out of those that were not included, 178 were later diagnosed with dementia.
Additionally, the gait and cognitive state of each participant was not measured at the same time, making it difficult to concretely determine their correlation to each other.
It may be apparent that cognitive decline is connected with dementia, but the study accounted for this by explaining, "It is to be expected that longitudinal decline in cognitive performance is strongly associated with dementia, as the former is a diagnostic criterion for the latter. By presenting specific comparisons between dual decline and cognitive decline groupings in this study, we have been able to specifically illustrate the additional benefit of a combined gait-cognition measure, beyond cognitive testing alone."
While you may not need to start worrying about the speed of your walks in your younger years, there certainly may be a connection between gait speed and your risk of developing dementia as you age. The test for dementia is currently limited to a purely cognitive test, but this study reveals that it may also be worth considering gait when exploring risk levels.
"Serial measurement of gait along with a simple test of memory would be more sensitive to future dementia risk than either measure alone," the authors of the study share.
If you are interested in monitoring your gait, Apple offers a handy tool in your Health app that reveals both walking steadiness, speed, and asymmetry. That's not to say you should be analyzing your health information to jump to any conclusions (that's where health care professionals can help)!