Close Banner
Advertisement
This ad is displayed using third party content and we do not control its accessibility features.
6 Feng Shui Tips To Set You Up For Success In The New Year
Designer & Feng Shui Master
By Dana Claudat
Designer & Feng Shui Master
Dana Claudat is a modern Feng Shui Master and founder of The School Of Intention Feng Shui Certification Program. She holds a B.A. from Stanford University.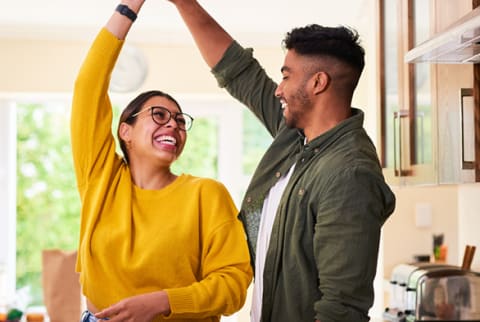 Image by Hiraman / iStock
Just like a film or theater set, your home is the "stage" for your life. And when you're ready to head into a new chapter, it helps to set the stage accordingly! That's why the time around the New Year and resolution season is such a wonderful moment to make changes in your space.
All that you see in your home—along with your home's unseen energy—influences you all day long. You can use feng shui to design your home so that you feel more uplifted, focused, calm, and creative. As you make these changes in your environment, you'll find yourself supported in a whole new way in the new year.
Here are a few easy ways to set a fresh stage in your life for all the success you desire in 2023:
1.
Declutter your most-trafficked areas.
While it's wonderful to declutter your entire home, that's often a very big project. If you start by decluttering the areas you are most affected by on a daily basis, every single thing you declutter will instantly register for you as a rewarding shift. For example, if you rarely go into your basement that's cluttered but see the clutter in your closet every day, your closet is the best place to begin.
All of this clutter clearing can help you eliminate stress, increase harmony, clear your mind, and lighten your whole life. In the feng shui decluttering group that I've run for the last eight years, I've also seen people unlock opportunities, improve their relationships, and welcome tons of abundance on every level while letting go of their clutter. This is all the more reason to let things go!
2.
Decide what to do with unfinished projects.
Unfinished home projects—and even unfinished things lingering on your to-do list—can act like clutter, weighing down your life. Take a look around and see what projects need to be finished, then create a plan to get them done. You might also decide that you don't want to do certain things anymore, and then cross them off your list.
3.
Make a vision board for the year ahead that feels like your greatest definition of success.
Vision boards can be wildly effective if you fill them with images that really inspire you. Start to gather pictures that speak to the year you want to create and paste them on a poster board. Once your board is ready, store it somewhere you'll see it every day. While you might not want to hang it on a wall, placing it in a closet you open every day can be the perfect way to keep your biggest visions top of mind daily.
The entryway is the area where energy enters your home. In feng shui, it's also a symbolic space where you receive every kind of abundance. Tidy up this area so that you're ready to welcome incredible things into your life.
5.
Update all your technology to create a more prosperous, productive flow.
Your digital real estate—i.e., your online life—is just as important to organize as your closets and drawers for the new year. You might want to update all of your digital devices, back up all your data on hard drives, delete apps you don't use, eliminate all of your extra emails, and organize your computer desktop files.
6.
Restyle spaces in your home that feel flat.
If your surroundings never change, they can become dull and uninspiring over time. If your bookshelf, mantel, coffee table, shelves, and other décor have looked the same for years, shake things up by rearranging them in creative ways. While you're at it, you can clear away anything that's on display that no longer speaks to you, curating your home to radiate more love and joy.
The takeaway.
Implementing any of these simple steps can be a powerful way to start setting up for every kind of success you want in the brilliant new year ahead.
Dana Claudat
Designer & Feng Shui Master
Dana Claudat is a modern Feng Shui Master and founder of The School Of Intention Feng Shui Certification Program. In the last 15 years Claudat has pioneered her own approach to Feng Shui that is rooted in infinite possibility, creativity and empowerment. Rather than hope for lucky results and outcomes, she helps her clients to create them every day.
She's a Stanford-educated art historian with more than a decade of experience in design yet her approach to space is simple. Claudat is a longtime mindbodygreen contributor and instructor (she may have had a hand in the hundreds of plants in mindbodygreen headquarters!), and her work has been featured in design and lifestyle publications around the world.
You can work with her from wherever you are in the world in her online Feng Shui Camps and through her Online Feng Shui Consultations.
You can sign up for her weekly Feng Shui Rituals, including rituals for every New and Full Moon, right here!