This Is The Wellness Routine Comedian Eric André Swears By As Of Late

Beauty & Health Editor
By Jamie Schneider
Beauty & Health Editor
Jamie Schneider is the Beauty Editor at mindbodygreen. She has a B.A. in Organizational Studies and English from the University of Michigan, and her work has appeared in Coveteur, The Chill Times, and Wyld Skincare.
April 25, 2023
We carefully vet all products and services featured on mindbodygreen using our
commerce guidelines.
Our selections are never influenced by the commissions earned from our links.
Beauty routines are never truly stagnant—practices evolve and change like we do. In As of Late, we chat with influential folks about their current products and rituals. Here, we get a snapshot of what they're doing right now: the sacrosanct formulas they use until the last drop, the fresh launches they've got their eyes on, and of course, the why behind it all.
I wouldn't consider Eric André your typical beauty fan. I mean absolutely no shade—he even agrees! Granted, he does have his own no-fuss grooming routine down to a T: His commitment to a clean shave is one of the reasons he partnered with BIC for their EasyRinse campaign; he'll also work a leave-in conditioner through his hair from time to time. "Beyond that, I don't use too many products," the comedian, actor, television host, and writer tells me over Zoom.
So why, then, have I decided to spotlight him for our beauty-focused series? Well, here at mbg beauty, we believe taking care of your skin doesn't mean you must rattle off the buzziest ingredients or pledge allegiance to retinol.
André prioritizes sleep, which is vital for optimal collagen levels1. He hails daily hydration, and getting the recommended amount of water for your body increases the dermal layer2. He focuses on being present—not only does he swear by meditation, but he literally locks his phone in a container when watching a movie—and slowing down, taking a breath, and focusing on mental health is just as powerful a beauty tip as any.
Here, you can find all of André's wellness must-haves—with a couple of grooming tips, for good measure.
The surprise hit: Magnesium supplements
Nature's Bounty Magnesium Citrate
$ 28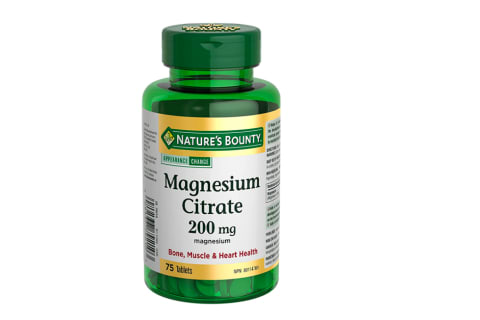 Nature Made High Absorption Magnesium Glycinate Capsules
$ 22
Magnesium glycinate, on the other hand, is a supplement best taken at bedtime when you're looking to wind down from the day.* This option contains 200 mg per serving and is 100% chelated, so it's easier for the body to absorb. It doesn't take advantage of other patented sleep-promoting ingredients, but if you're looking for straight-up magnesium, it's a solid pick.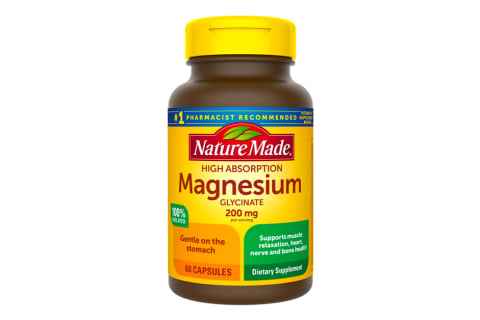 The up-and-coming: Crafty kitchen supplies
"I use those like big gallon motivational water jugs that have little writing on the side. Those are good because I'm really bad about staying hydrated.
"Oh, I'll tell you what's awesome—I'm so glad it's right in front of me—these kitchen safes. I'm addicted to my cellphone, so when I really have to focus on work, I throw my iPhone in there and set it for whatever time. Even if I'm watching a movie, I'll set the timer for two and a half hours, and you can't open this thing without breaking it. People use it for cookies and snacks and stuff, but I use it for my cellphone. It's a game changer.
"[Filmmaker] Spike Jonze actually recommended it to me. I was telling him how frustrated I am with my cellphone addiction, and he said he got one of those. I even bought a flip phone and was trying to switch over, but it's just hard to function in the 21st century on a flip phone."
AQUAFIT Half Gallon Water Bottle
$ 20
Are these water jugs big, bold, and bulky? Totally. But if you need a little nudge to meet your hydration goals, they may be just what you need for extra motivation. I personally work better with visual deadlines—if I actually see my progress on my water bottle, I'll have a better chance of hitting it.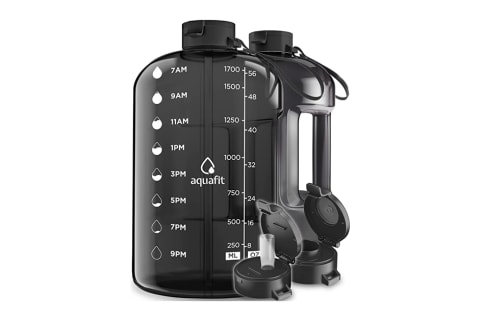 Kitchen Safe Time Lock Safe
$ 70
I love André's hack and have been scrolling through Amazon to find myself a little phone safe of my own. This one from kSafe has a timer from 1 minute up to 10 days, and you can track your progress on the high contrast LCD screen. Truly, the only way to get it open before time runs out is to break the device; removing the batteries will only stop the countdown, but the box will stay locked.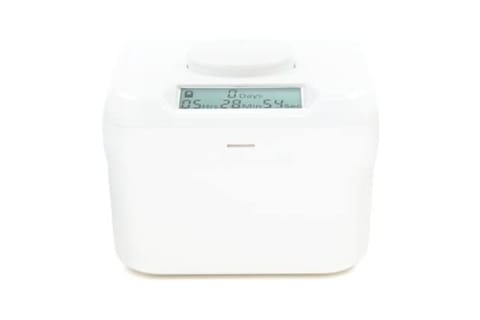 The tried-and-true: An old-school slushy maker & a sturdy razor
"I have this Hamilton Beach mixer for tiki drinks. That's my favorite toy. If you make a tiki drink with pebble ice, it gets to a perfect slushy consistency. It's the best cocktail you could hope for.
"And they're old school, too. They're from the '50s to make milkshakes and stuff like that, and they haven't really changed the design of it for several years. It doesn't have to be [for] cocktails, but it's a lot cooler when it is…
"And then of course the razor. Shaving was always a hassle for me because my razor gets clogged so quickly. So I'm pumped to be partnering with BIC and to launch their EasyRinse Campaign."
BIC EasyRinse Anti-Clogging Men's Disposable Razors
$ 7
A fantastic razor needs a few things: multiple sharp blades (so it can catch the hairs in one glide), a flexible, ergonomic head, and moisturizing ingredients (like aloe vera and vitamin E) to simultaneously soothe the skin. BIC's EasyRinse razor ticks every box, plus it features patented anti-clogging blade technology for efficient, easy strokes.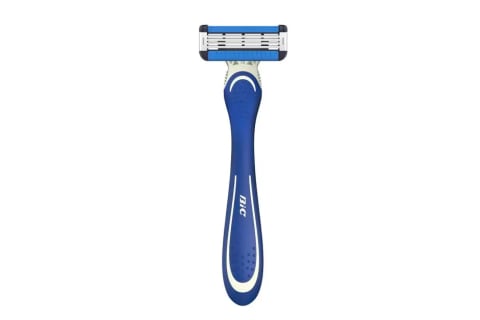 Hamilton Beach Professional All-Metal Drink Mixer
$ 100
Whether you're making slushies, smoothies, or protein shakes, you'll achieve the perfect frothy consistency with this classic device. It has maintained its reputation as the original drink mixer since 1911, and for very good reasons: It's stainless steel, dishwasher-safe, and can even help you whip up fluffy omelets and pancake batter.
The splurge: High-tech electronics
"I love my Sonos speakers throughout my house. I also invested in an electric bike company called VanMoof, and it's a really fun way to get around the city."
Sonos Era 100
$ 249
Sonos is known for their high-tech devices with amazing sound quality, and this Era 100 truly fills your space with rich stereo sound. It connects to Wifi and Bluetooth, and it's voice-enabled, so you can have hands-free control. The compact design is sleek and portable, so you can easily tuck it into a corner for an immersive music experience.
VanMoof A5
$ 3,498
E-bikes are great for exploring your city while folding in regular movement. And this high-tech option is truly the crème de la crème: It features an automatic bike lock, anti-theft tech, long-range battery, and so much more. You also have the ability to mount your phone to the handlebars and use the VanMoof app, in which you can track your speed, ride duration, and distance.
The steal: A versatile balm
"Aquaphor when my lips get chapped. It's classic… It's the only lip balm that works for me long term. I don't have to keep reapplying it. I swear by Aquaphor. I've been an Aquaphor-head for 20 years. Sometimes if I'm really dry, I'll put it on my skin if I don't have lotion."
Aquaphor Healing Ointment
$ 16
André isn't the first to praise this healing balm, and he certainly won't be the last. A classic moisturizer, Aquaphor is beloved for lips, cuticles, and slugging routines everywhere. I should note it does contain mineral oil—if you typically avoid that ingredient, you can certainly find other options with a similar jelly-like texture.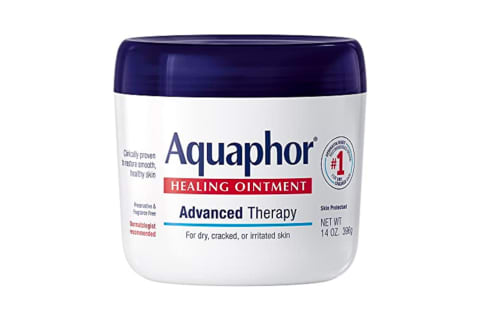 What my therapist taught me: The power of meditation
"I meditate twice a day. That's been a tremendous help for my anxiety.
"My first therapist [inspired me]. I was already doing a little bit of meditation and yoga but wasn't really enjoying it. Then I started going to therapy in my mid-20s, and my therapist recommended it. I took a class, and I've been doing it for 12 years."
The travel-staple: A multivitamin
"I used to not be a multivitamin guy—I usually just do one men's health multivitamin—but now I'm experimenting. When I started [taking] the magnesium and seeing how much that helped with sleep, somebody was like, 'Ashwagandha helps with mood, and Wellness Formula helps [keep me healthy].' So I'm in an experimentation phase. It's pretty good."
Source Naturals Wellness Formula
$ 27
With high-potency vitamin C, plus more than 30 other vitamins, minerals, and herbs, this formula is a fabulous option for immune support.* The serving size is quite large (4 to 6 capsules a day), which may not be practical for some, but you are getting a lot of important minerals, vitamins, and botanical extracts!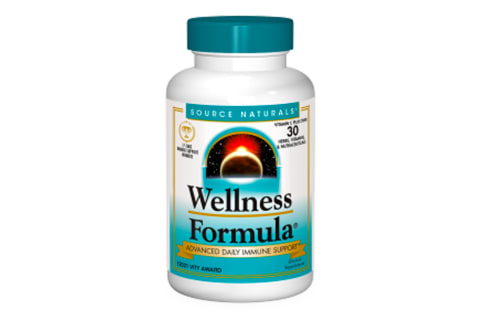 *These statements have not been evaluated by the Food and Drug Administration. This product is not intended to diagnose, treat, cure, or prevent any disease. If you are pregnant, breastfeeding, or taking medications, consult with your doctor before starting a supplement routine. It is always optimal to consult with a health care provider when considering what supplements are right for you.

Jamie Schneider
Beauty & Health Editor
Jamie Schneider is the Beauty Editor at mindbodygreen. She has a B.A. in Organizational Studies and English from the University of Michigan, and her work has appeared in Coveteur, The Chill Times, and more. In her role at mbg, she reports on everything from the top beauty industry trends, to the gut-skin connection and the microbiome, to the latest expert makeup hacks. She currently lives in Brooklyn, New York.