Close Banner
Advertisement
This ad is displayed using third party content and we do not control its accessibility features.
Try This ER Doctor-Approved Bedtime Routine For Stellar Sleep

Beauty & Health Editor
By Jamie Schneider
Beauty & Health Editor
Jamie Schneider is the Beauty Editor at mindbodygreen. She has a B.A. in Organizational Studies and English from the University of Michigan, and her work has appeared in Coveteur, The Chill Times, and Wyld Skincare.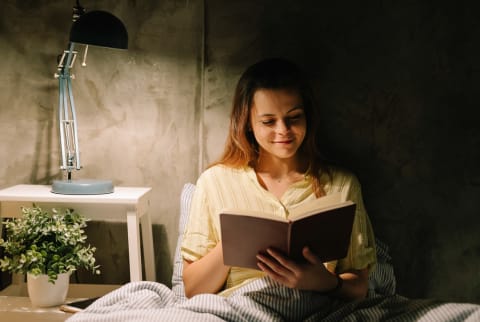 Image by Mihajlo Ckovric / Stocksy
We carefully vet all products and services featured on mindbodygreen using our
commerce guidelines.
Our selections are never influenced by the commissions earned from our links.
Here, their go-to tips for a successful snooze:
Ask any expert, the key to balancing your circadian rhythm, and they'll likely agree with Long: "Leverage light." See, as natural light starts to dwindle, your body's internal clock kick-starts melatonin production, which signals that it's time for sleep. "So that means that for an hour and a half before bed, we aren't using bright lights," Long says of her household, as any cool, bright light makes it harder for your body to register that it's time to wind down. "We turn off the bright overhead lights, and we just use dim, 30-watts-or-less light bulbs on all of our bedside tables" (like these low-watt light bulbs from Amazon).
"Then on the flip side, when you wake up in the morning, the first thing you want to do is get bright light," Long continues, as the sun's natural blue light regulates your sleep and wake cycle1, helps boost alertness, and can even elevate your mood. "You're resetting your circadian rhythm for the day, so it will make you more awake at that moment and make it easier to fall asleep at night."
But just because Long suggests avoiding screens doesn't mean you have to have a completely silent home for an hour or two before bed: Bock, for example, listens to podcasts or audiobooks with her fiancé during their wind-down routine. So she's not exposing herself to as many screens, but she's still enjoying a source of digital entertainment before bed. "Listening to a story can be calming—it's like an adult bedtime story," Bock notes.
3.
Try sleep-promoting supplements.
"If you can take a natural supplement that will help your eyes feel heavy, that is the dream,"* says Bock. "It takes the stress off of sleeping." Because we've all been there: You lie in bed and try to force yourself to feel sleepy, which makes you feel even more wired. "When you get in bed and you can't fall asleep, it's torture," she adds (I can certainly relate).
Specifically, she's a fan of mbg's sleep-support, which contains a powerful blend of magnesium bisglycinate, jujube, and PharmaGABA® that helps you fall asleep faster and enhances overall sleep quality.* Bock takes it about 30 minutes to an hour before going to bed, and it helps her sleep soundly throughout the night.*
4.
Take an Epsom salt bath.
Bock is also a fan of Epsom salts: "If I take a hot Epsom salt bath before bed, it relaxes my entire nervous system and calms my body," she notes. Epsom salts (which are made of magnesium sulfate) are lauded for easing stress while promoting calm and full-body relaxation—all necessary components for a stellar night's sleep.
Even if you don't have any Epsom salts to add to your bath, the soak itself is worth your while: One large meta-analysis found that taking a bath one to two hours before bed can improve overall sleep quality and how quickly you fall asleep. Just make sure to give your body enough time to cool down by taking your bath (or steamy shower) one to two hours before bed—raising your body temperature can make it harder for you to fall right asleep. "When you get out of the bathtub, your body temperature drops and your brain thinks, 'Oh, my body temperature dropped, so it's time to go to sleep.' Hence, sleepy time. It works," says Long.
No bath? No problem: Here's how to reap the benefits of soothing magnesium without the soak.*
The takeaway. 
After trial and error, both Bock and Long have nailed down their ideal bedtime routines (make sure to catch their full conversation). Of course, sleep routines are entirely personal, and you might rely on a different set of practices to help you wind down. That's OK—we have plenty more tips in our growing library.
If you are pregnant, breastfeeding, or taking medications, consult with your doctor before starting a supplement routine. It is always optimal to consult with a health care provider when considering what supplements are right for you.

Jamie Schneider
Beauty & Health Editor
Jamie Schneider is the Beauty Editor at mindbodygreen. She has a B.A. in Organizational Studies and English from the University of Michigan, and her work has appeared in Coveteur, The Chill Times, and more. In her role at mbg, she reports on everything from the top beauty industry trends, to the gut-skin connection and the microbiome, to the latest expert makeup hacks. She currently lives in Brooklyn, New York.