Want Clear Skin? Here's Your Doctor-Approved Grocery List
Integrative Medicine Doctor
By Amy Shah, M.D.
Integrative Medicine Doctor
Dr. Amy Shah is a double board certified MD with training from Cornell, Columbia and Harvard Universities. She was named one of mindbodygreen's Top 100 Women In Wellness to Watch in 2015 and has been a guest on many national and local media shows.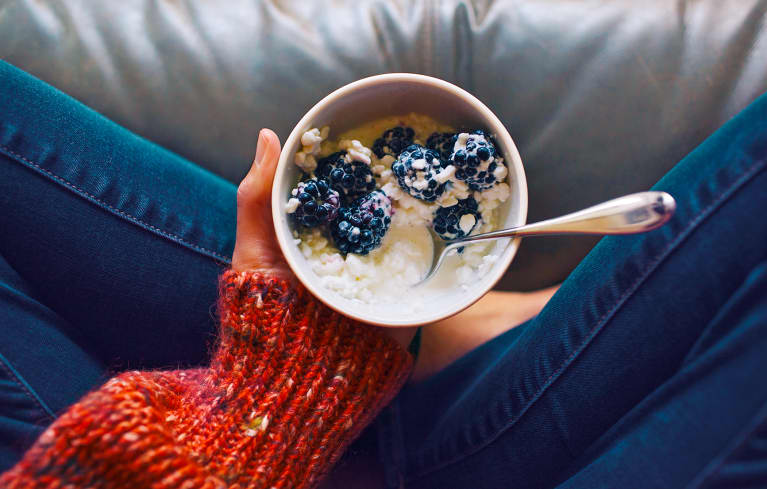 You've heard the beauty buzz around collagen. Maybe you have been drinking bone broth and doing your Manuka honey masks diligently—but the real key to glowing, radiant skin starts with what you eat. In the context of functional nutrition, beauty food creates a healthy gut environment and balances hormones, resulting in an outward glow. When we eat beauty foods, we're truly amplifying beauty from the inside out.
I believe that products, serums, buzzy supplements, and tricks will never be as good as the functional foods below. Try it for a week and you will see. Here's a list of five beauty foods I recommend to my clients asking for smaller pores and clearer, younger-looking skin:
1. Cruciferous vegetables.
Cruciferous vegetables are beauty food rock stars. Their hormone-balancing properties such as anthocyanin keep inflammation down and balance gut flora. Containing glucosinolates, they help rid the colon of carcinogenic invaders and can help reduce the risk of several other cancers. They taste great sautéed, roasted, or tossed into a smoothie. Cauliflower (one of my favorites), kale, broccoli, arugula, bok choy, collard greens, and Brussels sprouts are all cruciferous wonder veggies. Make them a part of your weekly menu—have roasted turmeric cauliflower today.
Beauty food: Include cruciferous veggies three to five times a week in smoothies, sauces, soups, or snacks.
This medicinal herb is known in India as "the strength of the stallion." It can kick-start a sluggish thyroid, improve high cortisol levels (the steroid hormone that responds to stress), benefit brain health (alleviating mood disorders, anxiety, depression), may help inhibit the growth of cancer cells, and increase stamina and energy levels. By working on the thyroid and cortisol levels specifically, ashwagandha helps to keep hormones in check. When hormones are happy, the skin is too.
Beauty food: Take one to two capsules daily (start small!) of 300 to 500 mg capsules. (Whichever brand you buy, be sure it's reputable, as it can be contaminated with heavy metals.)
Berries are chock-full of antioxidants as well as disease-fighting bioactive compounds; studies suggest they prevent inflammation disorders, cardiovascular disease, and may lower the risk of various cancers. According to a study in the International Journal of Molecular Sciences, berries repair oxidative DNA damage, even in vitro.
When choosing your berries, opt for the vibrant-colored ones: blueberries, blackberries, and raspberries. Loaded with vitamins, nutrients, and fiber, they may help lower LDL (bad) cholesterol. Berries contain ellagic acid, which helps to reduce the breakdown of collagen as we age, keeping skin resilient. Berries can be included in nearly every diet, and they're delicious!
Beauty food: Go for at least three servings per week.
4. Vinegar and fermented foods.
Apple cider vinegar that contains the "mother" (the cloudy particles at the bottom of the bottle) may enhance blood flow and reduce triglyceride levels, which can lead to a healthy-looking complexion. Since vinegar is a rich source of polyphenols, it aids in antioxidant protection and may reduce cancer risks. Fermented foods such as yogurt, natto, kefir, and kombucha keep good gut bacteria in check and keep bad bacteria out.
Beauty food: Start with a ½ cup a day of fermented food. Add a teaspoon or two of apple cider vinegar to water, or use it in combination with olive oil for a salad dressing.
5. Any foods containing vitamin D.
Vitamin D is the key to skin cell renewal. Without adequate amounts, the skin becomes thinner and dryer. It's essential to beautiful skin. Foods high in vitamin D include eggs, sardines, salmon, tuna, and mushrooms. The benefits of vitamin D are regulating healthy cell activity and supporting strong healthy skin, teeth, and hair.
Recommendation: Get a little sunshine, eat vitamin D-rich foods daily, and if you're deficient, take a vitamin D supplement.
Before spending your time and money on a new serum—try these recommendations for one week, coupled with lots of water, and you will see what I mean.
Want to start using face oils? Here's how to find the right one for your skin type, plus the crucial step before applying face oils you don't want to miss.