Living With PCOS? Try This Flexible RD-Approved Meal Plan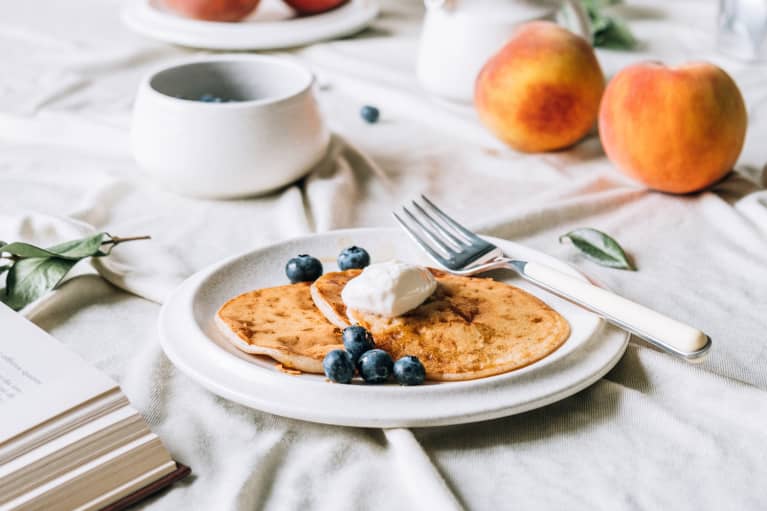 While the advice is simple enough, sometimes the thought of planning what to eat for breakfast, lunch, and dinner, can just be...too much, particularly in the midst of a busy week. So, to give you a break, Ramallo shares this handy-dandy meal plan for people with PCOS (or really anyone looking for a guidepost to balanced, nourishing meals).
Whole grain or oat pancakes. If you enjoy maple syrup, Ramallo advises having it in moderation and opting for a dark amber, which packs a more flavorful punch in smaller amounts.
Protein of choice: nut butter, eggs, or breakfast sausage. If cholesterol is a concern, she recommends chicken sausage.
A cup or piece of fruit
A glass of whole milk or cup of full-fat yogurt
A pita pocket (or another grain-based vessel, like bread or a wrap) stuffed with grilled chicken, fish, lamb, or lean meat; a handful of lettuce, sliced cucumber, tomato, or other veggies; tzatziki sauce or a drizzle of extra-virgin olive oil and vinegar.
Depending on your hunger level, add a side of nuts, fruit, or veggies.
Cheese sticks, cheese cubes, cheese spread...you get the picture
Whole-grain, high-fiber, or seedy crackers (our favorites here)
Fruits and veggies
Mixed green salad
Brown rice, quinoa, or another cooked grain
Plant or animal-based protein (grilled, sauteed, braised, curried, etc.)
If you crave dessert, Ramallo is all for it. She recommends indulging in a few squares of dark chocolate, a scoop (or two) of ice cream, a brownie, a cookie, or whatever you're hankering for, really.
"Of course, sugar can make PCOS worse," she once told mbg, "but there are methods to lower the blood sugar spike." Namely, pairing your sweet treat with protein, fat, and fiber, as they will reduce the speed at which the body can absorb sugar. So...chocolate with a touch of nut butter?
While the specifics of the meal plan can be flexible, you can use the represented food groups as a sort of template for your everyday diet. The main takeaway here is that each meal should provide carbohydrates, fiber, protein, and fat, Ramallo says.
"I suggest whole grains at all three big meals since six or more servings of grains are recommended per day," she says. "Other than that, about half of the plate should be fruits and vegetables, one-quarter should be whole grains, and the remaining one-quarter portion should be protein." On top of the main food groups, Ramallo recommends integrating nutrient-dense oils and whole dairy, where possible.