Make These Healthy Dark Chocolate Almond Butter Cups The Next Time PMS Cravings Hit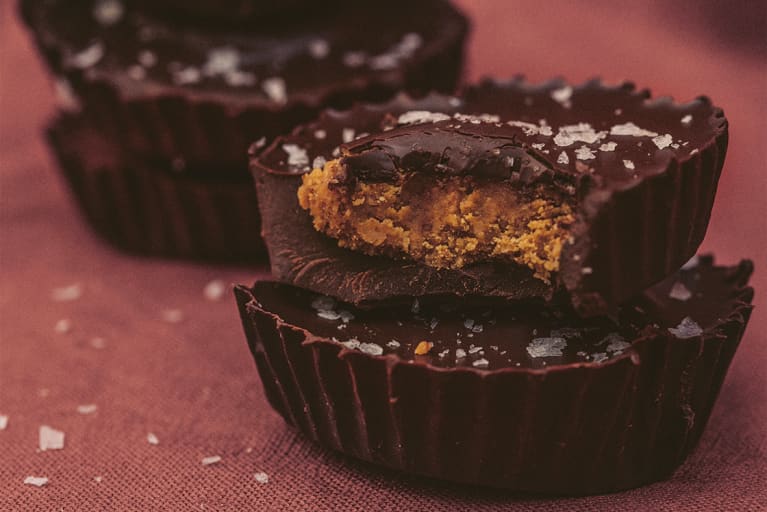 Our editors have independently chosen the products listed on this page. If you purchase something mentioned in this article, we may
earn a small commission
.
Let's start with the obvious: Nut butter cups are, by far, one of the best chocolate treats. While there are plenty of store-bought options we love, making them yourself is an easy way to cut back on unnecessary ingredients and keep the flavor deliciously simple. Case in point: This straightforward, scrumptious almond butter dark chocolate cup recipe.
And if you're a person with a menstrual cycle, these cups are the perfect PMS treat and may even "keep PMS symptoms at bay," Devon Loftus and holistic nutritionist Jenna Radomski write in The Moon Cycle Cookbook.
A personal favorite of Radomski, these dark chocolate and almond butter cups are specifically ideal for the luteal phase of the menstrual cycle—the stage right before your period begins, when all of those fun PMS symptoms emerge. (Oh and in case you're wondering, there is an optimal way to eat for each phase of the menstrual cycle.)
"First, we call for dark chocolate, which not only offers a deep, rich flavor but also provides magnesium, an essential mineral for hundreds of processes in our bodies," Radomski tells mindbodygreen. "Calcium is another mineral with similar benefits for PMS symptoms, and almond butter contains much more calcium than other nut butters." The chocolate and almond butter also provide iron and zinc, she shares.
Even if you're not approaching PMS, this recipe is the perfect satisfying chocolate treat to have on hand for any time you need (or just want) one.
Almond Butter–Dark Chocolate Cups
1 (4-ounce) bar dark chocolate (70% cacao or higher)
2 tablespoons coconut oil
½ cup almond butter
3 tablespoons coconut flour
1 tablespoon pure maple syrup
1 teaspoon vanilla extract
Flaky sea salt, for topping
Line a muffin pan with 12 paper liners.
Break the chocolate bar into small pieces and place in a microwavable bowl. Add the coconut oil. Melt the chocolate in the microwave on high power for about 1 minute, stopping to stir every 20 seconds, until smooth and shiny.
Pour 2 teaspoons of the melted chocolate into each muffin liner and place the pan in the freezer for 5 minutes, or until the chocolate mixture is hardened.
Combine the almond butter, flour, maple syrup, and vanilla in a small mixing bowl, and mix until a dough forms. Form into small balls (about 1½ teaspoons of dough each), and flatten with your palm to about ¼-inch thickness.
Remove the muffin pan from the freezer and place one almond butter piece in the center of each cup. Spoon another 2 teaspoons of melted chocolate on top and return to the freezer for 10 minutes longer.
Remove the muffin pan from the freezer and sprinkle a pinch of salt on each cup. Return the pan to the freezer for 5 minutes longer, then enjoy. Store in an airtight container in the refrigerator for up to 2 weeks.
Excerpted from The Moon Cycle Cookbook © by Devon Loftus and Jenna Radomski, photography © by Poppi Photography, used with permission from Storey Publishing.