Yes, Even Deepak Chopra Wears A Wellness Tracker — Here's Why
Health Writer & Editor
By Kristine Thomason
Health Writer & Editor
Kristine is a writer, editor, and editorial consultant who lives in Long Beach, CA.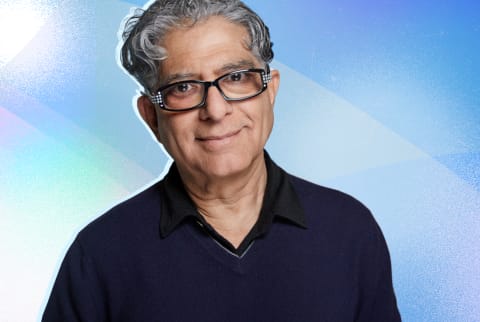 March 5, 2021
We carefully vet all products and services featured on mindbodygreen using our
commerce guidelines.
Our selections are never influenced by the commissions earned from our links.
"Bring your awareness to any sensation you have in your body. Be aware of the sensation. Now, take your awareness outside the sensation and into the rest of the body," I could hear the soothing voice of Deepak Chopra, M.D., FACP, guiding my mind away from scattered and toward serene.
I was lucky enough to attend a virtual meditation session with the mbg Collective member and spiritual icon himself, in celebration of his new Mindful Method offerings (a series of guided mindfulness practices) on Fitbit Premium. I inhaled, exhaled, and visualized my way to calm with every one of his comforting words. However, in the moments when my mind wandered (which, Chopra reassured, is a perfectly natural part of meditation), I couldn't help but wonder how this mindfulness expert stays present while wearing a fitness watch all day long.
Don't get me wrong, I'm a huge fan of accessible health and fitness micro-metrics on my wrist—in fact, we highlighted this phenomenon as part of mbg's 2021 wellness trends. Still, with so many notifications and insights that boil your well-being into a series of numbers and scores, I was curious about how someone as in-tune with himself as Chopra embraces this information without losing sight of mindfulness.
To get some answers, Chopra shared with me exactly how he uses metrics from his wearable (which he does, in fact, sport daily) to find an even deeper connection to his body and mind.
He observes connections between mental and physical feelings.
"The most exciting part of this new era of technology is that we can immediately see the metrics behind how our bodies respond when we introduce mindfulness, breathing, and mind-body connection techniques into a routine," Chopra tells mbg. So, in that sense, Chopra sees these metrics as a way to enhance his mental and physical awareness—not detract from it.
He loves referencing data from his device to help gauge how a mindfulness practice (or any activity) affects other aspects of his health—such as his stress levels or sleep quality. "This is where you start to make the connection between how everything—activity, sleep, meditation, nutrition, and beyond—fits together," he says. "The data is the truth, so the metrics I track empower me to know my body better and make the correlations between how I'm feeling mentally and physically."
He leverages data to help support daily mindfulness.
Chopra loves to watch his body respond in real-time to healthy practices, like meditation. "I look at my heart rate right before I begin a meditation session and notice how much it has lowered when I've finished my practice," he says. He also takes note of how his heart-rate variability, breathing rate, and stress levels change over time when he maintains a consistent practice.
Another tool he uses regularly on the Fitbit Sense, in particular, is a two-minute EDA scan that measures his body's response to stress. "I log my mood afterward so I capture how I'm feeling as another data point," Chopra adds.
Chopra is also diligent about tracking his daily yoga practice and observes how it affects his sleep, heart rate, and overall movement volume.
He recognizes his technology boundaries.
While Chopra does wear his tracker while meditating, he turns off all notifications so he "can practice peacefully and disconnect with distractions."
In the same vein, Chopra recommends completely disconnecting when you meditate, even just for a few minutes. "It is impossible for the human brain to do more than one thing at a time," he says. "While most people think multitasking makes them more productive, it actually takes away from the activity at hand."
To remedy this, he suggests treating meditation or your personal mindfulness practice as you would an important meeting for work or a phone call with a friend. "It deserves your full attention."
The takeaway.
While health and fitness metrics certainly shouldn't (and can't) replace your own intuition, based on Chopra's wise words, it seems this technology can be a tool to get better acquainted with your internal self.
"The data my device collects is critical information that equips me to manage and track each part of my well-being," Chopra says, "so I can enjoy a joyful and energetic body; a healthy, compassionate heart; and a clear lightness of being that comes with managing each aspect of my health."
Kristine Thomason
Health Writer & Editor
Kristine is a writer, editor, and editorial consultant who lives in Long Beach, CA. Kristine is a New York University graduate with a degree in journalism and psychology, and also a NASM-certified personal trainer. She has spent her editorial career focused on health and well-being, and formerly worked for Women's Health and Health. Her byline has also appeared in Men's Health, Greatist, Refinery29, HGTV, and more. In her current role she oversees, edits, and writes for the health, food, and movement sections of mindbodygreen.