Cooking With Wooden Spoons: A Must-Have Kitchen Tool In Latin Cuisine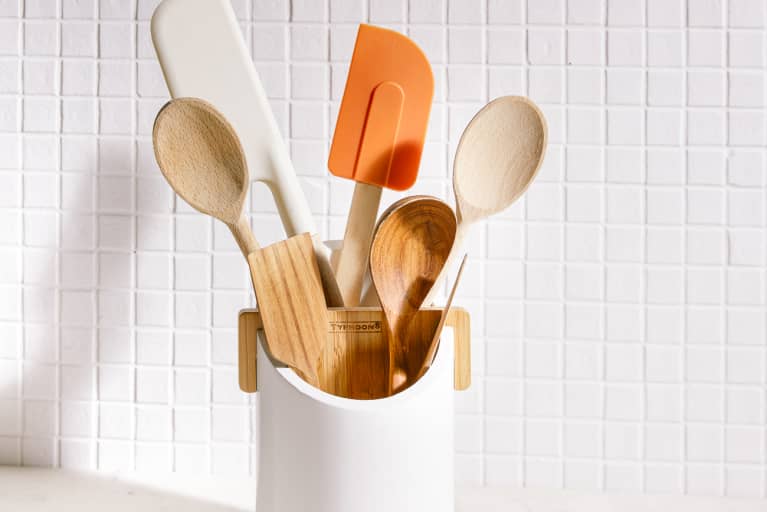 There's much to love about exquisite, multicultural Latin American food. While each country and region features distinctive flavors, Latin cuisine as a whole is rich in history, lifestyle rituals, and traditions that stretch beyond food. Cooking utensils—notably, the ever-ubiquitous wooden spoons—have also played an important role in shaping Latin American fare, in the same way they have touched many food cultures worldwide.
A bit of background on wooden spoons.
Wooden spoons are among the most universal cooking instruments, with countless design variations since ancient times. Next to pottery, beads, and textile fibers, archaeologists have discovered these sculptural spoons in Egyptian tombs as well as preserved Bronze Age buildings in Northern Europe, demonstrating how this tool has been a part of the broad human experience for millenniums.
But let's talk wood. Whether it's for artistic (hello, woodworking), practical, or culinary purposes, wooden spoons' appeal in Latin America isn't just about the host of shapes, grips, and sizes available for the task at hand. The types of wood, finish, and environmental impact (biodegradable, renewably sourced, compostable, etc.) are some essential factors when choosing a wooden spoon.
Some of the most durable, beautiful hardwoods (think olive, maple, and even treelike bamboo) come from temperate forests and are generally characterized by their uniquely attractive grain or striation. In Costa Rica, for example, caoba, nogal, teca, cocobolo, and palisandro are thought of as some of the most highly revered hardwoods because of their aesthetic, strong, and sustainable qualities.
Benefits of wooden spoons.
Beyond their rich history, wooden spoons are a versatile tool that can last a lifetime. Here are four reasons they've been a reliable cooking staple to this day:
1.
They're heat resistant.
Wooden utensils don't transfer heat, which means they're an insulated tool that won't melt, alter your food's temperature, or burn your hand while you're cooking.
Sturdy, long-lasting tools are essential to any kitchen. Whether you're flipping, whisking, stirring, or scraping—wooden spoons can get the job done, without bending or breaking.
3.
They're aesthetically charming.
The wide range of grains, textures, designs, and overall artistry of wooden utensils add a classic (and sometimes nostalgic) touch of sheer belleza to any cooking endeavor.
4.
They won't cause damage.
Despite their tough structure, wooden utensils are naturally soft tools that won't harm or scrape your cookware's finish and surface.
Tradition aside, is it healthy to cook with wooden spoons?
Wood's porosity, which can grow bacteria, is one cause of controversy with wooden utensils. However, just as it has been done for centuries, hand-washing wooden tools with soapy water after each use—and occasionally oiling them—will keep bacteria at bay and lengthen their useful life.
In other words, never (really, never) put your wooden utensils in the dishwasher or let them soak in water for long periods if you want to prolong your tool's longevity.
Wooden spoons are beautiful metaphors for enduring culinary and cultural traditions, in Latin cuisine and beyond. They also have the power to elevate our everyday cooking to something lovely, earth-centric, and intrinsically valuable.
As my Latin-Jewish mamá would say: "Wooden spoons remind me of my mom making fig cajeta —or thickened caramel—but they also take me to the smell of my land and the forest. They teach me to treat my pots with affection and to respect the colors and textures of my food."