Collagen Powder Can Help Ease Dry, Cracked Lips — Here's How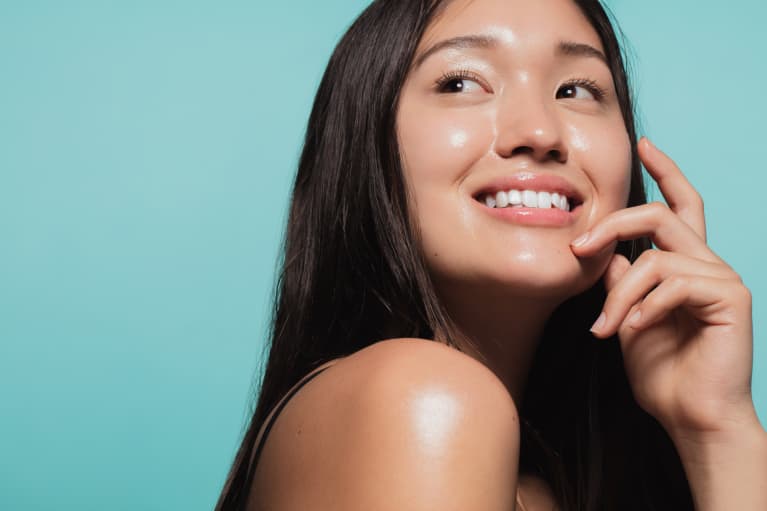 This article was produced to support the mindbodygreen supplements+ line. Our supplements adhere to the highest standards of ingredients and quality. We hope you enjoy these products, for more information
click here
.
Cracked, dry lips are not only annoying but can be downright painful. Sometimes it feels like you're reapplying coat after coat of balm, only to be frustrated again in no time. And chapped lips can come from multiple factors: dry skin in general, dehydration, burns, and (yes) even from chafing from your mask.
So what are you to do if you have perennially dry lips? Well, sure, you can reach for said ointment as a quick fix, but if you're doing this multiple times a day with no sign of long-term improvement, it's perhaps a sign that your cracked lips go a bit deeper. And in those cases, you need to go internal. We suggest mindbodygreen's grass-fed collagen+.
How collagen powder can help chapped lips.
As we noted, chapped lips can come as the result of a few things. Some are temporary, like a sunburn after a long day outdoors. Others are more systemic, like dehydration or dry skin. Finally, there's a more current reason you're likely getting them, as masks can cause irritation and chafing of the skin (not to mention you're likely applying less balm regularly if you're covering up your face, too). "Any areas that are tight or rubbing can irritate the skin," board-certified dermatologist Hadley King, M.D., previously told mbg about skin irritation and mask.
And ultimately, balms can only do so much (and depending on their formula, some make things worse). If your cracked lips happen frequently, then it's time to look for more sustainable answers, like a hydrolyzed collagen supplement made with additional moisture-enhancing finds. First, collagen supplements, when taken internally, have been shown to maintain dermal thickness and support elasticity and natural moisture levels.* Not only that, but many claim taking a collagen supplement can even promote plump lips.*
But mindbodygreen's grass-fed collagen+ goes the extra step and includes additional skin-enhancing actives, like hyaluronic acid and various antioxidants like vitamin C and vitamin E.* Hyaluronic acid is naturally occurring in the skin and is a humectant that helps pull in and hold water: It's an essential component for keeping lips hydrated and smooth. The antioxidants help keep the skin protected from environmental aggressors and free radical damage.
Chapped lips are a common skin care problem, and one that keeps coming back it seems. Especially if you are experiencing them more now (ahem, masks), it might be time to take an internal approach.