From Dryness To Dullness: 5 DIY Coconut Oil Hair Masks For Every Hair Concern
mbg Associate Editor
By Jamie Schneider
mbg Associate Editor
Jamie Schneider is the Associate Editor at mindbodygreen, covering beauty and health. She has a B.A. in Organizational Studies and English from the University of Michigan, and her work has appeared in Coveteur, The Chill Times, and Wyld Skincare.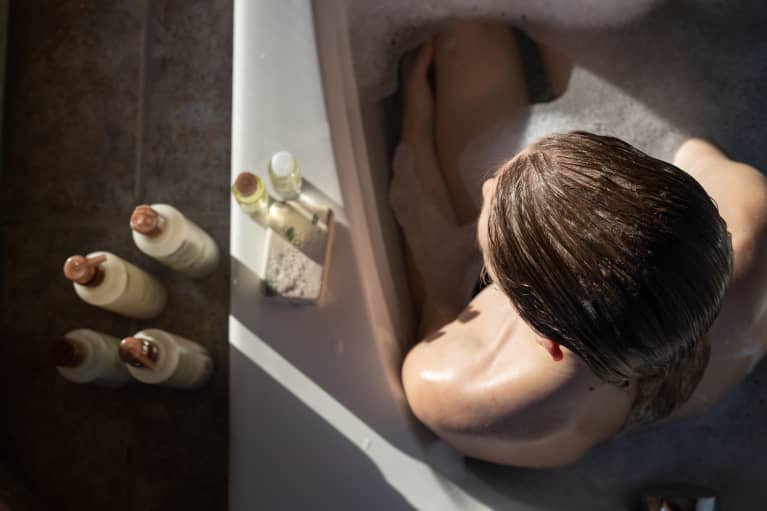 So, you've read all about the benefits of coconut oil for hair, and you're practically itching to get your hands on the centuries-old beauty secret. We love the enthusiasm, but you don't want to just drench your strands in coconut oil and call it a day—the oil is a hero ingredient, no doubt, but there are certain tweaks to mind for different hair concerns (brittleness, dullness, dryness, the works).
Ahead, we rounded up the best coconut oil hair masks to try out. Cue the softest strands, ever.
Who should use a coconut oil hair mask?
Coconut oil is hailed for good reason: "It nourishes strands, replenishes moisture, improves manageability, controls frizz, and adds high-gloss shine and softness to curls," hairstylist Miko Branch, co-founder of natural hair care brand Miss Jessie's, once told us. "Also, it's naturally rich in proteins and fatty acids." Lauric acid, to be exact, which allows your tresses to better hold on to proteins. It also has a low molecular weight, so it's more able to easily penetrate and absorb into the hair shaft—aka, more moisture to parched strands.
Although, if your hair and scalp run oily, you might want to nix the coconut oil mask or use it very sparingly. As we mentioned, the thick, rich oil is super hydrating—perfect for withered strands but not so great for hair prone to buildup. And in a twisted turn of events, overdoing the coconut oil can cause more brittleness for some people.
To learn more about the benefits of coconut oil for hair type (and who should probably steer clear), take a look here.
Below, five nutrient-rich DIY masks for a smattering of hair concerns. Grab your coconut oil (unrefined and organic, always) and give these recipes a proper whirl:
1.
For moisture maintenance: Pre-shampoo treatment mask.
If your hair isn't necessarily parched dry but you want a hit of moisture every now and then, add this pre-shampoo treatment to your hair care routine. Simply rake some melted coconut oil through your hair, leave it on for 20 to 30 minutes, then shampoo and condition as usual. You'll really want to thoroughly shampoo, here, so as to prevent buildup (coconut oil is an occlusive, and a heavy one at that). Either repeat the treatment once a week or once every other week if your scalp is oily.
2.
For very dry hair: Overnight mask.
A similar venture to the pre-shampoo treatment, only it takes some overnight commitment. It's perfect for those with super-dry hair hoping to wake up to soft strands (because, uh, who doesn't want that?). "Melt a few tablespoons of coconut oil over low heat, and transfer to a bowl," Branch has told us. "Apply warm coconut oil to hair—section by section—massaging into the roots and saturating hair throughout the tips. Then run a wide-toothed comb throughout your entire hair to gently detangle."
After covering your hair with a shower cap, you can either relax for half an hour or sleep on those coated tresses overnight for some deep conditioning. Again, make sure to completely rinse out the coconut oil in the a.m.
3.
For dry, itchy scalp: Coconut-aloe-honey hair mask.
While coconut oil makes a mighty fine hair mask on its own, you can always chuck in other hair-healthy ingredients for a little something extra. Namely, aloe vera and honey make for quite the soothing experience: Both aloe and honey have anti-inflammatory properties, which can help manage scalp inflammation and irritation (read: a flaky, dry scalp). They're also super moisturizing in their own right; pair them with coconut oil, and you'll increase the hydration threefold.
To make this mask, mix 2 teaspoons of fresh aloe vera gel, 1 teaspoon of honey, and 3 teaspoons of coconut oil. Apply the mask on dry hair, coating the strands from root to tip (paying close attention to the scalp). Let it sit for 20 minutes, then rinse thoroughly.
4.
For weak, brittle hair: Pumpkin coconut mask.
Your favorite gourd is actually a hair-care star: Pumpkin contains beta-carotene to neutralize free-radical damage in the hair strand (because, yes, your hair does face oxidative stress, too). Blackstrap molasses is also chock-full of nutrients and antioxidants—while you might see molasses and immediately think sticky mess, know that the coconut oil does thin out the mixture quite a bit. Plus, it gives the mask even more proteins and fatty acids.
Mix ½ cup pumpkin puree (either canned or fresh), 2 tablespoons coconut oil, 1 tablespoon blackstrap molasses, and 1 teaspoon mixed nutmeg, cinnamon, and clove. Apply the mixture to your hair, cover with a shower cap, and let it seep in for 15 to 20 minutes. Rinse thoroughly. (See here for the full instructions.)
5.
For dull hair: ACV and coconut oil rinse.
Now, you may be familiar with a good apple cider vinegar rinse—the acidic solution brings your hair's pH back down and seals the cuticle shut, which results in shiny strands. But let's chuck some coconut oil into the mix, shall we? In fact, many ACV-formulated products on the market come buffered with hydrating oils (like coconut) to simultaneously soften the hair while making it shine.
To make this mask, combine two parts coconut oil to one part ACV and rake the solution through your strands. Let it sit for up to five minutes, then rinse.
There are more than a few ways to use up your jar of coconut oil, so feel free to play around with the deep-conditioning masks above. Although, no matter which mask you use, be sure to wash it out completely after letting the oil seep into your scalp, and perhaps keep the treatments to once a week at most. It's so easy to go overboard with coconut oil, which can backfire!