The Summer Of Clean Mascara: Major Formula Upgrades + 5 Best New Launches

Beauty & Health Editor
By Jamie Schneider
Beauty & Health Editor
Jamie Schneider is the Beauty Editor at mindbodygreen. She has a B.A. in Organizational Studies and English from the University of Michigan, and her work has appeared in Coveteur, The Chill Times, and Wyld Skincare.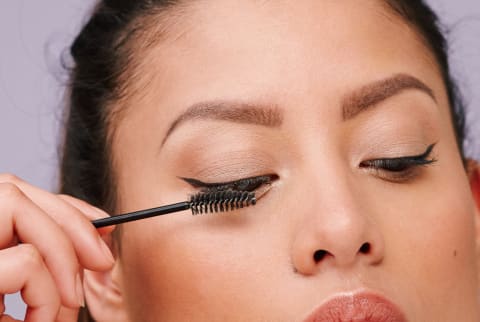 September 10, 2021
We carefully vet all products and services featured on mindbodygreen using our
commerce guidelines.
Our selections are never influenced by the commissions earned from our links.
For so long, clean mascara has been synonymous with a minimal, "no-makeup makeup" look. The association makes sense: natural ingredient profile, natural payoff, right? Perfect for an everyday swipe of pigment, but for mega doe eyes, you might reach for your conventional wand—typically it offered more impact, more drama.
That is, until very recently—a time I now officially declare the Summer of Clean Mascara. As eye makeup remains top tier (masks, and all), one clean mascara after another kept popping up on the scene. But what's extra cool, my fellow ingredient followers, is that each has a specialty: We're talking formulas meant strictly for thickening, volume, lash length, definition, you name it.
A common factor, though, is that they're expanding the definition of a clean mascara, kicking its minimal reputation to the curb. Because these new launches are not just high-performing—they're taking the main stage.
Clean mascaras are one of the hardest products to formulate.
Let's back up for a minute: Mascaras need to have some sort of preservative system, given that you frequently pump the wand in and out and increase the chance for contamination. Mascara formulas are water-based, and thus a breeding ground for bacteria. (And let's remember here, folks: "safe" and "clean" beauty also means free from microbial contamination.) The problem is, it can be difficult for some brands to formulate effective preservatives without the use of parabens or phthalates.
It goes beyond that, too. From a wearability standpoint, even brands that do use safer preservatives still may find it difficult to achieve a dramatic, "look-at-me" formula without the use of plasticizers (which help the lashes appear soft and bendy). So you may wind up with a mascara that's clean but doesn't give you the same fluttery payoff as a traditional product—which is exactly how clean mascara earned its standing in a more minimal makeup routine.
And to get that smooth glide that many mascaras boast for an effortless application, many brands lean on mineral oils. Not only can these be irritating and sensitizing for the delicate eye area (for some people, not all—we should say), but they are byproducts of petrochemicals—making a less-than-ideal situation for those who are trying to be more eco-friendly.
Last but certainly not least: A hallmark of a good mascara in the traditional world is smudge-proof, long-lasting, and often waterproof. But some traditional makeup companies will use PFAS, sometimes called "forever chemicals," to get that look—but these ingredients cannot deteriorate when absorbed in the body nor when washed down the sink at night. (In fact: The House just passed a bill demanding the EPA regulate this class of ingredient—there's also several states with legislation in the work, too. This is all to say: This isn't just a "clean beauty" issue.)
But we'll get off our soapbox and back to the point: "Lash volume, thickening, lash separation, non-clumping, long wear, smudge-proof are all (now) staples of a good mascara," seconds clean cosmetic chemist Krupa Koestline. "It is extremely hard to achieve these characteristics with a clean ingredient selection.""
But the market is finally catching up. 
Just as clean lipsticks are only getting bolder, clean eyeshadows are far from basic, clean mascaras are becoming more sophisticated. No longer do natural-leaning formulas compromise performance, and according to Koestline, we have ourselves to thank for the recent boom: "Because of consumer demand, there has been a big innovation push toward a cleaner ingredient list," she says. (Your dollar speaks volumes, after all.) "There are many more clean film formers, gelling agents, and plasticizers available on the market now than before."
Quick anecdote: Koestline, years ago, was able to seek maybe a few hundred clean ingredients to use when formulating color cosmetics. Now? She has over 10,000 available to help her land a more complex formula—which just goes to show how far the industry has expanded.
Brands are also getting more creative with naturally derived ingredients to achieve the same dramatic payoff as a conventional mascara. For example: "Beeswax is known to be a softer wax that gives volume and carnauba is a harder wax that assists with lengthening and curl," Kirsten Kjaer Weis, founder of her namesake clean beauty brand Kjaer Weis, tells mbg. When creating the new Im-Possible mascara, they played around with a ratio of these two waxes and introduced certified organic acacia gum into the formula—an ingredient responsible for what Weis can only describe as "va-va-voom" volume.
Beauty fans are also more educated than ever before—so when they, say, vocalize concerns about the eye area absorbing the chemicals it comes into contact with1, the industry quickly catches on with safer product offerings. And when they subsequently crave safer options that also put in the work? Enter, the wave of complex, high-performing numbers. It reinforces the point: If we're hungry for it, manufacturers will ultimately make it happen, even for a notoriously finicky product, like clean mascara.
"Mascara is a great example of a product that's historically been deemed 'too difficult' to create in a safer, high-performing way," adds Gregg Renfrew, founder and CEO of Beautycounter, regarding the brand's new Think Big All-in-One Mascara. "We've proven that it's possible."
Our favorite new launches. 
Whether you're hoping to lift, thicken, or lengthen your lashes, you can find a clean mascara that does a trick. Ahead, check out the new launches we've loved so far.
ILIA Fullest Volumizing Mascara
If you fell in love with ILIA's first Limitless Lash mascara (we sure did), you'll adore its lash-lifting sister just as much. While the former's focus was length and a natural zhuzh, ILIA founder Sasha Plavsic tells me, this new launch is all about dramatic volume. But just like Limitless Lash, its ophthalmologist tested and safe for sensitive eyes and contact lens wearers.
Fullest Volumizing Mascara, ILIA ($28)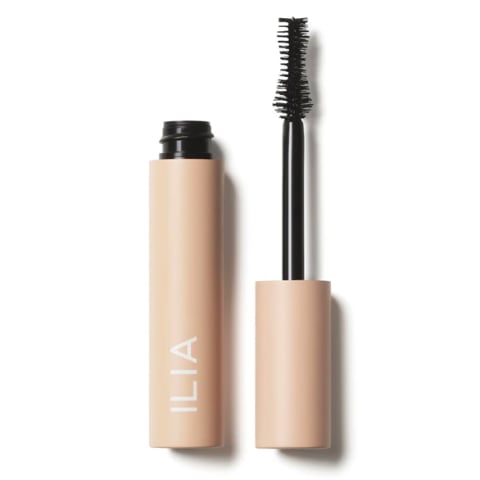 ILIA
Beautycounter Think Big All-in-One Mascara
A mascara that wears many hats: It volumizes, lifts, and lengthens, and nourishes the lashes with tripeptide technology, while rice bran wax, acacia gum, and carnauba wax create better viscosity. My favorite feature is the cone-shaped brush: The tapered tip allows you to grab those smaller, stubborn lashes at the inner and outer corners, making sure you coat every last hair.
Think Big All-in-One Mascara, Beautycounter ($27)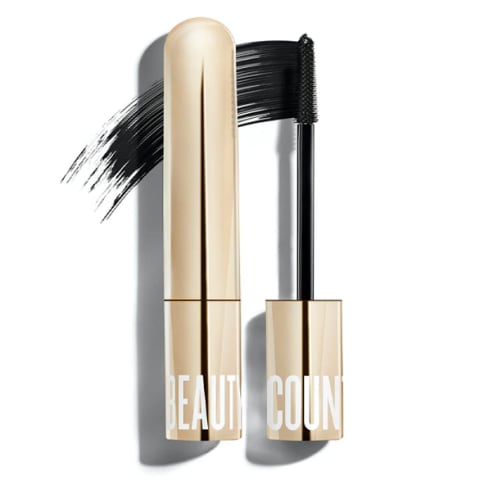 Beautycounter
LAWLESS The One & Done Volumizing Mascara
This vegan formula (instead of beeswax, it calls on lacquer tree and rice bran waxes to achieve soft volume) conditions the lashes with castor and argan oils, and the brush itself is one-of-a-kind: The comb helps you separate and lengthen the flutters, while the precision ball on top helps you reach each strand at all angles.
The One & Done Volumizing Mascara, LAWLESS ($25)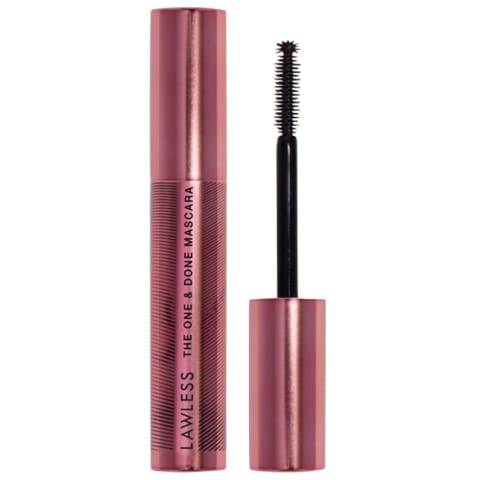 LAWLESS
Kosas The Big Clean Mascara
Hot on the heels of the brand's first mascara launch comes its new long-wear formula. Rather than relying on microplastic film formers (like acrylate copolymers), this number features plant-based sugars that work as a natural binder, so you'll get 12 hours of smudge-free length and curl.
The Big Clean Mascara, Kosas ($26)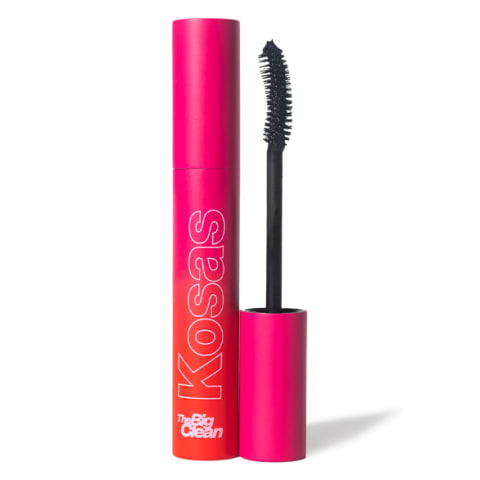 Kosas
Kjaer Weis Im-Possible Mascara
This mascara offers a "made you look" volume, thanks to the aforementioned certified organic beeswax, carnauba, and acacia gum. But the real bonus here is that it's endlessly buildable: Due to the unique football shape of the brush, the creamy pigment will evenly distribute across the bristles without becoming goopy (a major pet peeve of Weis'), so you can slick on coat after coat without worrying about clumps. Of course, it's housed in the brand's signature luxe, cherry red packaging, with a refillable insert.
Im-Possible Mascara, Kjaer Weis ($32)
Kjaer Weis

Jamie Schneider
Beauty & Health Editor
Jamie Schneider is the Beauty Editor at mindbodygreen. She has a B.A. in Organizational Studies and English from the University of Michigan, and her work has appeared in Coveteur, The Chill Times, and more. In her role at mbg, she reports on everything from the top beauty industry trends, to the gut-skin connection and the microbiome, to the latest expert makeup hacks. She currently lives in Brooklyn, New York.