The Genius Hydration-Boosting Ingredient To Add To Healthy Homemade Ice Pops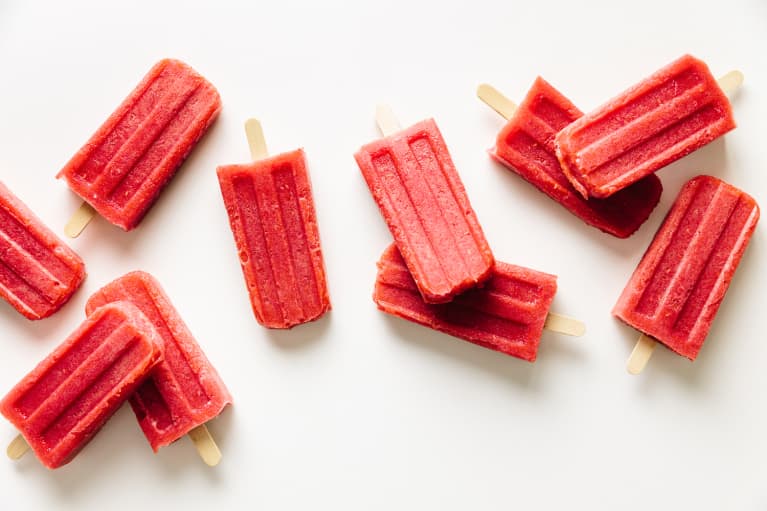 The heat wave sweeping across North America doesn't seem to be planning on letting up anytime soon. One important way to care for ourselves this summer (and, really, always) is hydration.
While drinking enough water is the most important step for hydrating, there are also a number of hydrating foods we can incorporate into our diet. "While 80% of hydration comes from drinking water, the other 20% comes from food," explains Maya Feller, M.S., R.D., CDN, "so varying your intake of fruits and vegetables throughout the day is important."
One fun option: ice pops. There's something unabashedly nostalgic about this treat, and they're largely liquid, making them perfect for hydrating. Since ice pops are also easy to make, doing it yourself means you can handpick ingredients to optimize this cooling snack. In fact, there's one surprising ingredient we highly recommend using to whip up these pops.
Why you should add chia seeds to your ice pops for hydration.
You might be more used to adding chia seeds to overnight oats or smoothies, but really what is an ice pop if not just the frozen version of a smoothie? And though you might be inclined to reach for chia seeds for their fiber and protein content, they're also great for supporting hydration: Here's why.
According to neuroscientist Kristen Willeumier, Ph.D., adding chia to your beverages may actually make it more potent for hydration than just water. "It's the chia seeds that are holding on to that hydration much better than just plain bulk water alone," she says.
She further explains that it comes down to the way chia seeds absorb water and gel together. In that structure, the molecules are stacked all together and the seeds become tiny little hydration-boosters: "It is in that form that's found in nature, and it's also in that form that's found within our cells," she explains.
When adding chia seeds to your mixture, be sure to let it sit for at least 20 minutes before popping it in the freezer, to give the seeds time to absorb the liquid before it all goes solid.
Our favorite combos for the ultimate hydrating ice pops.
If you really want to double down on making super-hydrating treats, you can start with other smart ingredients beyond chia seeds, too. Here are some combos to try, all of which include one or two hydration powerhouses. Simply blend them like a smoothie and then pour them into an ice pop mold. If you don't have a mold, you can try pouring the mix into an ice cube tray and then blending it again once frozen for a slushie consistency. And of course, be sure to add a spoonful of chia seeds to these mixtures.
Cucumber & apple
Watermelon & basil
Honeydew & mint
Strawberry & blueberry
Orange & spinach