A Healthy 2-Ingredient Slushie Recipe For Hot Summer Days
Assistant Managing Editor
By Abby Moore
Assistant Managing Editor
Abby Moore is an assistant managing editor at mindbodygreen. She earned a B.A. in Journalism from The University of Texas at Austin and has previously written for Tribeza magazine.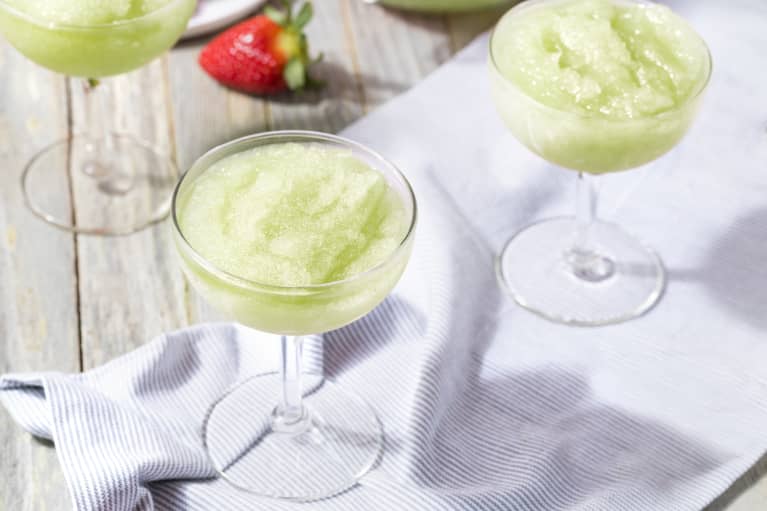 Summer is the perfect time to load up on sweet frozen snacks. Opting for an ice pop is one way to go, but there's something about a slushie that feels utterly nostalgic. Unfortunately, most fruit slushies contain artificial colors and sweeteners. To satisfy those childhood cravings without the additives, mbg developed a two-ingredient version, using organic veggies+ greens powder as the star.
Make healthy 2-ingredient slushies. 
All that you need to make a nutritious and refreshing slushie at home, is water (or another liquid of choice), organic veggies+ greens powder, an ice cube tray, and a blender.
2 cups cold water (or beverage of choice)
2 tablespoons organic veggies+
Pour cold liquid and greens powder into a mixer.
Shake together until well mixed.
Pour into ice cube trays, freeze until semisolid (this will help with that slushie-like texture).
Blend until it reaches desired consistency.
What are the benefits of this green slushie?
Yes, you can simply mix a scoop of organic veggies+ with water, coconut water, or a plant-based milk of choice. However, freezing the mixture and transforming it into a healthy, delicious slushie is a great way to mix things up, says registered dietitian Jess Cording, M.S., R.D., CDN. Plus, it's a fun and convenient way to sneak veggies into your daily diet, she adds.
The ingredients in organic veggies+ include hard-to-find sea vegetables, like kelp, chlorella, and spirulina, as well as dark leafy greens. Along with the omega-3 fatty acids from the sea veggies, the powder contains a fiber blend of flaxseed and inulin, making the slushie a refreshing yet satiating snack.
While veggies are the focus, this greens powder also contains a fruit antioxidant blend. This includes berries, acai, and cranberries, which balance the vegetal flavor of the powder and help manage inflammation.*
Overall, organic veggies+ is high in vitamins and minerals, like iron and potassium, and low in sugar (2 g per serving).* It's also worth noting this slushie is vegan, soy-free, and gluten-free, making it friendly for a wide range of allergy and dietary needs.
When craving a nostalgic and nutritious summer snack, this two-ingredient slushie is the perfect fix.