Cariuma vs. Allbirds: We Tested 5 Styles To Find Out Which Eco-Friendly Shoe Is Best
Contributing writer
By Jamey Powell
Contributing writer
Jamey Powell is a writer and editor living in Brooklyn, NY. Previously the senior market editor at Healthline.com, she has years of experience scouring endless product reviews and testing out the latest and greatest products in the sleep, fitness, and nutrition markets.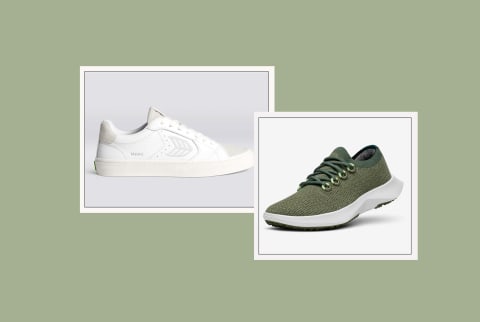 July 27, 2023
We carefully vet all products and services featured on mindbodygreen using our
commerce guidelines.
Our selections are never influenced by the commissions earned from our links.
Our top picks from Cariuma & Allbirds
What is Allbirds?
Allbirds launched in 2014 with a focus on comfortable shoes made with eco-conscious materials. The brand now offers a selection of shoes, apparel, and accessories, all made with renewable resources such as merino wool, recycled nylon, and TENCEL™ Lyocell.
While many companies "greenwash" with marketing phrases that make them seem eco-conscious, Allbirds puts in the legwork. It's a Certified B Corporation, which means the brand adheres to a high standard of social and environmental transparency and is extremely transparent about where its products are made and how its factories operate.
What is Cariuma?
Cariuma hit the scene in 2018 when two boardsports fanatics set out to create a more comfortable, supportive, and eco-friendly version of the skateboarding shoes they loved. Flash-forward to 2023, and the Rio-based brand has taken off. It now makes a slew of sneaker styles, including collaborations with brands like Pantone, Avatar, and National Geographic—along with a few accessories like backpacks and T-shirts.
Another Certified B Corporation, Cariuma focuses on using renewable materials like rubber, cork, and sugar cane in their sneakers. The brand is committed to sustainable farming practices and has a strong reforestation initiative. In fact, Cariuma plants two trees for every pair of shoes sold.
Cariuma vs. Allbirds: Comparing sustainability efforts
Allbirds is currently on track to operate with 75% sustainably sourced natural and recycled materials by 2025. But the brand's biggest goal is to reduce its carbon footprint to zero by 2030 by focusing on regenerative farming. Currently, Allbirds offsets its existing emissions by funding projects that adhere to B-Corp and Carbon Neutral standards.
We love that Allbirds labels its products with a carbon footprint score to encourage more mindful shopping. The shoes are all machine-washable, which helps them last longer—and the brand has a Rerun program, where you can shop for gently worn or slightly imperfect shoes at a discounted price.
Similarly, Cariuma keeps sustainability top of mind in every area. The brand has solar-powered factories, energy-efficient warehouses, recycled packaging, and carbon-neutral shipping through DHL Go Green.
Cariuma is dedicated to reforestation in Brazilian rain forests and also works with the Indigenous communities to build tree nurseries and plant two new trees for every pair of shoes sold. As of today, the brand has planted more than two million trees.
Cariuma vs. Allbirds: Comparing the materials
Allbirds shoes (and other apparel items) are made using the following sustainable resources:
ZQ Merino wool from New Zealand sheep
TENCEL™ Lyocell from Forest Stewardship Council–certified trees, which uses 95% less water than cotton
Foam derived from sugar cane and castor bean oil, which is used in shoe insoles
Recycled water bottles & recycled nylon
Recycled cardboard for packaging
The brand also creates its own alternatives to petroleum-based synthetics and incorporates recycled synthetics (which tend to be more durable) whenever possible.
Cariuma makes high-quality designs with minimal materials. The shoes (and backpacks and T-shirts) are made using the below materials:
Organic cotton
Bamboo certified by the Forest Stewardship Council and OEKO-TEX
Brazilian sugar cane certified by I'M GREEN
Natural cork and rubber, which are used in insoles and soles
Mamona oil, which is used as a plant-based alternative to petroleum to make foam
Recycled nylon and recycled plastics certified by the Global Recycled Standard
Recycled cardboard and paper for packaging
Cariuma vs. Allbirds: Comparing the sizing
Allbirds sizing is a bit tricky because most of the men's and women's shoes are only available in whole sizes.
I typically wear a 7 to 7.5 and felt comfortable in the 7.5 Tree Dasher. However, the Tree Runners and Wool Loungers come in only whole sizes—and I found the 7 a bit too snug. The 8 fit great, so I'd recommend going up one-half size (even if it's a size you don't typically wear).
Cariuma offers both whole and half sizes for both men and women. In my experience, they're mostly true to size. I got a 7.5 in the more structured SALVAS and NAIOCAS, and they fit great. The IBI Low (which has more elasticity thanks to the knit upper) ran a little big, so I ended up dropping down to a 7.
Cariuma vs. Allbirds: Comparing the cost and return policies
Allbirds shoes fall slightly higher on the price scale (between $105 and $170). However, the brand discounts certain styles and colors depending on the season.
Cariuma pricing ranges from $80 to $170, with the popular canvas design sitting at the lower end and a more intricate leather boot closer to the top. Both Cariuma and Allbirds offer free shipping within the U.S.
Allbirds accepts returns and exchanges within 30 days and has a "no questions asked" policy. Lightly worn returned shoes go to Soles4Souls, an organization that provides shoes to those in need.
The return window for Cariuma is a bit longer (60 days), but the shoes must be unworn and in the original packaging.
Our top picks from Cariuma & Allbirds:
Advertisement
This ad is displayed using third party content and we do not control its accessibility features.
Advertisement
This ad is displayed using third party content and we do not control its accessibility features.
Advertisement
This ad is displayed using third party content and we do not control its accessibility features.
Cariuma vs. Allbirds
Cariuma vs. Allbirds: Our verdict
What they have in common:
Sustainability: If your priority is finding a shoe that prioritizes the environment, Cariuma and Allbirds are both great options. They're certified B-Corps, meaning the brands are making an outstanding effort in a troublesome industry—and both have the receipts to back their sustainability claims. Sure, you could try to nitpick each sustainability mission to determine who is "winning," but in today's climate (pun intended), these two shoe brands are doing more good than most.
Comfort: While comfort is subjective and style is personal, Cariuma and Allbirds aim to make shoes that are well cushioned, lightweight, and supportive. The shoes do feel very different from each other, but both are more comfortable than many other shoe brands we've tested. Our team is continuously surprised by how a shoe that feels so light on your feet can also be so supportive.
Where they're different:
Price: Both brands offer free shipping, and the pricing isn't too dissimilar, but if you're looking for a shoe that's under $100, you'll want to look at Cariuma. Alternatively, you can keep an eye on Allbirds' markdowns or check out the brand's Rerun program for a lightly worn pair at a discount.
While Allbirds do have decent arch support, if you're someone who needs a more structured shoe (say, for custom orthotics), you may not find them supportive enough. Cariuma, on the other hand, has a removable insole in each shoe, so you can use custom orthotics if needed.
Materials: Both Cariuma and Allbirds use sustainably sourced materials. However, if durability is a concern for you, Cariuma's leather styles might be your best choice. Of course, if you're vegan, Cariuma's (ethically sourced) leather styles will be a turnoff. Luckily, the brand does have plenty of vegan options to choose from.
Maintenance: One huge pro of Allbirds is that the shoes are all designed to be washable. While Cariuma's IBI styles are machine-washable, the canvas and leather styles are not—so they might be a little trickier to keep clean.
FAQ
Do Cariuma shoes have good arch support?

Cariuma's insoles offer moderate arch support to keep folks with normal arches feeling comfortable and, well, supported.

If you have super-high arches or flat feet, you may need to swap out the original insoles with custom orthotics. Luckily, that's easy to do.
Is Cariuma a U.S. company?

Cariuma is a direct-to-consumer company based out of Brazil. The brand is not based in the United States but is available online and shipping is free.
Which is more comfortable Allbirds or Cariuma?

Whether you find Allbirds or Cariuma shoes more comfortable will depend greatly on your feet and the activities you like to do. In general, most Allbirds styles are flexible and soft, while Cariuma's are a bit more structured (with the exception of the IBI styles). Still, both have cushioned insoles that provide great pressure relief for casual everyday activities.
The takeaway
When testing and comparing Cariuma vs. Allbirds, we were extremely impressed by both. Not only was shoe after shoe comfortable, supportive, and stylish, but the brands each make great efforts to prioritize eco-conscious initiatives. Want to play a small part in moving the fashion industry in a more sustainable direction? You can't go wrong with styles from either brand.
Meet The Experts
Jamey Powell
is a writer and editor living in Brooklyn, NY. Previously the senior market editor at Healthline.com, she has years of experience scouring endless product reviews and testing out the latest and greatest products in the sleep, fitness, and nutrition markets.