Biotin & Collagen Supplements For Brow Growth: How To Get Lush Brows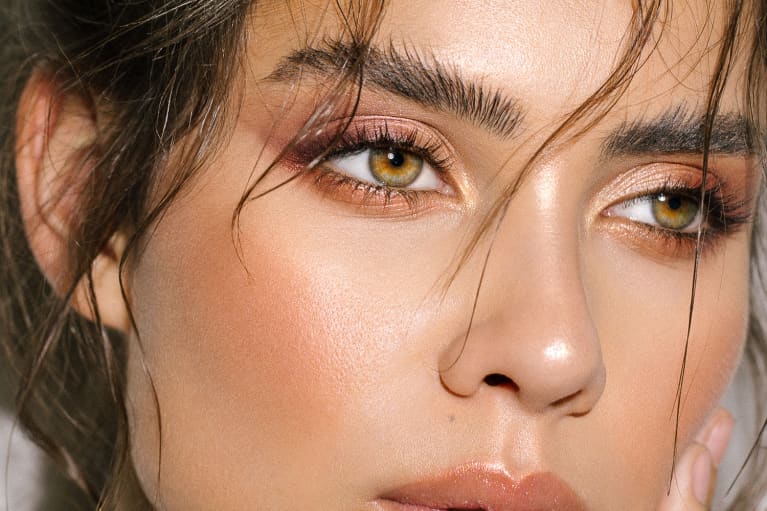 This article was produced to support the mindbodygreen supplements+ line. Our supplements adhere to the highest standards of ingredients and quality. We hope you enjoy these products, for more information
click here
.
Your brows have a near-magical ability to frame your face. It's no wonder people put so much thought toward them: When you find a shape that works for you, and is easy to maintain, it can do wonders. And while some have naturally bushy brows that provide ample opportunities to shape them however you please—others (hi there, it's me!) need as much help as we can get building our brows back out.
Perhaps you fell for the pencil-thin '90s numbers and overplucked yours away or just naturally have thin, sparse arches. Or, what happens to many of us, yours have thinned over time and with age. See, much like the hair on your head, your brows thin as you get older.
So if you notice your brows looking slimmer of late, it may be an indication that you should try a healthy hair supplement—to keep strands (yes, even those brow strands) lush and strong.
Brows and biotin: A perfect match.
Beauty editors often get questioned about brow regrowth (for a full explainer, see here). The thing is, hair regrowth of any kind is notoriously tricky, and it's important not to give people false hope, given some strands are just never going to come back. There are many growth-touting topicals out there (some may have science to back them up—like peptide serums—but on the whole, they tend to not do much). Your best bet is actually to go internal.
Biotin is a type of vitamin B, specifically B7. Unlike vitamin C or vitamin D, there are many types of B vitamins that each play their own important role in maintaining how your body functions. In particular, biotin stands apart from the rest with its role in keeping skin, hair, and nails healthy and looking vibrant.*
It's gained a large fan base, notably, for its role in hair growth. Taking a biotin supplement has been shown to help with instances of hair loss and can keep the hair you do have healthy.* (In fact, thinning hair and hair loss are actually very common symptoms of biotin deficiency.*) Biotin is believed to naturally promote healthy hair growth because it is deeply involved in the production of keratin, the main component of hair.* In one study, women with thinning hair reported significant regrowth when supplementing with biotin as compared to those given a placebo.*
Collagen supplements, too, can support healthy hair as they are made with short chains of amino acids. Amino acids are actually the stuff proteins, like keratin, are made of. So if you take a collagen and biotin supplement together, you're not only encouraging the process of keratin production, but you are supplying your body with the necessary nutrients to do so.
If you notice your brows are looking a little lean, you likely want to consider taking a healthy hair supplement, like biotin and collagen. The two together can support hair regrowth in the area by providing the body with amino acids (again, the building blocks of keratin) as well as supporting keratin production as a whole.