Summer Is Coming: I'm A Fitness Editor & These Are The Natural Deodorants That Pass My Test
mbg Contributor
By Leigh Weingus
mbg Contributor
Leigh Weingus is a New York City based freelance journalist writing about health, wellness, feminism, entertainment, personal finance, and more. She received her bachelor's in English and Communication from the University of California, Davis.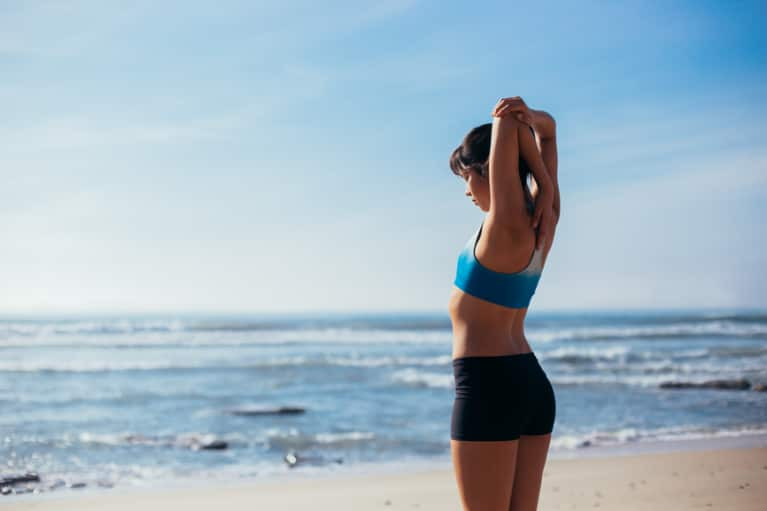 Our editors have independently chosen the products listed on this page. If you purchase something mentioned in this article, we may
earn a small commission
.
Taking the natural deodorant plunge is scary enough when you're simply going to work and coming home on a sunny day. But what happens when you throw sweaty workouts into the mix?
With summer right around the corner, I'm getting ready to amp up my fitness routine—so that's a question I've been asking myself a lot lately. On a particularly ambitious workout day I like to run to my yoga classes, but I don't want to ruin the practice of my fellow yogis by stinking the entire room up, so having an effective deodorant is crucial. But does a charcoal-based, baking soda-free cream deodorant really hold up?
I put a handful of popular natural deodorants to the test so you don't have to. Yup, you're welcome. Here were my three my favorites.
Meow Meow Tweet Deodorant Stick
Meow Meow Tweet's natural stick deodorant gently conditions the skin with organic plant oils, butters, and magnesium. The stick does use a touch of baking soda, which can irritate some people's skin, but if you opt for the cream kind, it's baking soda-free. The Meow Meow Tweet deodorant stick is available in lavender bergamot, lemon eucalyptus, and will soon be available in grapefruit.
Where I wore it: On a 4-mile run.
How it held up: Oh, the joy of using a deodorant stick. Other than to warn you to be gentle as you apply this deodorant—I got a little overzealous and smeared it on without remembering it was a natural deodorant and it got everywhere—I was impressed by how well this deodorant held up on my 4-mile run, which I took in at noon on a 75-degree day. It even included a few hills. I couldn't smell a thing but the deodorant scent afterward, so I asked my boyfriend to take a sniff. He said I smelled "great." I'll take it.
Buy it: Meow Meow Tweet Deodorant Stick, $22
PiperWai Natural Deodorant
PiperWai is an activated charcoal deodorant that uses 11 essential oils including mandarin, clary sage, eucalyptus, lemongrass, and more.
Where I wore it: To a Y7 hot yoga class.
How it held up: Ah, hot yoga: The ultimate sweat test! The PiperWai deodorant I tried was in cream form, although the makers just launched a stick. I think this was my favorite of them all, not only because I didn't smell after hot yoga but because I didn't smell like anything at all. While the other deodorants left my sweat swelling a lot like the deodorant, this one seemed to have a neutralizing effect.
Buy it: PiperWai Natural Deodorant, $15.98
Soapwalla Deodorant Cream
Soapwalla cream deodorants are aluminum-free and absorb moisture by using vegetable powders, clays, and sweet-smelling essential oils like lavender, peppermint, and tea tree.
Where I wore it: To a Swerve indoor cycling class and a Yoga Vida flow class.
How it held up: Although this one has been around for a while, it definitely stands the test of time. While I prefer smearing my deodorant on with a stick rather than applying it with my fingers (it makes my morning routine just a little bit messier), once I was wearing Soapwalla's Deodorant Cream (I chose the peppermint scent), I was very impressed by how effective it was. It held up throughout my cycling class, and while by the end of my yoga flow I was admittedly a little bit stinky, I smelled about the same as I used to when using antiperspirant before a similar workout combination.
Buy it: Soapwalla Deodorant Cream, $19
Need some ideas for getting your sweat on this summer? Here's what you need to know about barefoot running and the yoga secret you should steal from the Australians.