Basil Seeds: The Bloat-Busting Ingredient That's About To Take On Chia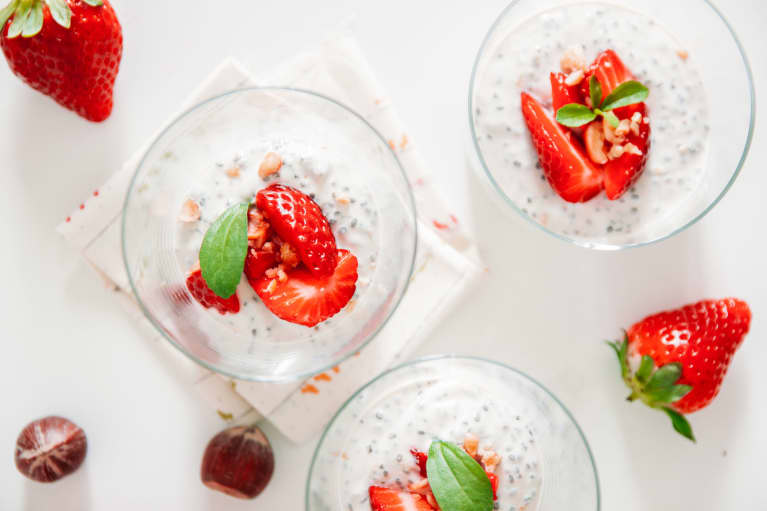 Our editors have independently chosen the products listed on this page. If you purchase something mentioned in this article, we may
earn a small commission
.
We've been on the chia seed train for a while here at mbg. We're big fans of these fiber-packed, omega-3-rich little nutrient bombs that turn delightfully gelatinous when exposed to liquid (chia pudding, anyone?). But there's another ingredient out there with remarkably similar properties, and a subtle herbal-floral flavor, that's about to take the wellness world by storm: basil seeds.
What are basil seeds, anyway?
Basil seeds, also known as Sabja seeds, are quite simply the small black seeds of the sweet basil plant. While they're just emerging as a superfood ingredient here in the U.S. (Lo Bosworth recently told us they're one of her new favorite ingredients), they've long been a staple in ayurvedic and Chinese medicine for their digestion-enhancing properties. They're also commonly used as an ingredient throughout India and Southeast Asia in things like sharbat (a popular West and South Asian drink) and falooda (a cold dessert from India). They're popularity as a health aid and ingredient is due in large part to the way these small seeds swell up into gelatinous pearls, similar to chia but with a more tapioca-like texture, when exposed to liquid.
The slippery, jelly-like substance surrounding basil seeds after they're exposed to water, called mucilage (also found in plants such as aloe vera, slippery elm, and okra), is thought to coat the digestive tract and aid in digestion. And while there isn't definitive research proving these benefits, basil seeds have long been used to treat ulcers, indigestion, and diarrhea in traditional medicine—and there are plenty of anecdotal claims that they relieve gas and constipation. Basil seeds are also a good source of calcium, magnesium, and iron and a fantastic source of fiber, with one tablespoon containing 26 percent of your daily value. Some research also suggests that basil seeds have blood-sugar-balancing properties. One 2016 study found that an aqueous extract of basil seeds significantly reduced blood glucose levels and improved body weight in rats with diabetes. More research is needed to understand their full potential, but it's a promising start.
Where to find basil seeds and 5 ways to use them.
Basil seeds are not as common as chia seeds, and you might struggle to find them in your local grocery store, at least for now—although, we get the sense that's going to change, with big spice brands like McCormick starting to hype them up. Right now, basil seeds are readily available on Amazon (try these ones from Zen Basil), and you can often find them at Indian, Thai, or Middle Eastern grocery stores or specialty markets. Now, onto the fun part:
The most basic way to consume basil seeds for a digestive boost and a nice dose of fiber? Combine 1 teaspoon basil seeds with 1 cup of water, allow it to "steep" for about 10 minutes (the seeds will bulk up and form an impressive gel), and then sip.
You can literally mix basil seeds into any drink or smoothie for some fun added texture. For a refreshing summer sipper, try combining the juice of half a lemon, 1 cup of cold water, 1 tablespoon basil seeds, a drizzle of maple syrup (or your sweetener of choice), and a few fresh basil leaves.
Bosworth told me one of her favorite ways to use basil seeds is to make salad dressings. The basil seeds keep things naturally emulsified, eliminating the need for oil. While you can get creative with your flavor combinations, we love this mango basil seed dressing featuring basil seeds, mango nectar, white balsamic, turmeric, ginger, and black pepper.
4.
Overnight basil seed pudding
For a spin on chia pudding, with a subtle herbal-floral flavor that we love, try basil seed pudding. While you can switch up your flavor-boosting add-ins, this is a good basic formula: 1 cup coconut milk + 2 tablespoons basil seeds. Simply mix, cover, and refrigerate overnight to yield two servings. Top with a little fresh fruit and a drizzle of honey or maple syrup.
Basil seeds are also a nice way to add a thick, creamy texture (and a fun crunch) to healthy yogurt-based dips. Try this apricot basil seed yogurt dip recipe, featuring apricot, Greek yogurt, turmeric, ginger, and a bit of sea salt. It's delicious as a fruit or veggie dip, or you can even dollop it onto grilled meats and veggies as a finishing sauce.
Want to turn your passion for wellbeing into a fulfilling career? Become a Certified Health Coach! Learn more here.