What To Do If You're Anxious About Socializing After Quarantine
Licensed Clinical Psychologist
By Chloe Carmichael, Ph.D.
Licensed Clinical Psychologist
Chloe Carmichael, Ph.D. is a licensed clinical psychologist. She heads a successful private practice in New York City that focuses primarily on relationship issues and stress to help high achievers.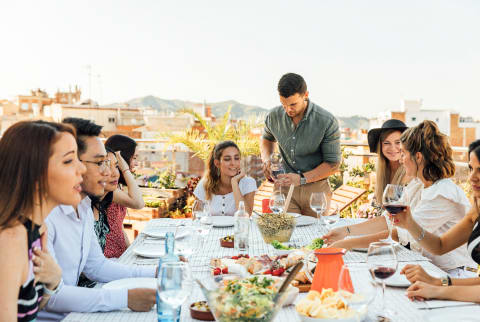 Image by Jayme Burrows / Stocksy
July 20, 2021
We carefully vet all products and services featured on mindbodygreen using our
commerce guidelines.
Our selections are never influenced by the commissions earned from our links.
Because I am a clinical psychologist, people ask me a lot of questions about mental well-being, both on social media and IRL. I recently invited my Instagram followers to ask me questions through the stories feature, and I received a number of responses. Here is one recent query that stood out:
"While I'm excited about the chance to start socializing in real life again now that I'm vaccinated, I'm suddenly struggling with social anxiety. Going to the grocery store suddenly makes me feel awkward, and going to the office feels totally overwhelming. Is this normal? What is the best way to handle it? Should I force myself to go, or should I just take it slow?"
First of all, your feelings are normal! It's been a long time since many of us have socialized, so it's totally understandable that you might feel awkward starting it up again.
While I don't want you to force yourself, if going to the grocery store feels truly impossible, what psychologists call "behavioral activation" might help you to take that first step. Let me explain:
How behavioral activation can be useful.
Just like the name implies, behavioral activation can help to activate certain parts of ourselves through behavior. If you can recall, staying inside all the time probably felt weird in the beginning of quarantine. Now, after engaging in lockdown behaviors for so long, that became your new normal. In other words, you activated your inner hermit. Once you try going out a few times, it will likely reactivate the part of you that actually enjoys being with your community.
If you were a social butterfly before the pandemic, that part of you will probably begin to awaken after a little bit of practice. If you thrived better in small groups, then continue to lean on close, trusted friends as you ease back in.
1.
Scan for signs of social acceptance.
When you go to the office, walk down the street, or encounter other settings where socializing often happens, I encourage you to scan for signs of social acceptance. This can help retrain your brain to focus on connections with others rather than focusing solely on how awkward it feels to be out. Signs of social acceptance could be anything from eye contact to open body language to a simple wave hello. You might even try sending some friendly signs to others as well, as they may also be feeling apprehensive. This will give your brain something to do besides focus on your anxious inner monologue.
2.
Listen to podcasts or audiobooks.
Another idea is to listen to a favorite podcast or audiobook on your headphones while you venture out: This will give you a sense of familiarity and control while also providing a sort of "buffer" between you and the space around you.
3.
Start slow, and give yourself time to process.
Finally, try not to get anxious about being anxious—feeling awkward in a new situation is normal! And at this point, formerly mundane activities, like grocery shopping or visiting the office, may actually feel new due to the lengthy lockdown. To mitigate some of the stress, try keeping your initial outings short.
In other words, ease into your revived social life: Go into the office for just an hour, and pick up just one thing from the store to limit the time spent in there. Try to practice slow, deep breaths when you're out and about to help your body stay relaxed. You may also want to plan for extra sleep or downtime during your initial phase of returning since the brain might need extra idle time to process the changes.
Chloe Carmichael, Ph.D.
Licensed Clinical Psychologist
Chloe Carmichael, Ph.D. is a licensed clinical psychologist. She graduated Phi Beta Kappa from Columbia University with departmental honors in Psychology, and earned her Ph.D. from Long Island University's program in Clinical Psychology, which is accredited by the American Psychological Association. She emphasizes positivity and wellness, often through the lens of anxiety management, relationships, and goal attainment. She is the author of Nervous Energy: Harness the Power of Your Anxiety, and Dr. Chloe's 10 Commandments of Dating.
She heads a successful private practice in New York City that focuses primarily on relationship issues and stress to help high achievers. She is a member in good standing of the American Psychological Association and the National Register of Health Psychologists, an elite membership for psychologists with the highest standards of education and board scores.

As an expert in anxiety, Carmichael has taught stress management techniques at Fortune 500 companies as well as in her own private practice. She launched an online anxiety treatment program: Anxiety Tools, which has users throughout the United States and around the world. As a certified yoga instructor, Carmichael is an expert in both the science and meditation side to anxiety treatment. Her holistic approach integrates a special blend of techniques that have been shown to help people overcome anxiety.