21 Unique & Meaningful Anniversary Date Ideas
By Kesiena Boom, M.S.
mbg Contributor
Kesiena Boom, M.S., is a sociologist and writer. She has a bachelor's degree in Sociology from the University of Manchester and a master's degree in Gender Studies from Lund University.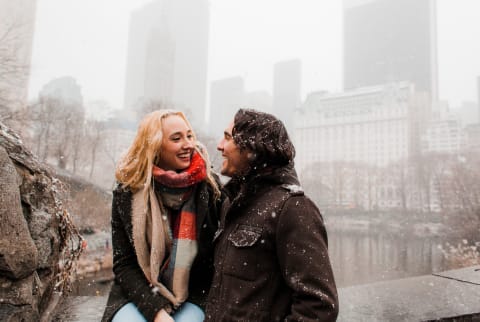 Image by SAMANTHA ESTRADA | Stocksy
March 17, 2023
Anniversaries! Whether you're the kind of person who remembers every romantic milestone without prompting, or the kind who finds themselves staring at the calendar, suddenly realizing you've been married for fifteen years, we've got your back.
Here you'll find 16 interesting anniversary date ideas for how to celebrate your love, regardless of what kind of vibe you're looking for.
Advertisement
This ad is displayed using third party content and we do not control its accessibility features.
Romantic anniversary date ideas:
Recreate your first date.
Take a trip down memory lane and commit to a recreation of the very first time you went out with your boo. Same restaurant or bar, same clothes, same dinner/drinks orders, but this time you get to tell your partner all the things you thought about them on that first date that you maybe were too afraid to say in the moment. Seeing your partner in the same light you saw them in all those years ago can also help you to affirm your desire for them.
Write each other love letters.
You can either write the letters in advance of your anniversary, or you can write them together on the day. After they're finished, you can go out to dinner and read your letters aloud to each other. Things to include in your love letters could be the things you love most about them, your favorite memories together, the plans you have together for the future, and what you think are the best things you bring out in each other.
Take a dance class together.
Whether you and your boo regularly hit the town to dance, or you've never seen them do anything more complicated than a two-step, a dance class for couples can be super romantic. Choose a passionate dance such as the Tango and get steamy together. And next time you're invited to a wedding (or maybe even at your own!), you'll have a beautiful routine to bust out on the dance floor, which will make you feel like a great team.
Get out in nature.
There's nothing more romantic than being in the presence of stunning natural beauty with your beloved. Depending on where you live, you can take a hike in the mountains, go to the beach, urban stargaze on the roof, go to the botanical gardens, or go boating on a lake. Bring a picnic and a blanket, and you're all set for maximum romance.
Go to the planetarium.
Nothing says "I love you" like gazing at the whole known universe. Think: Ross and Rachel's first date. At the planetarium you can sit back in the dark and wonder at the beauty of the night sky, without actually having to camp out in the cold. Win win. You can ponder on how amazing it is that of all the people on the planet you managed to find each other.
Cheap anniversary date ideas you can do at home:
Go to "Italy"
Instead of going out and blowing a fortune on a fancy Italian restaurant, or taking a mini-break to Milano, why don't you bring Italy to your kitchen instead? Making your own pizza is simple and cheap, especially if you scrounge around in your pantry and fridge for toppings that you already have at home. You can buy readymade pizza dough cheaply, too; all you have to do is roll it out, slap the toppings on, and stick it in the oven. Set the Italian scene with a bottle of wine and a playlist with Italian songs in the background.
Make a fort
Rediscover your playful side by setting up a cozy fort in the living room or bedroom. Collect all the couch cushions, blankets, and pillows you can muster and rig together a soft escape from the stresses of everyday life. Make it extra special by telling your partner to stay out of the room whilst you build the fort, fill it with delicious snacks you know your partner loves, then lead them back into the room with a blindfold, and reveal it to them. Once you're settled in the fort you can watch your favorite rom-com together.
Dig deeper
There are lots of examples online of different questions that you can ask your partner to get to know them better. For example the famous 36 questions that lead to love, or you can peruse the offerings on different question-based apps that help you dig deeper into your significant other's mind. Whether you've been together for a year or twenty years, there's always something new to discover about your partner's view on the world.
Home spa date
You don't have to drop hundreds of dollars to have a luxurious spa experience. Give each other mani/pedis, wear your fluffiest robes, and fill the bath with essential oils (or you can just use a bucket with warm water for a footbath). Give each other massages, apply face masks, and set the scene with some relaxing spa-esque rain sounds from YouTube or Spotify. You could even segue into some masseuse-based roleplay if that's your jam...
Pajama day
Take the day off work together, send the kids to grandma and grandpa, set your phones on silent, and put on your coziest PJs. Spend the day completely free of obligations together whilst you order takeout, eat it in bed, and binge-watch something mindless and fun on Netflix like Queer Eye or one of those elaborate baking competitions.
Advertisement
This ad is displayed using third party content and we do not control its accessibility features.
Surprise anniversary date ideas:
Treasure hunt
This one takes a little bit of advance planning, but it's super worth it for the look on your partner's face. Hide little gifts all over your home along with clues related to your relationship. For example, if your first kiss was in a club toilet, you could have a clue that leads your honey to a present hidden in the bathroom. Make the treasure hunt culminate in a bigger present or a little card that explains what kind of date you're going to take your boo on later that day.
Night at a fancy hotel
What's a more romantic surprise treat than an unexpected night at a fancy hotel? You can either pack a bag for your partner without them knowing and pretend you're going somewhere else before pulling up to the hotel, or you can let them know just before heading off that they should pack an overnight bag for your date (adjust according to how specific of a packer your boo is!). Arrange in advance for the hotel to have a bottle of champagne chilling in the room on your arrival and settle in for a night you won't forget in a hurry.
If you're married and got hitched at a hotel, it can be an extra nice surprise to book a night at the same hotel, so you can relive the memories of one of the best days of your life.
Surprise party
Why should an anniversary date just be for the two of you? You can secretly plan a big party for your anniversary and invite all the people who have supported your relationship through the years. This is a great way to make your partner feel loved and appreciated (if they're into surprises, of course!). To make the party extra special, you can decorate with photos of you and your partner from throughout your time together, or project a slideshow on the wall.
Couples massage
Spoil your partner with a luxurious massage that the two of you can enjoy together. Imagine the joy on your boo's face when they find out after a long day that the two of you are about to be whisked away to a heavenly state of relaxation. Lots of massage places also have a spa area, so you two can unwind in a warm sauna afterwards and look forward to many more happy years together.
That one gift
Most people have that one dress/bag/coffee machine/pair of shoes/etc. that they covet without ever actually purchasing for themselves. Be the best partner ever, show your boo that you listen to what they like, and surprise your partner with the object of their desire.
(Not sure what to get them? We've also got a big list of excellent one-year anniversary gifts and even 10-year anniversary gifts.)
Unique anniversary date ideas.
Have a romantic game night.
Hear us out on this one: Did you know there are a ton of games specifically designed for couples? From sexy board games meant to turn up the heat to cute card games that help you get to know each other better, many of these couples games can make for a very unique anniversary date night.
Take a candle making class.
Nothing says romance like candles, and what better than making your own? Candle making is something a bit different, and it gives you and your partner an opportunity to get practical and creative at the same time. And of course, at the end of the class you can take your candles home and use them to set the scene for the next part of the evening...
Go rock climbing.
OK, so this one doesn't scream "romance," but hear me out. Taking a step out of your comfort zone together can be really exciting! Especially if you and your partner have been together for a long time, seeing them tackle something a bit out of the ordinary can be a strong aphrodisiac. Plus, after you've used your muscles and gotten a bit sore and tired, you can give each other massages when you get home.
Create pottery together.
Think: that Patrick Swayze and Demi Moore scene in Ghost. A lot of pottery studios offer events where you and your boo can sip on a glass of wine while you make beautiful vases together. For an extra romantic twist, you can inscribe the things you make with the date of your anniversary and your names and fill them with fresh flowers on your subsequent anniversaries. Some events are held in groups, but for an extra fee you can often hire out the whole studio so you can have more privacy to be extra gooey and lovey-dovey whilst you create your masterpieces.
Go to a lecture or panel discussion.
Pick a subject that you're both passionate about or interested in learning more about and go to a lecture or public conversation about it. Your local museum, university, city hall, or bookstore are all places to check for upcoming events. After the lecture go out for drinks together and discuss what you've learned and get caught up in friendly debate.
Rent a karaoke room.
The important part here isn't just the karaoke; it's the experience of having a private room to really let your inner Ariana Grande out. You can choose to sing all the songs that remind you of your boo or your relationship, sing romantic duets, and just generally make out in between songs without fearing disapproving stares.
FAQ:
How do you make someone feel special on their anniversary?

Tailor the gift or surprise to what your partner likes, as this shows that you really considered their thoughts and feelings. If you usually forget your anniversary, make sure that you set a reminder in your calendar well in advance so that you can plan something special. What's important on anniversaries isn't how much money you spend; it's just showing your significant other that you care about them, and you're invested in your relationship.
What's a creative way to say "happy anniversary"?

Happy "best decision ever" day! If that's not your style, maybe try something that references an inside joke that the two of you share.
eHarmony.com
Find your match today with eHarmony. Free to join.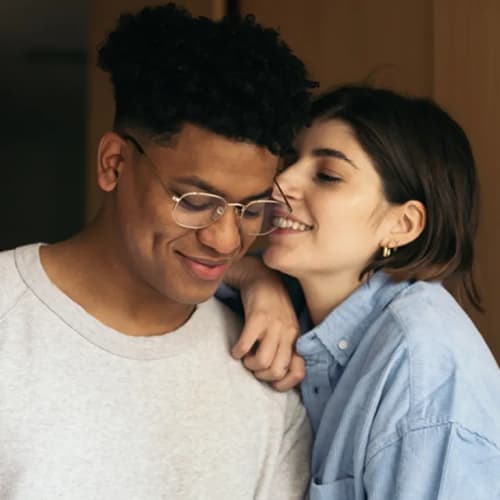 The takeaway.
No matter what you decide to do for your anniversary, just remember to make sure it's something you know your partner will enjoy, rather than something that you think suits societal ideas of what an anniversary "should" be. If you're not dinner and a movie people, don't go to dinner and movie! Romance looks different for everyone.
Advertisement
This ad is displayed using third party content and we do not control its accessibility features.
Kesiena Boom, M.S.
Kesiena Boom, M.S., is a sociologist, writer, and poet. She has a bachelor's degree in Sociology from the University of Manchester and a master's degree in Gender Studies from Lund University. Her work has been featured at Slate, Buzzfeed, Vice, Autostraddle, and elsewhere. Her writing focuses on sex, pleasure, queer experience and community, feminist theory and practice, and race and anti-racism.