5 Editors Try A New Customizable Natural Deodorant — Here Are The Reviews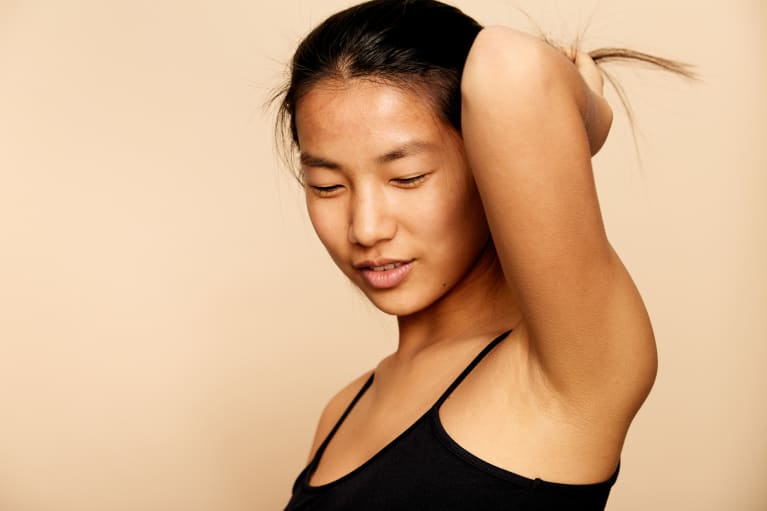 Natural deodorant is hit and miss for most. You either have one you adore, or you've been scared off from the category entirely from a bad experience or two. This is why you'll read articles or reviews singing a brand's praise while others toss it after a few uses. This is also why editors in the beauty or well-being spaces are constantly testing new options—so we can provide the best feedback to our abilities: Some work, some not so much, some provide mixed results. (We do it for you, dear reader!) Well, a new customizable natural deodorant collection, from Nala, launched this month. So we, being ever so diligent, put it to the test.
But before we get to our reviews, a little about Nala. This natural deodorant is free from aluminum, phthalates, parabens, petroleum, and carcinogens—with active ingredients like tea tree oil, coconut oil, manuka oil, and baking soda (in some of the formulas). In their customizable collection, you can pick from three types of deodorant and four scents. There's regular-strength, extra-strength, and sensitive (which is free of baking soda, as it can irritate some people). The scents include Woodsy (which includes copaiba and frankincense), citrus (orange peel oil and grapefruit peel extract), eucalyptus (eucalyptus essential oil), and unscented (which is just the base formula). When you go online, you'll pick a strength, scent, put in your info, and then your very own deodorant arrives at your door, in a chic white bottle that's personalized for you. (It comes with a price tag of $29.)
Since there were so many options to try, I pulled in my fellow mbg editors as well. Read on below for our thoughts.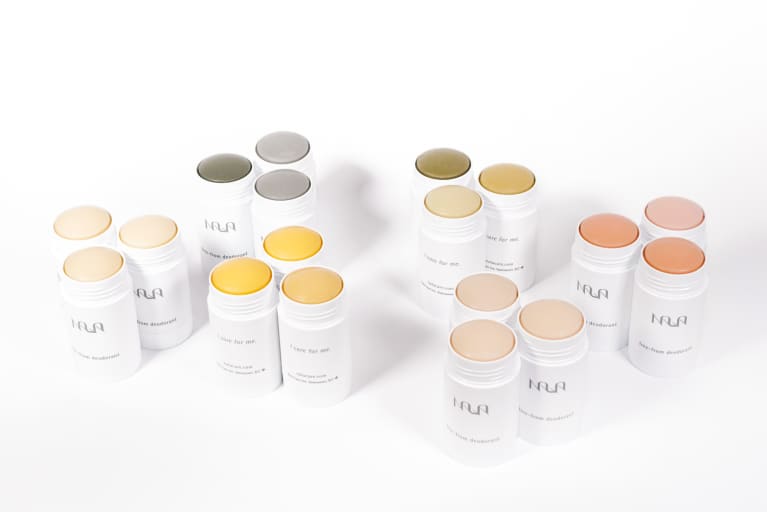 Extra-strength, Unscented
"I'm almost fully switched over to natural deodorant at this point—although I'll swipe on a traditional option if I really can't sweat for an event. So I more easily jump around from natural deodorant to natural deodorant, because I'm not going through that dreaded 'transition' phase. I have an affinity for fragrance of any kind, so I typically wear scented deodorants. But in an effort to try something new—like I was forcing my co-workers to do—I picked unscented. This is also the reason I picked extra-strength: I was afraid without the fragrance, I'd need a little extra help. So when we got the sticks, I was relieved that there was a subtle hint from the base ingredients themselves—light, fresh, and almost a little powdery. Upon application, it hit all the right marks: smooth glide, moisturizing, no transfer.
"The first time I used it was right before bed. It's a trick I use for testing out new options: When you try it out overnight and it really doesn't work, you can rinse off in the morning—and this way you're not realizing it midday in public. Of course, it's not foolproof: You're not fully active when asleep, so you can't really see how it stands up to stress or movement. But it can give you an idea of how it will perform. And it passed the night test! Over the next few days, I gave it a go—and if I'm being honest, I missed having a fragranced deodorant. There's just an added comfort in having a freshly scented swipe on hand when you need a refresh. (Another thing of note with natural deodorant: Have a good on-the-go version around when you need a spruce-up. It's a game-changer if you're really committed to going natural!) But if I were to go back, I would have picked eucalyptus, as that's one of my favorite notes." —Alexandra Engler, senior beauty & lifestyle editor
"I've tried natural deodorants in the past, but none of them have stuck—literally. I find the most annoying part about natural deodorant is how hard it is to get on. They often need to be warmed up or else they skid over your skin, leaving it feeling chafed. I loved how this deodorant glides on smoothly, no warmup time needed. It felt like conventional deodorant, without all the harsh ingredients. And when it came to the sweat test, I was pleasantly surprised. The extra-strength stood up—no wet pits here. I typically gravitate toward citrus scents, but the scent was a little stronger than I expected; I think next time I would go with unscented but stick to extra-strength." —Darcy McDonough, M.S., associate health editor
"I've had an off-and-on relationship with natural deodorant for years now. My skin is super sensitive, and I've found that most naturals (even baking-soda-free ones!) cause a rash. I am pleased to report that Nala's Sensitive blend didn't cause any irritation through my week of using it. I really liked the texture of the stick: It felt just like a normal deodorant to apply—not too runny or stiff. Plus, its subtle woodsy scent reminded me of some of my favorite fall candles. It left me smelling vaguely like a fresh forest for a few hours, but I found that once the initial scent wore off, I was left smelling, let's just say, not good. I'd use the product again, but I'd make sure to keep it on hand for retouches throughout the day." —Emma Loewe, sustainability editor
"I want to start out by admitting I was very apprehensive of natural deo before embarking on this journey. I've tried it in the past (smack-dab in the middle of summer, no less), and it was a borderline scarring experience. Needless to say, I ordered the extra-strength. Upon opening, I was surprised by how strong the perfume was. It's very citrusy! I was expecting a more subtle citrus smell. The consistency was really nice—when I rolled it on, it didn't leave any residue and didn't feel sticky.
"Even though I rationally know the aluminum-free product isn't really making me smell worse (it's the bacterial communities under my arms that are detoxing from the aluminum, a process that can take up to 30 days—sigh), I couldn't help but think that this deodorant just wasn't working. I really wanted to like this product, but I'm going back to my original. As much as I want to live an aluminum-free life, I'm way too sensitive to pungent smells. If your pits are fully detoxed from aluminum, then I'd say this is a great brand for you. For me personally, I just can't get myself to commit to 30 smelly days before reaching the aluminum-free threshold." —Jamie Schneider, editorial assistant
Regular-strength, Eucalyptus
"I'm not great with deodorant. My current one is a natural brand I've purchased three times because I really like how it smells, even though it's not actually an amazing product. (It's a bit too creamy, and I feel sweatier wearing it.) So I noticed a significant difference switching to this. I like how it glides on almost like silk without any coated-in-deodorant feeling, and its scent, though delicate, lasted through to my 6:30 p.m. boxing class. I think I have a new go-to now!" —Krista Soriano, senior branded content editor
"This deodorant is really pleasant to use. I found the citrus smells to be very mild and calming, and the elegant packaging makes you feel like you're handling something very cool and luxe instead of just deodorant. It also lasted just as well throughout the day as the average Secret stick without leaving as much tacky residue, though I will say the somewhat stiff, waxy texture of the bar doesn't glide quite as smoothly across my unshaved armpits as some of the more common brands do. The cost probably makes this not worthwhile for the average person, but if you can afford to splurge, it's a nice way to treat yourself. It really elevates an otherwise very mundane part of your daily hygiene." —Kelly Gonsalves, contributing sex & relationships editor