3 Immune-Supporting Tips A TCM Practitioner Wants You To Know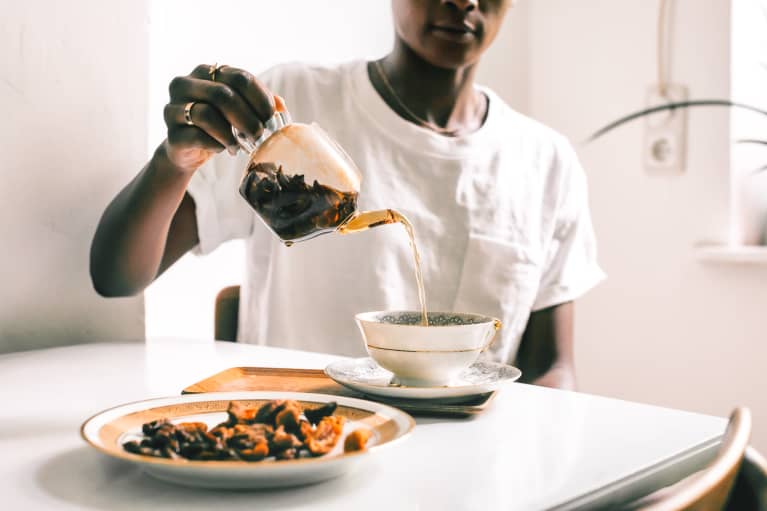 For those times you can't run out to see your favorite doctor or energy healer, there are still plenty of ways to reap the immune-supporting benefits of traditional Chinese medicine (TCM). TCM is a 5,000-year-old system that uses tools like acupuncture, acupressure, and cupping to heal the mind and body. Here are three ways you can use the time-tested medicine to support immunity naturally from the comfort of home:
1.
Eat warm food and drinks.
I cannot stress this enough: Our digestive organs need warmth in order to properly function. Peristalsis, the physical movement of your food being pushed along the digestive tract in order to be absorbed, requires muscle and energy. The inside of your body is warm, and your muscles function best when they're warm, too (hence why we do warmups before working out).
When you repeatedly consume cold foods and beverages, the cold temperature puts out the "fire" of your metabolic system. Just imagine what would happen if you hopped in an ice bath right after a long run: Your muscles seize up, contracting and constricting, causing blood flow to slow down.
By swapping out some of the cold, raw veggies and salads in your diet for cooked soups, roasted vegetables, and warm bone broths, you can ease that stress on your digestive system and free up some energy for your immune system.
2.
Spice things up with warming, invigorating Chinese herbs.
3.
Let food be thy medicine.
Chinese food therapy divides flavors into five categories, with each one corresponding to different organs, in order to promote balance in the body:
Sour food is thought to address liver function and ease vomiting.
Salty food enters the kidneys and is thought to moisten and cool the body.
Bitter food enters the heart and the small intestine and helps cool heat and dry any dampness (think phlegmy coughs or edema).
Spicy food enters the lungs and large intestine and helps stimulate appetite and improve circulation.
Sweet food enters the stomach and spleen and helps nourish the body.
Drawing on this theory, it's best to balance your meals by flavor. A few invigorating, warming ingredients to begin with include pears (sweet), garlic (spicy), almonds (salty), and scallions (bitter), and fermented veggies (sour).
If you're looking for new ways to support your immunity while you're hanging at home, TCM is a great place to start. You may just find this ancient practice was—and still is—a great approach to overall well-being.