A Celebrity Makeup Artist Shares 3 Face-Sculpting Tips For Women 50+

Beauty & Health Editor
By Jamie Schneider
Beauty & Health Editor
Jamie Schneider is the Beauty Editor at mindbodygreen. She has a B.A. in Organizational Studies and English from the University of Michigan, and her work has appeared in Coveteur, The Chill Times, and Wyld Skincare.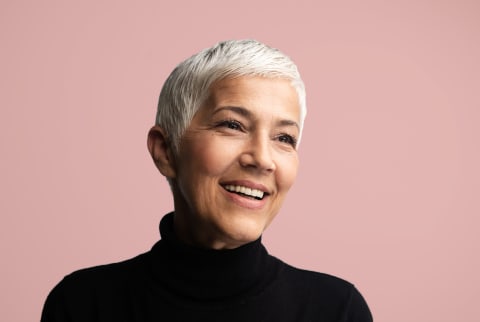 Image by georgijevic / iStock
September 7, 2023
We carefully vet all products and services featured on mindbodygreen using our
commerce guidelines.
Our selections are never influenced by the commissions earned from our links.
Every beauty professional has their nonnegotiable steps. In our series Like a Pro, we tap experts for the top three techniques they absolutely swear by. Here, you'll hear from a variety of industry insiders on the fail-safe tricks they always keep in their back pockets. We're all about simplifying your beauty regimen wherever you can, and sometimes the best routines are as easy as 1, 2, 3.
Your makeup and grooming habits will undoubtedly change throughout your lifetime—folks who plucked their brows pencil-thin back in the '90s, I likely don't need to tell you this twice. Your skin evolves and ages as you do, and it's important to tweak your routine to embrace (not stifle) these shifts.
For example, you might have used a full-coverage foundation to disguise blemishes in your 30s and 40s, but once you reach your 50s, celebrity makeup artist Rebecca Restrepo declares less is more. "One common mistake I see with women 50+ is that they think they should use more makeup to cover flaws," she tells mindbodygreen. Wrinkles are natural—they're sexy! And "piling on makeup to try to hide them will make them look even more pronounced," she notes.
Rather, you really only need a few strategic tricks to fashion a natural-looking face beat. Ahead, Restrepo bestows her expert wisdom for women over 50:
"One trick I use often on my clients with more mature skin is mixing 20% concealer with 80% of a skin tint," says Restrepo. "My clients love this cocktail, as it still showcases their natural skin but gives them a bit more coverage where needed."
Skin tints themselves read quite sheer (even more so than a tinted moisturizer); some can even pass for a basic moisturizer with just a kiss of skin-enhancing pigment. These lightweight confections are A+ for drier, more mature skin, which can easily look cakey with a thicker base.
"Foundations tend to sink into fine lines and creases, whereas a skin tint will help blur imperfections for a more even tone, while not being so heavy as to exacerbate fine lines and wrinkles," Restrepo says. She prefers Hi Beautiful You's Skin-Perfecting Tint, "a silky-smooth sheer color gel that has enough pigment to cancel out redness from the sun or heat."
Still, you might seek more coverage, which is why Restrepo adds a creamy concealer to the mix. Select your favorite liquid formula (our favorites, here), and use the back of your hand as a palette to combine the two products. Apply directly on areas you'd like a touch more coverage, then blend outward with a brush or sponge to effortlessly diffuse the product.
Blush was quite literally made to add warmth to your complexion, making you look vibrant and, well, youthful. For Restrepo, it's a nonnegotiable product for 50+ makeup. "We lose natural color from our faces as we age, so adding a bit of color with a cream blush will help bring a more youthful glow," she says. (She prefers cream over powders, as powders can sometimes exacerbate dryness.) Cream blushes also tend to be more buildable, like this warm, multiuse WELL People Supernatural Blush Stick.
"I use blush on all my clients over the age of 50, but instead of using it on the apples of the cheeks, I'll apply it more of an upward sweeping motion above the cheekbone and toward the ear, almost like a bronzer," she adds. "This helps lift the appearance of the cheeks."
See, applying on the apples works wonders when you're young and your cheeks already appear plump and supple, but those apples drop as you age—if you swirl a blush on those spots, it can pull the cheek down and actually create the illusion of sagging.
The eye area is one of the first places you may notice signs of aging—the skin there is much more delicate and sensitive, and wrinkles develop quicker in areas of thin skin.
Not to mention, "The eyes are typically the first place someone looks on the face when you play them up," notes Restrepo. That's not to say you must opt for a bold cut crease all the time, but if there's one place to give extra attention, Restrepo says, it's the orbs. She recommends strategically lining the top lash line (here's how to apply a face-lifting cat-eye) and coating your lashes with a buildable, volumizing mascara infused with hair-healthy ingredients for lash growth.
"Unfortunately, women tend to have thinner lashes after they turn 50, so I go with a mascara with ingredients that will boost the health of your natural lashes so you keep more of them," she explains. "I use Hi Beautiful You's Be You Mascara: It's incredibly buildable, and it effortlessly primes, darkens, lengthens, and extends lashes with a beautiful black velvet finish."
The takeaway  
If Restrepo could use only three makeup products for a woman over 50, she would stick to a skin tint, a cream blush, and a lash-boosting mascara. It sounds suspiciously simple, but that's exactly her point! Layering on product after product often makes fine lines even more pronounced. A full glam look certainly has its time and place, but minimal makeup has more face-sculpting power than you think.

Jamie Schneider
Beauty & Health Editor
Jamie Schneider is the Beauty Editor at mindbodygreen. She has a B.A. in Organizational Studies and English from the University of Michigan, and her work has appeared in Coveteur, The Chill Times, and more. In her role at mbg, she reports on everything from the top beauty industry trends, to the gut-skin connection and the microbiome, to the latest expert makeup hacks. She currently lives in Brooklyn, New York.