Close Banner
Advertisement
This ad is displayed using third party content and we do not control its accessibility features.
paid content
 for

2020 Is All About Cellular Health — Here's How To Get Started With Cellular TLC
Senior Branded Content Editor
By Krista Soriano
Senior Branded Content Editor
Krista Soriano is the Senior Branded Content Editor at mindbodygreen.
Image by Tatjana Zlatkovic / Stocksy
Here at mbg, we're getting behind a big moment in health and well-being: an emerging, all-important focus on cellular health. Thanks to scientific breakthroughs over the past several years, we're now starting to understand why and how healthy aging begins at the cellular level—and it's got everyone from the medical community to the skin care and beauty industry buzzing about it.
Cellular health isn't a trend or even a new concept. Scientists have been studying how the health of our cells connects to long-term health and disease for decades, and herbal supplement manufacturers like Flora, for instance, have been carefully sourcing organic, plant-based formulas that support cellular health since the early 1990s.
But as the longevity conversation shifts from how to live as long as possible (aka, extending your life span) to how to live at your healthiest for as long as possible (the idea of a "health span"), the focus has shifted a bit, too. It's no longer only about supporting the health of just the brain, or just our heart, or our bones or skin. Science is proving more and more that we need to start with our most basic building block of life: our cells.
What causes cellular damage (and what actually is oxidative stress)?
Don't let the word "basic" fool you, though: There's quite a lot that goes on with our cells. As we get older, our cells accumulate damage, which is what's known to drive the aging process1 and play a role in our long-term health.
One of the major causes of cellular damage is oxidative stress2, which happens when there's an imbalance between free radicals and antioxidants in the body. Free radicals are molecules with unpaired electrons—and because electrons are unstable when they're not paired up, a free radical will zip around the body, reacting with other molecules in desperation to stabilize themselves. Free radicals don't just come from exposure to the sun or products with toxic ingredients—they're a normal, natural byproduct3 of our cells generating energy (which means even healthy habits like strenuous exercise can lead4 to more free radicals in the body). Left unattended, these reactive free radicals can lead to damage in the fats, proteins, and DNA that make up our cells.
Thankfully, our cells have a natural way to do damage control. Antioxidants—like vitamins A, C, and E—in our cells help stop5 the chain reaction of free radicals (they do this by donating an electron to a free radical to stabilize them, without making themselves unstable). But when there are too many free radicals racing around and not enough antioxidants to get them to relax, oxidative stress occurs, and over time, that free radical damage can accelerate aging and disease6.
Cellular TLC: 4 strategies to support happy, healthy cells.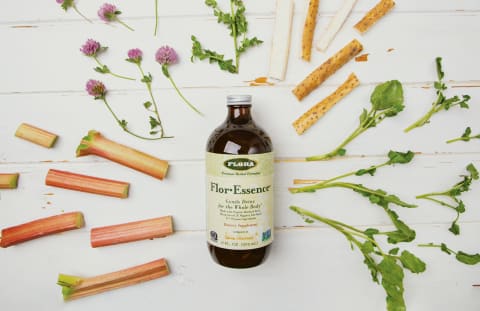 Image by Flora Health / Contributor
While we can't completely stop oxidative stress from happening as we get older, we can do a few things to help slow down its pace. Making healthy lifestyle choices daily are actions you can take right now: Getting regular exercise, wearing sunscreen, limiting alcohol, quitting smoking, not overeating, and using nontoxic products on your body and around the house have all been linked to preventing and lowering oxidative stress.
Learn about a few more strategies below:
These statements have not been evaluated by the Food and Drug Administration. This product is not intended to diagnose, treat, cure, or prevent any disease.
If you are pregnant, breastfeeding, or taking medications, consult with your doctor before starting a supplement routine. It is always optimal to consult with a health care provider when considering what supplements are right for you.
More On This Topic
more Health
Advertisement
This ad is displayed using third party content and we do not control its accessibility features.
Advertisement
This ad is displayed using third party content and we do not control its accessibility features.