This 3-Day Sugar Detox Makes Kicking The Sweet Stuff Effortless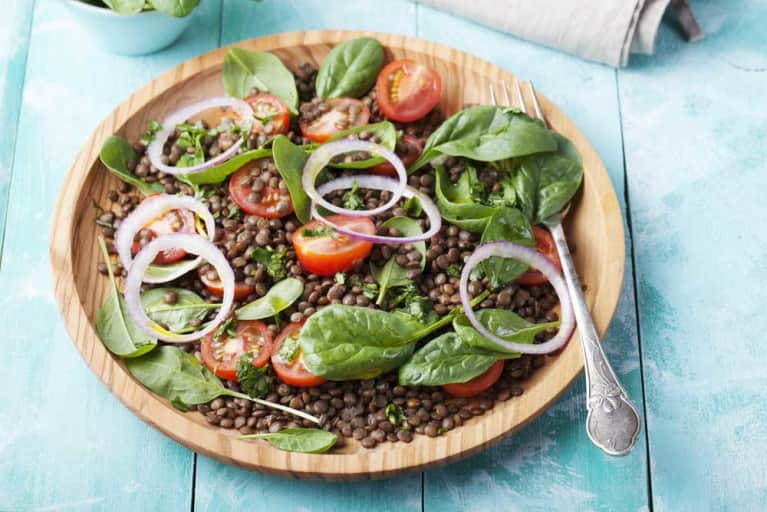 Our editors have independently chosen the products listed on this page. If you purchase something mentioned in this article, we may
earn a small commission
.
More people now are becoming aware of how sugar can detrimentally affect their health and are seeking ways to reduce or eliminate it from their diets.
After doing a number of 10-day and 30-day guided sugar detoxes with people over the last couple of years and ultimately writing a book on the topic, I realize that folks often fall into two camps: The "tell me what I can and can't eat" crowd and the "let me learn why I eat the way I do" contingent. Regardless of what "camp" you fall into, these steps will help you curtail your sugar consumption and set you on a stronger path toward looking and feeling healthy this summer (and for the rest of your life):
1. Set up your environment and develop practices that are health-centric.
Practices that can help us deal with stress, like mindful meditation, brisk walks, yogic breathing, and setting up your environment so you can eat healthfully, can ultimately be little tweaks that lead to big results.
2. Understand that good eating can take some time for certain reasons.
If you've been reliant on sugar, as I had been in the past, then you may find that reducing or removing it from your diet can be a little challenging but far from impossible. It takes time for withdrawal symptoms to subside and for your brain and enteric nervous system to begin producing their own neurotransmitters, like dopamine and serotonin, again. Additionally, it takes some time to make key switches in your work, home, and social environments so that you can eat better without having to think about it.
3. Even committing to start something is progress.
Doing a sugar detox for a short period of time can give you a small but solid goal to work toward. If you're able to complete that, then you can begin to decide whether you want to do one for longer. And if the "test" didn't go so smoothly by your estimation, then you can learn from it and ask yourself why that may have been so, and what you, in fact, would change or would like to change moving forward.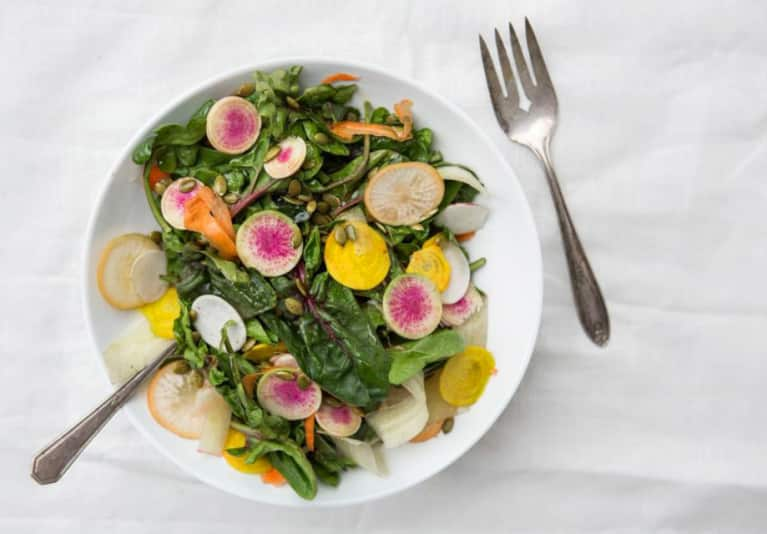 4. You are your best health adviser.
Part of this discovery of eating better is not necessarily what I—or any other person, for that matter—can dictate to you. Sure, there are tactics and best practices that you can learn, but in the end, you have the answers of what will work best for you. Let these ideas serve as a guide that can provide you with the tools, skills, and confidence to be your own best health advocate.
5. Supplant sugary beverages from the start.
Nearly half of the average American's sugar intake comes from sugary beverages, including sodas, energy drinks, sports drinks, coffees with sugar, tea with honey or agave, and yes—juices and smoothies, as well. If you're a beer and wine drinker, those will also need to be put on hiatus—that is, unless you can keep your red wine consumption to a serving, which is no more than 5 ounces. Once you eliminate sugary drinks—that's half the battle! Instead, turn your fizzy sodas into sparkling water, flavored with a squeeze of lime or lemon. Try more flavorful teas; loose-leaf varieties tend to have more flavor, and ingredients like cinnamon, licorice, turmeric, ginger, and mint tend to be fuller-bodied. That will help eliminate the need to use added sugars, like honey.
6. Find your sugar-free breakfast routine.
It may be cliché to say that breakfast is the most important meal of the day, but I find that it is critical, particularly as it relates to your blood sugar. We might not even realize it, but many of us are exceeding the recommended upper limit of sugar for the day before we even head out the door. Go ahead and take an inventory of what you're eating for a few days prior to the cleanse and see where your consumption falls, as it relates to sugar. Keep in mind that the suggested upper limit of free sugars for men is 37.5 grams (9 teaspoons) and women is 25 grams (6 teaspoons). I cannot stress enough that those numbers are upper limits, so you'll want to make sure you fall below those numbers. If you're consuming quite a lot of sugar in the morning, then it sets you up for a roller-coaster ride of ups-and-downs throughout the remainder of the day, dictating your cravings.
That's why it's best to get smart about our breakfasts. The first thing I did was eliminate sugary yogurts, granolas, cereals, bread and jams, and juices and smoothies, which are all typical morning meals. Sometimes we have to rush out the door in the morning, so it's a good behavioral shift to have your breakfast items prepared. For instance, you can have your pots or pans ready on the stovetop, the avocado ripening in a bag with an apple the night before, or even some hard-boiled eggs ready to grab-and-go if you're in a rush.
7. Healthify your snacks.
Snacking in and of itself is not unhealthy, but oftentimes we mindlessly eat in between meals, in front of our computers, or when we're just flat-out bored and stressed. The key is perhaps not being more mindful when this is happening but to be more mindful before it happens. Set yourself up for health when you're in an "unthinking, automatic state." If you're at work, then bring in your own healthy fruit bowl and set it right next to your desk—crisp apples, packaged nuts, and even sugar-free nut butters in your desk drawer can draw you to grab that which is convenient. Perhaps you can talk to your company's office manager about stocking better snacks or having the salty, sugary ones up in places that are harder to reach and out of people's line of sight. If you have children and there are less-than-healthy snacks in the house, then create a designated "kid's corner"—either in the back of the cupboard or fridge drawer—so again, it's not visually in front of you. Putting sugary foods in opaque, covered containers is also a great strategy because when it's out of sight, it's often out of mind.
8. Analyze how you feel and what you've learned from the process.
Once you're finished with your three-day sugar detox journey, give yourself time to be reflective of the process and progress you've made. What behavior changes were you successful at making? And what were true challenges that will need greater amounts of attention or effort going forward? These discussions with yourself will lead to a self-discovery of answers that will allow you to be a better critical thinker so that you can be your best health advocate and adviser.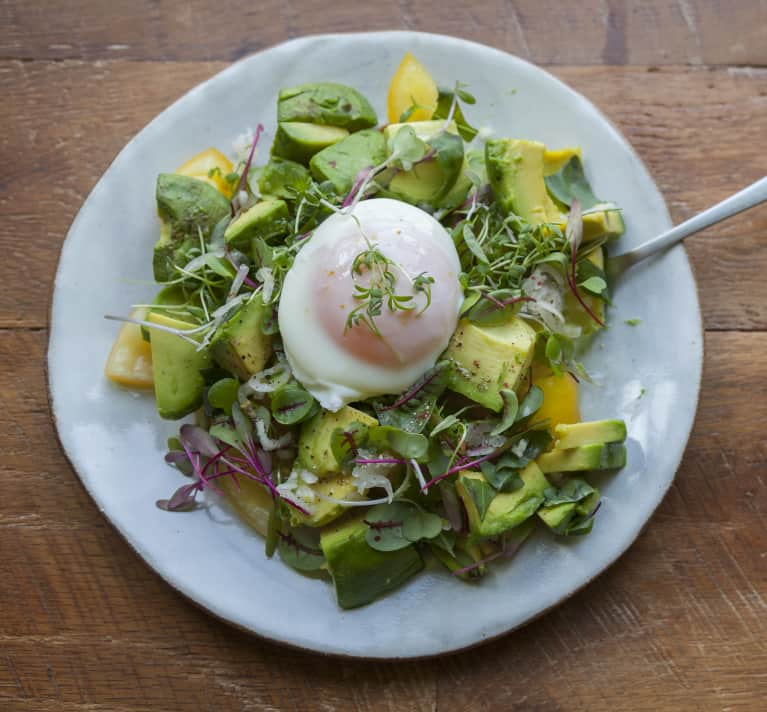 Breakfast: Poached Egg over Tomato & Avocado Salad
Every summer I rejoice when sun-ripened heirloom tomatoes make their debut at the farmers market. If you've only been eating conventional, flavorless beefsteak tomatoes from the grocery store, then I encourage you to try ugly but charismatic and wonderfully flavorful heirlooms. Tomatoes are rich storehouses of lycopene, a red-colored carotenoid similar to beta-carotene, but unlike beta-carotene, lycopene doesn't convert to vitamin A. Instead, it is incorporated into the small intestine. It has been shown to be beneficial for bone and cardiovascular health. Tomatoes and avocados not only taste delicious when they are paired but also make a formidable nutritional duo. The healthy, monounsaturated fat found in avocado helps your body absorb the vitamin A you'll be getting from the tomato's other carotenoids: alpha- and beta-carotene. Add some protein by pairing the tomato and avocado with a poached egg. Vegans can substitute chickpeas or silken tofu for the egg.
Makes 2 servings
Ingredients
2 eggs
2 tablespoons distilled vinegar
1 avocado, diced
1 tomato, diced
½ shallot, thinly sliced
1 ounce microgreen mix
1 tablespoon extra-virgin olive oil
1 teaspoon sea salt
1 teaspoon pepper
Poach 1 egg in water with the distilled vinegar in a medium saucepan for 4 minutes. Remove the egg with a slotted spoon and place it on a paper towel on a plate. Do the same for the second egg, using the same water.
Plate the diced avocado, tomato, shallots, and microgreens.
Add a poached egg on top of the salad. Drizzle it with olive oil and a sprinkling of sea salt and pepper.
Lunch: Leafy Green Salad with Roasted Beets, Bean Sprouts & Miso-Glazed Tempeh
Take a tablespoon or two of miso and glaze two ¼-inch-thick tempeh slices. Let sit for 10 minutes or more. Next, rub olive oil on six small washed beets and wrap in aluminum foil in an oven at 375°F. Place on a baking sheet and roast for around 45 minutes or until it can be easily pierced with a fork. Let cool and slice beets. Set aside. While beets are in the oven, prepare a skillet with a tablespoon of extra-virgin olive oil and place ¼-inch-thick slices of tempeh into the pan and fry until they're golden brown, about 4 minutes each side. Take 2 cups of your favorite dark leafy green, like kale, chard, or spinach and add to a large salad bowl. Add a handful of bean sprouts, tempeh and 3 of the roasted beets (save the remainder for Day 3). Dress with Carrot-Ginger Vinaigrette (recipe below).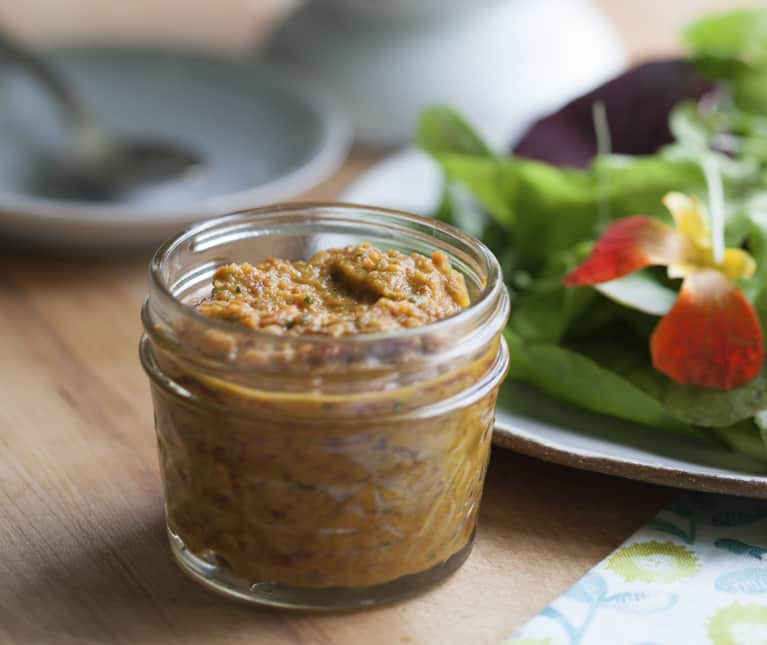 Carrot-Ginger Vinaigrette
Popular in Japanese restaurants, carrot-ginger dressing brings the natural sweetness of carrots together with the zesty flavor of ginger. To peel ginger quickly, cut off a chunk and take the edge of a spoon between your thumb and forefinger and work carefully in one direction to peel off the skin. It'll reveal the stringy, yellow flesh below, ready for chopping or grating.
4 servings (reserve for other days)
Ingredients
2 small carrots, peeled and chopped
1 tablespoon rice vinegar
½ inch ginger, peeled and mashed
1 teaspoon tamari sauce
1 teaspoon sesame oil
Cook the carrots in boiling water for about 7 minutes or until they are tender. Drain the carrots.
Puree the carrots in a blender along with the rice vinegar, ginger, tamari sauce, and sesame oil, until the dressing is smooth but slightly granular.
Dinner: Quinoa with Fresh Tomatoes, Chopped Zucchini & Avocado
Wash ½ cup quinoa thoroughly in a sieve. Bring the quinoa and 1 cup vegetable broth to a boil in a medium saucepan. Reduce the heat to low, cover the saucepan, and let the broth simmer until the quinoa is tender and most of the liquid has been absorbed, about 15 minutes. Fluff the quinoa with a fork and let cool. While the quinoa is cooking, halve ½ cup of cherry tomatoes, shred 1 cup of zucchini, and slice an avocado. Top the quinoa with the tomatoes, zucchini, and avocado. Add a little salt to taste.
Drink: Apple, Mint & Strawberry Tea
This recipe was inspired by the whole-fruit teas that are concocted at my local café. Although you can serve it hot or cold, I particularly love it hot, even in warm weather, because the heat from the water releases the naturally sweet flavor from the fruit. As your taste buds start to re-acclimate, you'll find that the flavors of whole fruit are perfectly satisfying.
Serves 2
Ingredients
⅓ cup green apple, diced
¼ cup strawberries, diced
2 to 3 sprigs mint leaves
2¼ cups boiling water
Method
Place the apple, strawberries, and mint in a teapot. Add the water and let steep for 2 minutes. Enjoy.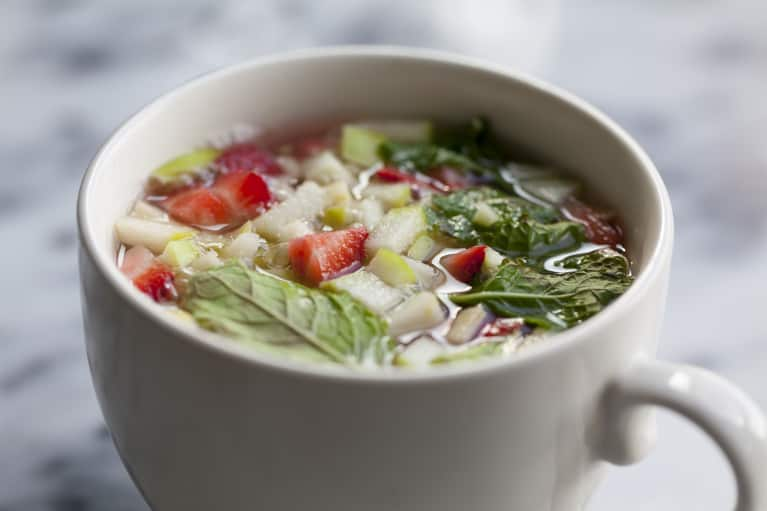 Easy-to-peel whole oranges or mandarins
Handfuls of cashews, almonds, or your favorite nut
Seaweed snacks
Breakfast: Brussels Sprouts Hash with Mushrooms
1½ tablespoons extra-virgin olive oil, divided
1 shallot, diced
1 garlic clove, diced
1 portobello cap
½ pound Brussels sprouts
Pinch of sea salt
2 tablespoons mushroom broth
Squeeze of lemon
1 pastured egg
Heat 1 tablespoon olive oil and a chopped shallot in a nonstick skillet over medium heat. Sauté for 2 minutes or until the shallot is translucent. Add 1 chopped garlic clove and sauté for another minute.
Add 1 large portobello mushroom cap, ½ pound of chopped Brussels sprouts, and salt to the skillet. Cover the mixture and sauté for 5 minutes or until mushrooms and Brussels sprouts start to soften. Sprinkle with a couple of tablespoons of mushroom broth and a little lemon juice halfway through and cover.
In a separate nonstick skillet, heat the remaining olive oil, then crack the egg into the skillet. Cover the skillet and let the egg steam for 2 to 3 minutes, making sure not to overcook the yolk. To serve, mound the Brussels sprouts and mushroom on a plate and place the egg on top.
Lunch: Leafy Green Salad with Quinoa, Tomatoes, Zucchini & Avocado
Place 2 cups of leafy greens into a bowl. Slice up another ½ cup of cherry tomatoes, shred ½ cup of zucchini, and slice an avocado. Massage the leafy greens with some olive oil and lemon dressing. Toss the quinoa together with the greens, tomatoes, and zucchini. Add the avocado and a little sea salt to taste. Dress with a drizzle of olive oil and a squeeze of lemon.
Dinner: Brown Rice Summer Rolls
Prepare ¼ cup of quinoa in advance along with a cup of bean sprouts, julienne ½ cup zucchini, and slice an avocado. Set each ingredient up in various stations, along with a small station of torn mint and Thai basil. Take brown rice paper skin and dip in water for around 20 seconds so it's thoroughly wet. Place on a flat, clean surface. Add a little of the veggies, the quinoa, and the herbs and roll the rice paper appropriately until all ingredients are used. Dress with Carrot-Ginger Vinaigrette from DAY 1.
Drink: Turmeric-Ginger Tea
Make yourself with fresh ginger and turmeric and hot water, or source from your favorite tea purveyor!
Snacks:
Banana
Celery sticks, lightly salted, or with nut butter
Kale chips
Breakfast: Breakfast Barley "Risotto"
1½ tablespoons extra-virgin olive oil, divided
1 cup pearl barley
2½ cups mushroom broth (preferably homemade)
1 leek, chopped
1 shallot, diced
1 cup Brussels sprouts
½ bunch kale, chopped
1 to 2 tablespoons tamari sauce
Add ½ tablespoon of olive oil to a pressure cooker or large pot over low heat. Add 1 cup barley (or any other whole grain) and sauté for 1 minute, being sure to stir the barley so it doesn't burn. Add 2½ cups mushroom broth and put a lid on. Cook in the pressure cooker for 20 minutes or in a regular pot for about 40 minutes, until the barley is tender.
Meanwhile, heat 1 tablespoon of olive oil over a medium heat in a nonstick skillet. Add the leek and shallot and sauté them for 2 minutes or until they are fragrant.
Add 2 handfuls of shredded Brussels sprouts and let them begin to crisp up in the pan for about 3 minutes. Next add the kale and 2 tablespoons water to the skillet. Cover and sauté for another 2 to 3 minutes until kale is wilted.
When the barley is ready, drain any remaining liquid (if any), add a little tamari sauce, and stir in Brussels sprouts and kale.
Lunch: Leafy Green Salad with Roasted Portobello, Beets, Bean Sprouts & Asparagus Spears
Place 2 mushrooms on a baking sheet and drizzle them with 2 tablespoons of extra-virgin olive oil. Roast the mushrooms at 400°F for 15 minutes. Take the leftover beets from Day 1, bean sprouts, and fresh asparagus spears, and toss with 2 cups of leafy greens. Remove the portobello from the oven and slice. Dress with Carrot-Ginger Vinaigrette from DAY 1.
Dinner: Balsamic-Glazed Roasted Portobello
Prepare ½ cup of wild rice with 1½ cups of vegetable broth in a pressure cooker over low pressure for 25 minutes. Then, place 2 mushrooms on a baking sheet and drizzle them with 1 tablespoon of olive oil and ½ tablespoon of balsamic vinegar. Roast the mushrooms at 400°F for 15 minutes. On a separate baking sheet, add the remainder of the asparagus and drizzle with a little olive oil, salt, and pepper. Roast them at the same temperature for 12 minutes. Remove rice and plate. Next add the mushroom along with the roasted asparagus. Sprinkle with sea salt, to taste.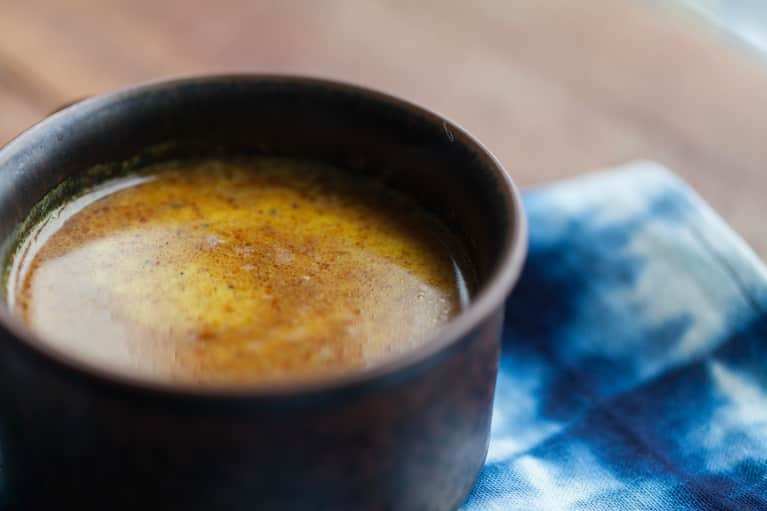 Drink: Turmeric-Charged Macadamia Nut Milk
1 cup macadamia nuts, soaked overnight
1 teaspoon coconut oil
4 cardamom pods, dry-roasted
1 teaspoon turmeric
Pinch of white pepper
½ teaspoon vanilla extract
⅛ teaspoon cinnamon and nutmeg
Soak 1 cup macadamia nuts in water overnight, drain, and add to a blender with 2 cups of filtered water. Blend for 2 minutes. Strain liquid through nut bag. The remaining macadamia nuts can be either composted or oven-roasted and used as a topping on salads, soups, or yogurt.
Meanwhile, add cardamom pods in a heavy nonstick skillet. Cook over medium-high heat until the pods are fragrant, about 1 minute. Let cool and grind in a spice grinder.
Next place the coconut oil in the heavy skillet. Reduce the heat to medium and add the turmeric, pepper, and vanilla extract and stir for 2 minutes. Add the nut milk.
Strain the mixture and top with cinnamon and nutmeg. If you'd like it chilled, then add an ice cube and let sit for 4 to 5 minutes.
A whole apple with hummus, unsweetened almond butter, or slices of aged gouda
Cucumber slices, lightly salted
Seaweed snacks