Beauty Secrets From My Persian Childhood: A Lotus Hair Gloss, Saffron Face Mask & Detox Scrub
Founder of The Local Rose
By Shiva Rose
Founder of The Local Rose
Shiva Rose is an actress, writer, activist, and blogger for her website The Local Rose. She has her bachelor's in world arts from the University of California, Los Angeles, and lives near the Santa Monica mountains with her two daughters.
Our editors have independently chosen the products listed on this page. If you purchase something mentioned in this article, we may
earn a small commission
.
Being half-Iranian has connected me deeply to the poetic and ancient wisdom of Persia. Growing up in Iran for the first 10 years of my life gave me some insight on how there, women and beauty are synonymous with each other. Although we lived in the countryside surrounded by mostly mountains, we would have occasional glamorous visitors or go to see friends in the city. The women always had a few things in common: extremely soft, luxurious, velvet, skin on their limbs; shiny, glossy hair; and clean, even skin. Grandmothers and mothers would pass down certain rituals to their daughters for centuries; therefore the lineage of these ancient methods are still alive today.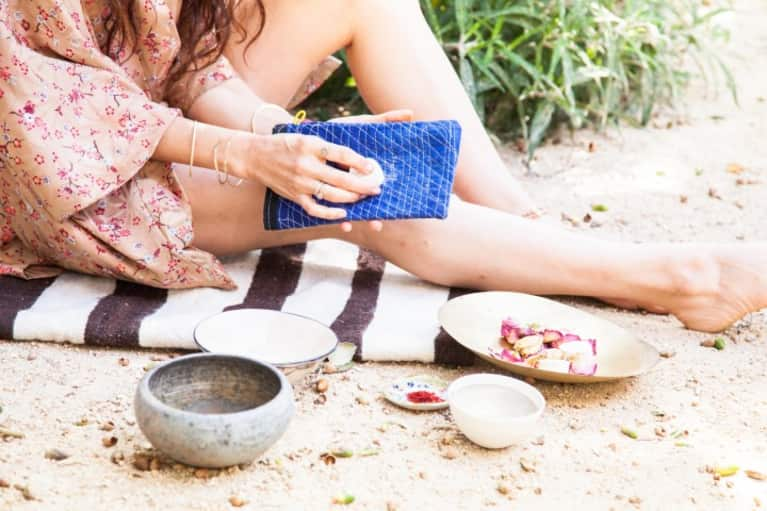 There is a reason Persian, Japanese, Korean and Russian cultures (to name a few), make weekly exfoliating and scrubbing rituals mandatory—they all have bath houses incorporated into their lives. We hold so much on the dead skin that covers us that scrubbing it helps release toxins and allow for new energy. A kiseh is a cloth like a loofah that is used with sefitab, which is an exfoliating chunk of hardened minerals and sheep fat. Sefitab, which means "white water" looks a bit like a dense piece of chalk; however, it's an ancient formula made specifically for removing dead skin and polishing the skin until it's as soft as velvet. Supposedly this has been the tradition during bathing rituals since the Zoroastrian days. I am still trying to figure out a close substitute so you can make this at home. If nothing else, investing in a loofah is the way to go, and I love using my Sea Siren Body scrub; I formulated it with blue-green algae, the purest form of algae full of enzymes, vitamins, chlorophyll, and amino and fatty acids that feed your skin.
Another ancient Persian beauty secret is using the herb sedr to promote glossy, thick hair. Sedr powder is from the leaves of the lotus tree. This tree is actually a relative of the buckthorn family and said to have been the bush that the thorns on Jesus' crown were made of. It is excellent for dandruff and to strengthen and condition the hair shaft. It gives many of the benefits that henna does but without the added color.
How to: Mix 4 tablespoons of the powder in water to create a paste. Put the paste on your scalp and hair and let sit for 45 minutes. Then rinse and shampoo and condition as usual. For extra gloss add one egg to the paste and mix well and add to the scalp and hair. When I use the sedr herb, I feel like my hair is extra shiny and more bouncy. I definitely think the longer it is left the more you will see the benefits.
By now we all know the benefits of using rosewater on the skin. It is an excellent toner, hydrator, and can clear up skin ailments. Did you know that drinking some rosewater is also very medicinal? It can benefit the skin, the heart, the liver, digestion, gynecological problems, appetite, bad breath, the eyes, the mouth, bruising, cuts and wounds, veins, limb joints, head pain, infectious illness, sexuality and the mind. These are very much in line with the ailments that rose was claimed to cure in ancient medicines. And much of it has been confirmed by modern scientific studies, particularly in Germany, and in Bulgaria where a large rose industry has been established. I have been on the hunt for a 100 percent organic brand that uses roses grown with zero pesticides. The company Royal Sense has a beautiful rosewater that I have been sampling now for six weeks, and I can see the results.
How-to: I drop a few drops into my water bottle and drink it throughout the day. I've noticed an elevation in my heart chakra, energy, a sense of renewal and more. You can put some drops in your juice, tea, or cocktail. Now the shop on The Local Rose carries the rosewater so you can all give it a try! A few drops go a long way due to the purity and strength.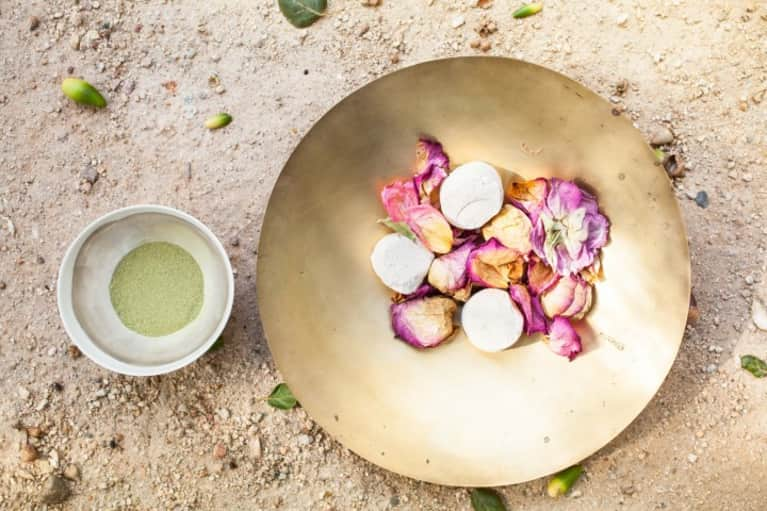 One of my most favorite ingredients is the delicate strands of saffron. Since I was a child I have been in awe of this precious spice. I have seen how it can make a simple rice dish go from a staple to a culinary sensation. The unusual flavor and beautiful golden red color come from the Crocus flower. It is said that it takes 4,500 crocus flowers to make up 1 ounce of saffron. Saffron has incredible healing properties that also are found in Ayurvedic traditions. It can remedy menstrual cramps and help men with fertility issues. Saffron can alleviate depression and stress and has been known to be an aphrodisiac. For the skin, using topically can help with dryness, discoloration, dullness, and acne.
How to: A saffron mask is easy to make and leaves your skin illuminated and glowing. Using yogurt (rich in zinc and B vitamins), which is a natural lactic acid, and combining it with enzyme-rich honey will allow the saffron threads to really penetrate the skin. Honey is a natural humectant and will keep the skin supple and soft. Saffron can be found at all stores that specialize in Iranian items and online.