8 Vegetarians Reveal What They Order At Popular Food Chains
Our editors have independently chosen the products listed on this page. If you purchase something mentioned in this article, we may
earn a small commission
.
It's hard to deny the benefits of vegetarianism — a plant-based diet is good for your health and the planet, too. But in a world of McNuggets, Whoppers and steak burritos, finding veggie-friendly options on-the-go can be tricky. We asked eight plant-based eaters in the wellness world to share their orders at popular food chains. Here's what they told us.
Pret A Manger's Falafel Mezze Salad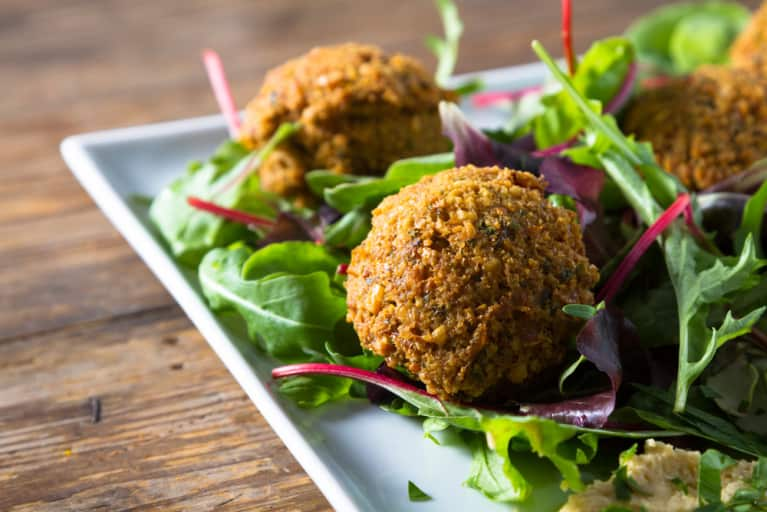 "Pret A Manger has a number of plant-based options," says author, chef and raw food expert Renée Loux. "Their Falafel Mezze Salad is a vegan, protein-rich order with roasted beets, cucumber and mint. I skip the sugary dressings and dress it with extra virgin olive oil. I appreciate the quality of the mesclun greens, which in New York, are locally sourced and sustainably grown by Satur Farms."
Photo courtesy of Shutterstock
Chipotle's Sofritas Burrito Bowl With Beans, Vegetable And Guac
"Chipotle is the most veggie- and gluten-free-friendly restaurant that I am likely find on the road," says Ironman champion Hillary Biscay. "My go-to there is a bowl with sofritas. This marinated tofu is quite tasty and with grilled veggies, beans, and plenty of guac added to that, I always leave feeling like I've eaten a real meal and have plenty of energy for any training session I may have to tackle. If I am really hungry, I add a side of chips to all of this — yes!"
Le Pain Quotidien's Salads and Grains
"I usually stick to hearty salads and grain dishes at chain restaurants — rice, quinoa, or anything with legumes," says Choosing Raw author Gena Hamshaw.
"I love ordering at Le Pain Quotidien. They have so many vegan options, and the food is always fresh and seasonal," she says. "My favorites include the lentil avocado salad, the quinoa tabouli, and for breakfast, the steel cut oats with berries."
Starbucks' Green Juice, Trail Mix + Fruit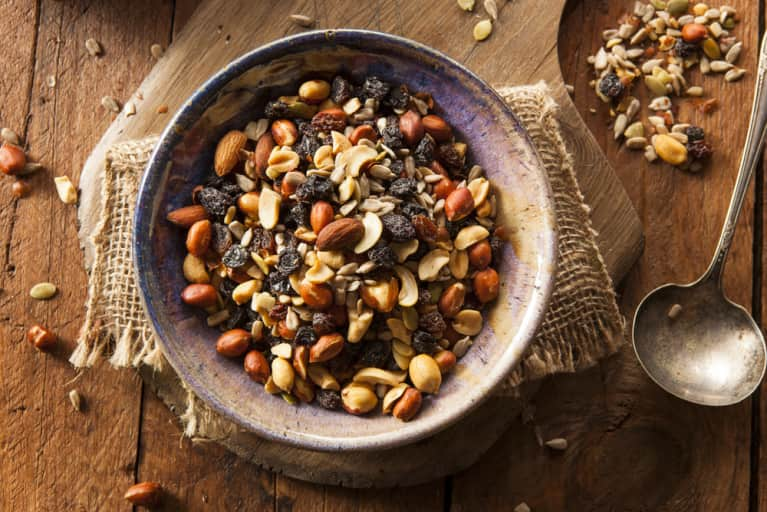 "When I'm on the road and need a quick and energizing snack fix, Starbucks often saves me," explains natural food chef and bestselling cookbook author Julie Morris. "I'll get the bottled green juice by Evolution Fresh which they now offer in their cold case (hurrah!), a bag of superfood trail mix made with mixed nuts and dried goldenberries (still blown away they have this), and a banana if I need extra fuel in the tank."
Photo courtesy of Shutterstock
Panda Express' Tofu And Eggplant Bowl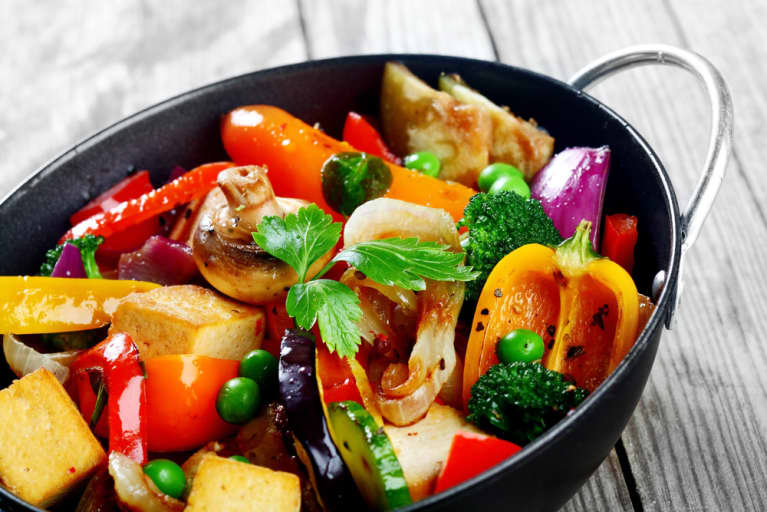 Charlie Knoles, a Vedic Meditation teacher and founder of The Veda Center, looks out for Panda Express when he's on the road. His advice? "Split the base between fried rice and mixed vegetables and then get a double order of the tofu and eggplant."
Photo courtesy of Shutterstock
Qdoba Side Salad With Guac, Black Beans And Salsa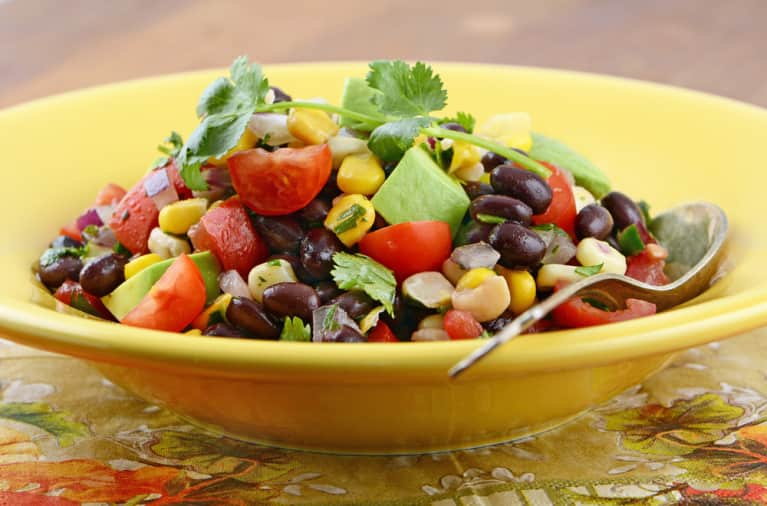 "I've found that eating vegan and even quasi-healthy at an airport is the most difficult, since they have even more limited menus. If I'm in an airport for a layover, Mexican chains can be a good way to go," explains trainer Heidi Kristoffer, creator of CrossFlowX. "From Qdoba I order a side of guacamole, a side of black beans, a side salad with a side of salsa, and I combine them all to make a delicious, healthy, filling vegan salad. I imagine you could do this at practically any Mexican fast food restaurant."
Photo courtesy of Shutterstock
Bareburger's Farmstead Veggie Burger + Sweet Potato Fries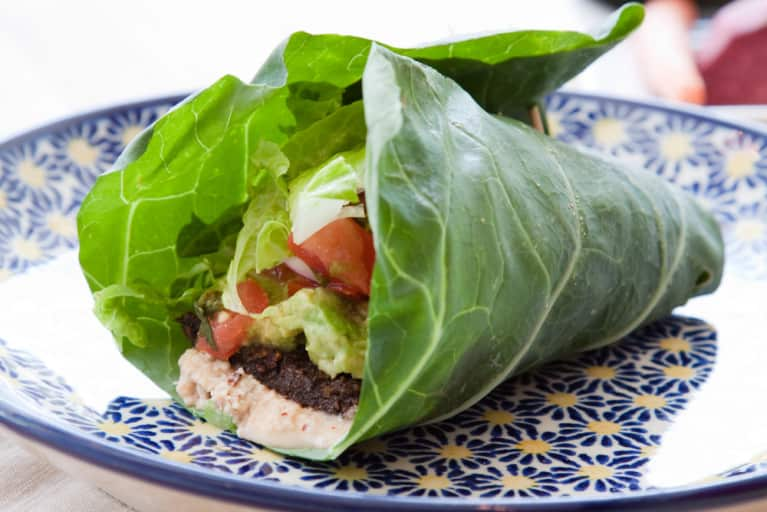 "I'm a big fan of Bareburger and their Farmstead veggie burger and sweet potato fries," says chef and cookbook author Candice Kumai. "It's absolutely delicious in a collard green wrap, it tastes fresh, and its the perfect #plantbased treat when you wanna get into something meaty, but lighter!"
Photo courtesy of Shutterstock
Chipotle's Sofritas Burrito Bowl With Black Beans And Vegetables
"If I'm forced to grab fast food, I will search for a Chipotle," says The Whole Heart Solution author Dr. Joel Kahn. "I order a bowl of non-GMO rice, beans, vegetables, and spices. I can skip the shell and save some calories. With their new non-GMO tofu option, I can add some healthy protein."
Photo Credit Cover Image: Chipotle
Photo Credit Cover Image: Bloomberg