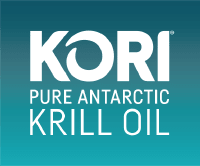 Kori
We're on a mission to increase your Omega-3 levels! Why? Omega-3s are essential nutrients needed for overall health that our bodies can't make on its own and over 70% of Americans are deficient in their Omega-3 levels. Kori Krill Oil's Omega-3s are sourced from powerful Antarctic krill which contain Omega-3s and additional nutrients likes Choline and antioxidant Astaxanthin to support heart, brain, joint, eye, skin, immune, and nervous system health.
Because Kori delivers Omega-3s in their most natural phospholipid form our bodies like, it has superior Omega-3 absorption vs fish oil.* Fish oils lose this form during processing. Kori also has no fishy aftertaste because this natural form digests better in our bodies.
Kori is certified sustainably sourced, made with non-GMO krill oil and has no artificial colors, flavors or preservatives. Krill oil is clinically proven to raise Omega-3 levels.
*when taken at the same levels of Omega-3 EPA & amp; DHA as fish oil
Connect With Kori
Connect