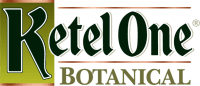 Ketel One Botanical
Ketel One Botanical is a first-of-its-kind spirit made from vodka distilled with real botanicals and infused with natural fruit and botanical essences. Made with 100% non-GMO grain, this 30% ABV spirit is an exceptionally smooth, fresh-tasting drink with no carbs, no artificial flavors, no added sugar and no artificial sweeteners. Ketel One Botanical is available nationwide in three varietals: Peach & Orange Blossom, Cucumber & Mint, and Grapefruit & Rose, at your local spirits retailer for a suggested retail price of $24.99 per 750ml bottle. We invite you to pick your favorite Botanical and add soda for a deliciously fresh taste experience with only 73 calories and 0 carbs per serving. For more information please visit www.ketelonebotanical.com.
KETEL ONE BOTANICAL & SODA

1.5oz of your favorite Ketel One Botanical varietal (choose from Peach & Orange Blossom, Cucumber & Mint, or Grapefruit & Rose)
3oz Soda Water
Serve in a wine glass with ice and your choice of fragrant herbs, crisp citrus or other fresh fruit.
Connect With Ketel One Botanical
Brought To You By Ketel One Botanical