Young People Are Facing A Mental Health Crisis: Here's Why + What We Can Do To Help
Health Writer & Editor
By Kristine Thomason
Health Writer & Editor
Kristine is a writer, editor, and editorial consultant who lives in Long Beach, CA.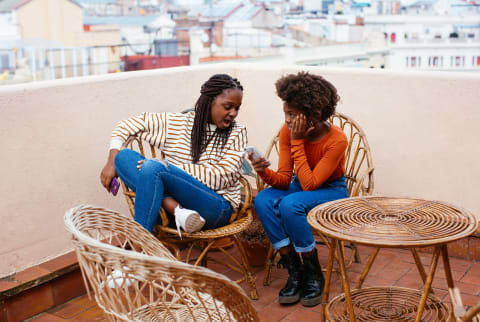 Image by BONNINSTUDIO / Stocksy
December 10, 2021
It's no secret that mental health challenges have been on the rise for some time, and particularly amid the onset of the pandemic. Navigating the last two years has been challenging for so much of the population, but being a young person coming of age in the time of COVID certainly presents a unique layer of difficulty.
To shed light on this insidious problem, U.S. Surgeon General Vivek H. Murthy issued a public health advisory1 on Tuesday, detailing the mental health crisis affecting children, adolescents, and young adults. "The challenges today's generation of young people face are unprecedented and uniquely hard to navigate. And the effect these challenges have had on their mental health is devastating," he shares in the introduction of the report.
As for the pandemic impact, "recent research covering 80,000 youth globally found that depressive and anxiety symptoms doubled during the pandemic, with 25% of youth experiencing depressive symptoms and 20% experiencing anxiety symptoms," he shares in the advisory. (You can read more about the specific mental health implications for young women and girls here.)
Why is this the case? And what can we do about it? His 54-page report offers some wisdom and guidance on both accounts.
Why are mental health issues on the rise for young adults?
While it's impossible to draw sweeping conclusions about an issue as nuanced and complex as mental health, Murthy does share some thoughts in his report about potential underlying causes of the mounting crisis.
Murthy also discusses how adding pandemic ramifications to that equation—from potentially losing family members to facing social changes—only exacerbated the existing crisis. "They missed first days of school, months or even years of in-person schooling, graduation ceremonies, sports competitions, playdates, and time with relatives. They and their family may have lost access to mental health care, social services, income, food, or housing," he shares, among other examples of the many ways the pandemic has taken a toll.
What can we do about it?
Murthy notes that amid tragedy, there have been bright spots, including how many people and organizations have stepped up to prioritize youth mental well-being.
However, there is still so much more to do: "Supporting the mental health of children and youth will require a whole-of-society effort to address longstanding challenges, strengthen the resilience of young people, support their families and communities, and mitigate the pandemic's mental health impacts," he shares.
For our society, here are the top-line calls to action Murthy makes:
Recognize that mental health is an essential part of overall health.
Empower youth and their families to recognize, manage, and learn from difficult emotions.
Ensure that every child has access to high-quality, affordable, and culturally competent mental health care.
Support the mental health of children and youth in educational, community, and child care settings.
Address the economic and social barriers that contribute to poor mental health for young people, families, and caregivers.
Increase timely data collection and research to identify and respond to youth mental health needs more rapidly.
Murthy goes on to outline strategies and suggestions for different subgroups of people—including caregivers, educators, health professionals, media, tech companies, governments, and young people themselves.
"If we each start reorienting our priorities to create accessible space in our homes, schools, workplaces, and communities for seeking and giving assistance, we can all start building a culture that normalizes and promotes mental health care," Murthy writes in the conclusion of his report. "This is the moment to demand change—with our voices and with our actions."
Kristine Thomason
Health Writer & Editor
Kristine is a writer, editor, and editorial consultant who lives in Long Beach, CA. Kristine is a New York University graduate with a degree in journalism and psychology, and also a NASM-certified personal trainer. She has spent her editorial career focused on health and well-being, and formerly worked for Women's Health and Health. Her byline has also appeared in Men's Health, Greatist, Refinery29, HGTV, and more. In her current role she oversees, edits, and writes for the health, food, and movement sections of mindbodygreen.