Should You Wash New Clothes Before Wearing Them? The Answer May Surprise You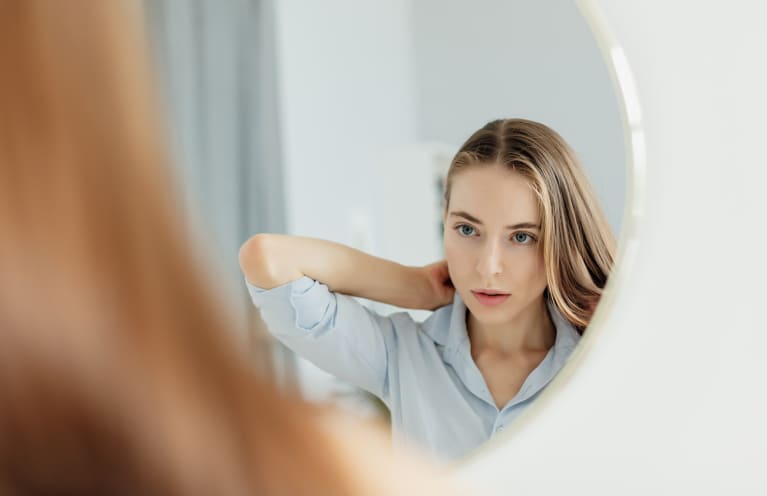 Our editors have independently chosen the products listed on this page. If you purchase something mentioned in this article, we may
earn a small commission
.
It's a well-known rule that you should wash your sheets weekly (even more so during summer!), especially if you're prone to body breakouts. And for those with hypersensitive skin, washing your sheets and clothes with a fragrance-free detergent is probably the way to go. You should do this to avoid irritation that may come from harsh soaps and fragrances. But if you still find yourself with the occasional discomfort, there may be one step you're missing: Are you washing your brand-new clothes before wearing them?
Here, we'll explain why it's essential for those with sensitive skin.
Why you should wash your new clothes before wearing them. 
According to board-certified dermatologist Azadeh Shirazi, M.D., via TikTok, brand-new clothes can contain certain potential irritants, like synthetic dyes or even preservatives to keep the garment wrinkle-free during shipment. She explains, "If they contain allergens that sensitize your skin, [these] chemicals leach out onto your skin and can lead to what's called contact dermatitis."
Dermatitis can show up as dry, red, or itchy patches and bumps on the skin. It's important to note that dermatitis can be caused by a number of factors, but contact dermatitis is generally caused by something irritating touching the skin (hence the phrase contact dermatitis).
Shirazi gets even more specific by sharing, "I notice this a lot in workout clothes because we sweat, we're active, [and] there's a lot of friction." That sweat and friction can help the aforementioned chemicals leak out of the clothing and onto your skin. She notes that some areas may be more prone to irritation than others, including the armpits and back of the knees—coincidentally, those areas are also the ones that tend to receive the most friction from the apparel.
When it comes to addressing dermatitis, it's generally best to see a dermatologist, as there are many different kinds of reactions, and a professional can help you identify your personal trigger. However, many derms will recommend cutting down on all potentially irritating products (exfoliators, stripping cleansers, fragrance-laden formulas, et al.) and opt for something simple, soothing, and hydrating for the skin until you get to the bottom of the issue.
If you've ever wondered if it's necessary to wash brand-new clothes, the answer isn't so simple: If you have sensitive skin and notice any contact dermatitis, you might want to give them a rinse with fragrance-free laundry detergent. Your clothes go through a long journey before landing in your closet and may come into contact with potential irritants along the way.
Of course, if you don't notice any issues with your new garments, we're not going to tell you to avoid showing off your brand-new clothing—as always, do what's best for you and your skin. And if you do have especially sensitive skin, sticking to fragrance-free body care is the best practice, and that includes body wash, body lotion, and laundry detergent.