Close Banner
Advertisement
This ad is displayed using third party content and we do not control its accessibility features.
paid content
 for

From 2 to 30 Minutes: Soothing Routines For Stressed-Out Skin
Image by ohlamour studio / Stocksy
It's 2020, and that means we're all in a state of heightened stress.
By now, most of us are aware of signs like muscle tension, shallow breathing, fatigue, brain fog, or headaches, but we often neglect to connect the dots between unwelcome dullness, acne, redness, or sensitivity in the skin and the stress we're feeling.
How stress messes with our skin.
The "Brain-Skin Connection1" is real—when the flight-or-fight response is triggered, our bodies take blood flow away from the skin to deal with crucial organs like the heart, brain, and lungs. As a result, a decrease in collagen production occurs, often resulting in dull, tired-looking skin.
Additionally, research shows that healing is slowed2 when you are under stress, so if you are normally prone to acne, rosacea, psoriasis, or skin irritation, you may notice more flare-ups than you're used to, or they may be more persistent and stubborn.
Of course, coming up with a stress management plan is an important piece of the puzzle. But it is equally important to treat the issue from the outside in.
As tempting as it may be to run toward actives and acids that promise a quick fix, more often than not these harsh products can wind up causing even more stress in your sensitized skin and ultimately do more harm than good. Instead, skip the anxious actives and go for calm, cool, and collected with a soothing skin care routine that will get you back on the road to glowing.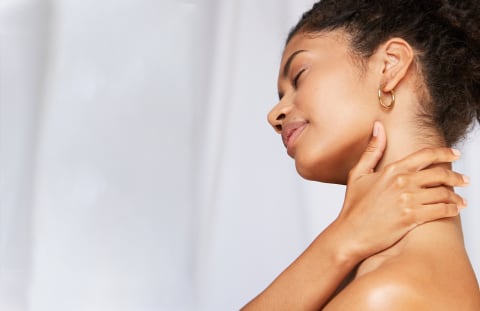 Image by ohlamour studio / Stocksy
2-minute calming daily routine.
Your daily routine should alleviate stress, not add to it. Make it simple with this two-minute, two-step settling and soothing routine that can happen while your coffee brews.
Step 1: Cleanse. Skip the drying gel or foam formulas, and opt for an oil cleanser that gently removes makeup, dirt, and impurities while balancing your skin's natural oils. Look for plant oils (like sunflower oil, jojoba oil, and olive oil).
We love NOW® Solutions Soothing Rose Facial Cleansing Oil because it contains plant oils along with skin-soothing vitamin E, vegetable squalane, and rose oil, which has traditionally been used to promote healthy-looking skin. Plus, it serves as a beautiful daily reminder to stop and, literally, smell the roses.
Step 2: Tone & Moisturize. After cleansing, reach for a natural facial toner. Run far away from anything containing alcohol, and look for rehydrating, revitalizing, desensitizing solutions that can be used to moisturize on its own or moisten the skin before you apply your day cream.
NOW® Solutions Rosewater Rejuvenating Mist unlocks the power of rose to gently refresh and moisturize skin and hair in a flash. Simply mist, and follow with your moisturizer or jump on that a.m. Zoom meeting assured that you've given your skin a dose of much-needed hydration.
Image by ohlamour studio / Stocksy
30-minute skin-soothing ritual.
It's easy like Sunday morning and you've got a little more time to add a mask to your new soothing routine. Rather than going store-bought, try DIY to give your skin exactly what it needs and indulge in a little soul-soothing craft time.
This simple mask recipe* from NOW® Solutions contains all-natural, skin-nourishing ingredients to ensure your sensitive, stressed-out skin is calmed and soothed.
● 4 to 5 tablespoons water
Mix all the ingredients together in a bowl to form a creamy paste.
Cleanse the skin using a gentle oil cleanser to remove makeup, dirt, and debris.
Apply to the face and neck area, then relax for 10 to 15 minutes until the mask is dry to the touch. Put the phone away and do a little breathwork or meditation to calm the mind.
Rinse off with warm water, ensuring the mask is completely removed.
*Avoid sensitive areas, and use one to two times weekly as needed. NOT intended for internal use.

Chloe Schneider
mbg Brand and Integrated Marketing
Chloe Schneider is the VP of Brand and Integrated Marketing at mindbodygreen. She received her degree from the University of South Wales. She has worked at many top publications and brands including Mashable and RESCU. She lives in Brooklyn, NY.