It's The End Of Summer: Why You Should Try An AHA Body Wash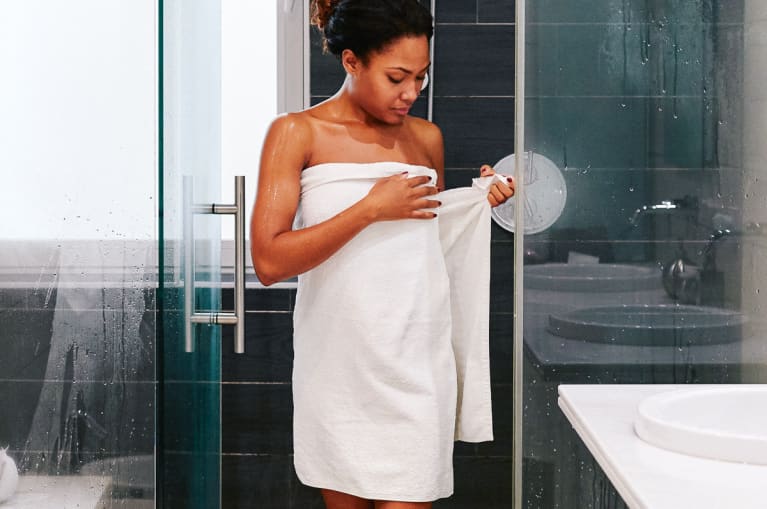 Body washes certainly don't have the same panache as face washes, with all their various textures, formats, ingredients, multistep processes, targeted results, and the like. Body washes have decidedly fewer variations, ranging from bar and cream to gel. More often than not, the only flourish you get to have fun with is the fragrance.
Now you can find options better suited for your skin, but these tend to be more targeted to very specific skin concerns. You can opt for creamy, hydrating ingredients for extra dry skin, soothing botanicals or colloidal oat for eczema, or salicylic acids for body acne. We don't often get encouraged to branch out to new body wash ingredients unless there's an issue attached.
But here's a hot tip from a dermatologist that any skin type can work with, especially now as we officially enter fall and bid summer farewell.
Why you should try an AHA body wash post-summer sun.
Alpha-hydroxy acids are a type of chemical exfoliant that are hydrophilic, meaning water-loving. They exfoliate the skin by helping slough off excess dead cells on the surface, but because they also attract water, they add an element of hydration. This is especially true of less potent formulas or those that use lactic acid, a very gentle AHA that doesn't irritate the skin as much because the molecular size is too large to burrow. For a more potent acid, glycolic is another famous AHA.
OK, so that's why AHAs are so great. But why in a body wash for post-summer specifically? "So AHAs are generally preferred for normal or even dry skin," says board-certified dermatologist Hadley King, M.D. "But they're also great for sun-damaged skin because they have been proven to be effective in reducing the appearance of too much UV exposure."
They not only improve the appearance of sun damage (i.e.: dark spots, crepey skin, et al.), but research shows that AHAs can actually promote collagen production when used topically. This is helpful because UVs dramatically deplete collagen in the body and can hinder your natural ability to produce new collagen and elastin.
So how should you use an AHA body wash?
Here's the caveat: You should really only make the switch post-sun escapades. Because while AHAs are great for reversing sun damage, they can also make you more susceptible to burning. Read: Don't use this in your morning shower before an excursion outdoors. Save it for an evening rinse when you figure you won't be exposed to too many UV rays the next day.
Finally, since these are technically exfoliators, you should be mindful of how often you are using them. If you tend to have dry skin, stick to once a week; everyone else can manage two or three times a week.
And remember, you shouldn't conflate a body exfoliator and face exfoliator. "Body exfoliators shouldn't be used on the face. They are often thicker in consistency and contain higher concentrations of acids and could be too irritating for delicate facial skin," says board-certified dermatologist Raechele Cochran Gathers, M.D. "Likewise, using a facial exfoliation on your body may not be strong enough to give you the results you're looking for."
Help revive your post-summer skin with an AHA body wash—it will keep skin looking dewy, supple, and youthful for longer. Plus, it's so easy to incorporate: Swap it in a few times a week, and let your skin thrive.
Want to turn your passion for wellbeing into a fulfilling career? Become a Certified Health Coach! Learn more here.