Drink This To Make Your Gut & Metabolic Health Soar, Says An MD

mbg Beauty & Wellness Editor
By Jamie Schneider
mbg Beauty & Wellness Editor
Jamie Schneider is the Beauty & Wellness Editor at mindbodygreen. She has a B.A. in Organizational Studies and English from the University of Michigan, and her work has appeared in Coveteur, The Chill Times, and Wyld Skincare.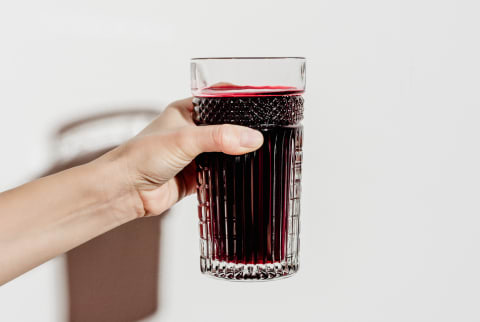 Image by Tatjana Zlatkovic / Stocksy
May 8, 2023
Our editors have independently chosen the products listed on this page. If you purchase something mentioned in this article, we may
earn a small commission
.
Your gut is a microbial galaxy of about 39 trillion bacteria. Yes, you read that right: "That's more bacteria in your gut than stars in the night sky," world-renowned physician and researcher William Li, M.D., author of Eat To Beat Your Diet, shares on the mindbodygreen podcast. And these bacteria communicate with each other at all hours of the day to support different functions, like metabolism, immunity, skin health, brain health, and so much more.
It can be overwhelming to reflect on the scope of your gut microbiome, but according to Li, "We're beginning this expedition into the great unknown to discover the important bacteria." One of those important discoveries happens to be a bacteria called Akkermansia muciniphila1. "This one bacteria has been discovered to be a guardian of our health," Li adds.
Advertisement
This ad is displayed using third party content and we do not control its accessibility features.
And it turns out, a very simple tonic can promote the growth of this very vital bacteria: 100% pure pomegranate juice.
Why pomegranate juice is great for gut & metabolic health
"Akkermansia is a guardian," says Li. "It helps insulin control—if you've got good Akkermansia working on your behalf, it actually lowers the risk of Type 2 diabetes. It also seems to influence body fitness." He references a study in which high amounts of Akkermansia are associated with lower risk of obesity2. "That association is really important because of the role of Akkermansia and controlling your insulin and metabolism," he adds.
Suffice it to say: This is one powerful gut bacteria. Yet despite the complex nature of your gut microbiome, it's not too difficult to promote Akkermansia naturally. According to Li, all it takes is some pomegranate juice: "It turns out that certain kinds of polyphenols, ellagitannins, will actually prompt your gut to secrete more mucus," he notes. And mucus serves as the "soil" this bacteria needs in order to thrive.
Pomegranate and pomegranate juice contain these ellagitannins3, which have been shown to stimulate the growth of 4Akkermansia4 in in vitro culture studies. Li recommends drinking an 8-ounce cup of pure pomegranate juice to get things grooving: "Two shot glasses worth is enough to get the mucus flowing in your gut," he notes. Although, pure pomegranate juice can be pretty tart, which is why many commercial options often contain added sugar—and consuming refined sugar has its own gut health-related issues.
You could also, of course, munch on whole pomegranate seeds. But you'd have to eat a whole bunch of 'em to get a meaningful amount of the juice. As for pomegranate powders and extracts? "That will probably work as well," Li says. "The research hasn't been done to compare those things head to head, but I think you can have juice [or supplements]." It's the ellagitannins in pomegranate that have the beneficial effect, which are present in pomegranate extracts.
Just make sure you find a supplement that uses at least 100 milligrams of premium, 100% pomegranate whole fruit extract—there's a lot of "fairy dusting" in the supplement world. We vetted some of the best options for you here if you need some help navigating the market.
The takeaway
Plenty of foods can feed the healthy microbes in your gut. But if you're looking to nourish Akkermansia muciniphila in particular, you might want to consider stocking up on pure pomegranate juice. Pour it over ice with a bit of sparkling water, and you've got yourself a refreshing, gut-healthy pomegranate spritz—or you can always opt for the supplement route if you'd like to maintain a daily dose of pomegranate.
Advertisement
This ad is displayed using third party content and we do not control its accessibility features.