Whole30 Just Launched A Brand-New Line Of Dressings & Sauces — And We Couldn't Be More Excited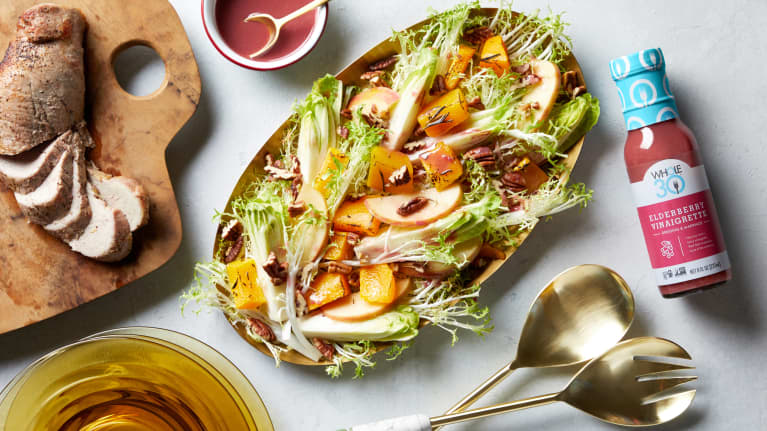 Our editors have independently chosen the products listed on this page. If you purchase something mentioned in this article, we may
earn a small commission
.
A top-notch sauce or dressing can make all the difference in the flavor of a healthy meal. But, unfortunately, most premade dressings you find gracing the shelves of your local grocery store aren't exactly filled with the best ingredients. And making your own dips and sauces at home isn't always a time-friendly option.
That's why mbg was thrilled to find out that Whole30 is launching their own brand-new line of dressings and sauces, available exclusively on Thrive Market. Yes, that means they're made without added sugar, gluten, soy, dairy, gums, fillers, or natural flavors—per Whole30 guidelines.
For the scoop on this exciting debut, mbg chatted with Whole30 co-founder and CEO Melissa Urban to learn about the inspiration, ingredients, and best ways to use these brand-new dressings.
What inspired the launch of a Whole30-branded product?
"Everything we do starts with an idea from the Whole30 community or a pain point we observe," says Urban.
"For years now, we've been hearing people say, 'When I see the Whole30 Approved logo on something, I know right away I can trust the ingredients,'" she says, "I believe many mindbodygreen readers have adopted a specific diet that works best for them, and you don't have to be on a Whole30 to appreciate our high-quality, thoughtfully chosen ingredients."
Still, Urban felt conflicted about launching a branded product: "Our mission has always been to serve the community, not create stuff to sell them. There's a reason the entire Whole30 program has always been free!"
But thanks to some market research, Urban and her team found, "our community would be psyched to find a Whole30-branded product on the physical or virtual shelf." So after making sure every single aspect of this debut product was designed with followers in mind, "launching our own line of dressings and sauces was an inevitable and exciting next step," she says. "I'm confident now that the time is right, and I'll never regret being patient and continuing to build that trust and loyalty with our community."
Why dressings and sauces?
Of all the products to launch with, the Whole30 team made a conscious decision to debut with dressings. "On the Whole30, dressings and sauces are life. They add flavor and variety to meals and are a quick and easy way to pull together simple ingredients," says Urban.
"But it's not always easy to find an added-sugar-free, soy-free, dairy-free option, and I personally had some flavor profiles that I leaned on heavily but was tired of whipping up at home. Did we create a whole product line because I was feeling lazy? Maybe. (Joke's on me, this was two years of incredibly hard work to pull off.)"
As for the flavors? Each was inspired by Urban's own kitchen creations and local flavors from her home state of Utah. They include:
So, what's unique about these dressings?
OK, so clearly these dressings check all the standard Whole30 boxes, but what else stands out about these bottles?
For starters, the folks at Whole30 prioritized health and environmental impact during product development. "We debated bottle materials (choosing glass over plastic), the bottle size (big enough for a family but not so big it's cost-prohibitive), and especially the dressing base," says Urban. "We considered avocado oil, coconut oil, and extra-virgin olive oil but settled on an expeller-pressed high-oleic sunflower."
They also decided to steer clear of vegetable gums and added flavors, "to accommodate those with sensitive digestive tracts," she says, "opting instead for herbs, spices, and fruits as seasonings."
The best ways to use the dressings.
Of course, these dressings are a perfect addition to any veggie-rich salad, but Urban loves using them in a variety of ways.
"Marinating is a vastly underrated way to add tenderness and flavor to meat and veggies," she says. "Yes, you have to plan ahead, but even if you can't, a 15-minute marinade of your steak, chicken wings, or cauliflower can work wonders to transform your meal, especially if you drizzle a bit of the same dressing over the top before serving."
The creamier offerings are also fantastic as dips. "Try a meat stick in the Secret Sauce, burned broccoli (it's a thing) in Creamy Balsamic, and your kids' favorite air fryer nuggets in House Ranch."
As for other ways to use the dressings, try some of the recipes below.
Twice-Baked Ranch Potatoes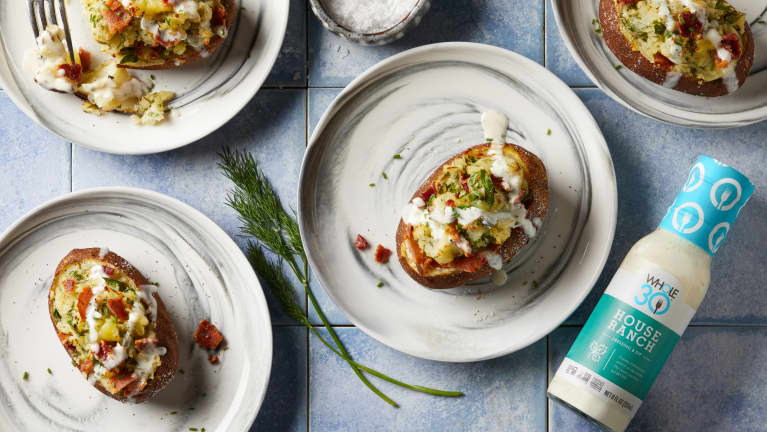 Prep: 15 minutes
Bake: 60 minutes
Stand: 10 minutes
Cook: 8 minutes
Total: 1 hour, 33 minutes
4 medium (6 to 8 ounces each) russet potatoes, scrubbed
Olive oil
Coarse salt
3 slices WHOLE30-compliant bacon
¼ cup WHOLE30 Ranch Dressing
2 tablespoons ghee
2 tablespoons chopped fresh parsley
2 tablespoons snipped fresh chives, plus more for garnish
1 tablespoon chopped fresh dill
1 clove garlic, minced
¾ teaspoon coarse black pepper
Preheat oven to 425°F. Scrub potatoes with a brush; pat dry. Prick potatoes with a fork. Rub potatoes with oil and sprinkle with salt. Place potatoes on a baking sheet. Bake until fork-tender, 40 to 50 minutes. Let stand 10 minutes.
Meanwhile, in a large skillet, cook bacon until crisp, about 8 minutes. Transfer to a paper-towel-lined plate. When cool enough to handle, crumble bacon. Set aside.
Cut a lengthwise slice off the top of each baked potato; discard skin from slices. Scoop out the potato pulp into a medium bowl, leaving ¼-inch shell wall. Place potato shells on the baking sheet. Mash the potato with a potato masher until almost smooth. Add ghee, dressing, parsley, chives, dill, garlic, and black pepper. Mash to combine. Spoon seasoned potato into the shells.
Bake potatoes until light brown on top, about 20 minutes. Sprinkle with bacon and additional chives.
Pork Tenderloin With Endive-Frisée-Apple-Squash Salad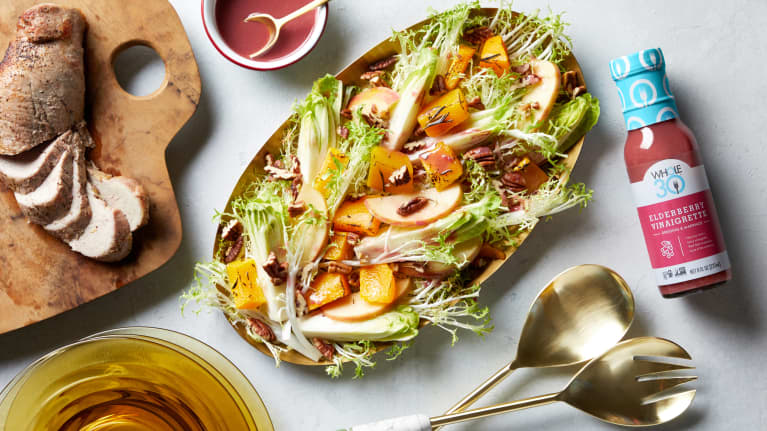 Prep: 20 minutes
Bake: 25 minutes
Total: 45 minutes
1 natural pork tenderloin (1 to 1¼ pounds)
½ cup WHOLE30 Elderberry Vinaigrette
1 1½ - to 1¾- pound butternut squash, peeled, seeded, and cut into ¾-inch pieces or 3 to 4 cups precut fresh butternut squash
3 tablespoons extra-virgin olive oil
3 teaspoons finely chopped fresh rosemary or 1 teaspoon dried rosemary, crushed
1 clove garlic, minced
½ teaspoon black pepper
¼ teaspoon coarse salt
100% olive oil cooking spray
3 Belgian endives, stem end trimmed, cut crosswise into ½-inch slices (about 4 cups)
4 ounces frisée, trimmed and torn into bite-size pieces (about 3 cups)
1 small apple and/or red pear, cored and chopped
½ cup pecans, toasted and coarsely chopped (see Tip)
In a resealable plastic bag, combine the pork and ¼ cup of the vinaigrette and turn the meat to coat. Seal the bag and marinate in the refrigerator, turning occasionally, for 2 hours.
Meanwhile, place squash in a medium bowl. In a small bowl, stir together the oil, rosemary, garlic, salt, and ¼ teaspoon of the black pepper. Toss to combine.
Preheat oven to 425°F. Line a rimmed baking sheet with foil, then lightly coat with cooking spray. Remove the pork from the marinade; discard the marinade. Place the pork on one half the prepared pan. Season the pork with the remaining ¼ teaspoon black pepper. Place the squash on the other half of the pan in a single layer. Bake for 15 minutes; stir the squash; bake 10 minutes more or until squash is browned and crispy and pork is done (145°F). Remove from oven; let stand 3 minutes. Cut into ¾-inch-thick slices.
Meanwhile, in a large bowl, combine endive, frisée, apples, and pecans; drizzle with remaining ¼ cup vinaigrette, and toss to coat. Divide meat and salad among four plates. Top salad with squash.
Tip: To toast pecans, preheat oven to 350°F. Spread nuts in a shallow baking pan. Bake 5 to 10 minutes or until nuts are lightly toasted.
"We want [consumers] to pick up a dressing their whole family will love and not have to think twice about what's in it or whether it fits their dietary preferences," says Urban. "It's so exciting to think these little glass bottles are going to help people change their lives one meal at a time."