paid content
 for

When It Comes To Younger-Looking Skin, Here Are The Ingredients To Look Out For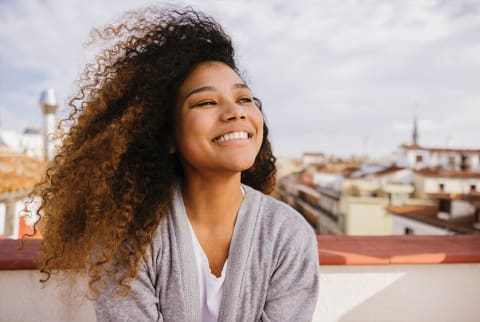 Image by VICTOR TORRES / Stocksy
June 1, 2022
Creases, fine lines, and wrinkles are a healthy part of the aging process—but sometimes they appear quicker than we'd like. Luckily, there are things we can do to slow down the development, such as implementing a targeted skin care routine. However, when it comes to shopping the (metaphorical) skin care aisle, it can be hard to know what to look for. That's where we come in.
To help you in your search, we spoke with board-certified dermatologist Dr. Dendy Engelman, who shared her go-to tips for promoting younger-looking skin, including the top ingredients and products to look out for—like those offered through NOW® Solutions. With a vast lineup of research-based, affordable skin care products, and beauty-from-within supplements derived from pure ingredients, NOW® Solutions is an in-house fave. But we got the full scoop from Dr. Dendy.
mbg: What are some things we can do to slow down the development of fine lines? 
Dr. Dendy: One of the most important things you can do for your skin to slow down the development of fine lines is to protect your skin from the sun. In doing so, you need to limit the time you spend in the sun, more particularly, when the UV index is high (usually during midday). You should always wear sunscreen, year-round.
Additionally, you should choose a topical skin care product that is right for you and the issues you are trying to tackle. NOW® Solutions Bakuchiol Serum is great because it contains bakuchiol, which is a plant-based retinol alternative for more sensitive skin that can help combat the appearance of imperfections and wrinkles. This beauty renewing formula moisturizes and refines for visibly younger-looking skin. Their Blemish Clear Gel Cleanser also includes this plant-based alternative that can aid in reducing the appearance of fine lines and wrinkles.
mbg: What are the top ingredients to look out for when it comes to promoting younger-looking skin?
Dr. Dendy: Some of the top topical ingredients to look out for when it comes to promoting younger-looking skin are retinoids, or vitamin A compounds such as retinol and retinoic acid. For those with more sensitive skin, choosing a plant-based retinol alternative like bakuchiol is a great option. Also, products that include vitamin C (ascorbic acid), tea extracts, coenzyme Q10, hyaluronic acid, collagen, and astaxanthin all help with promoting youthful-looking skin.*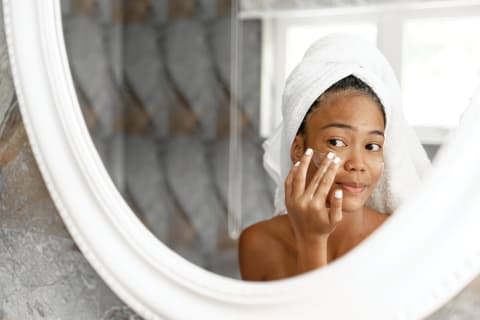 Image by Atolas / Stocksy
​​mbg: How do each of these ingredients work to support youthful skin?
Dr. Dendy: Ingredients listed above, especially vitamin C, retinol, and vitamin A all help keep the skin looking younger because they offer protection from free radicals, which helps brighten your skin, calm irritation, and smooth fine lines. Topical retinol or its plant-based alternative, bakuchiol, is a healthy way to reduce the appearance of wrinkles.
Hyaluronic acid is a natural component of skin and exists in all connective tissue in the body. Dietary supplements—like Hydration Rescue—with hyaluronic acid can help the skin retain moisture, making the skin look more youthful and radiant.* Finally, supplemental astaxanthin is a clinically validated ingredient that helps promote the health of the skin's collagen layer, support skin hydration, promote smooth skin, and enhance skin elasticity.*
mbg: How can we best integrate all of this into our skin care routine?
Dr. Dendy: The best way you can integrate these ingredients into your skin care routine is by picking the right products that work for your skin type. This can come with a lot of trial and error, but eventually, you'll figure out a routine that works for you. Some products that can be integrated across skin types include Hyaluronic Acid Hydration Facial Mist (great topical mist hydration boost for any time of day), Vitamin C + Ferulic Acid Serum (can help brighten and tighten, and this topical serum can be used both morning and night) and Aquatic Beauty Powder (collagen + astaxanthin supplement that can be mixed into a favorite beverage or even just water, any time of day). These all deliver bioactive ingredients that directly target your skin to make it more youthful in the most healthy and natural way possible.*
Glow up here we come.
Personally, there's nothing we love more than shopping for skin care products—especially ones that help to promote a youthful glow. And now that we have an expert-informed list of key ingredients and products to look for, it's officially time for a shopping spree. We'll take all of the above—please and thank you.
*These statements have not been evaluated by the Food and Drug Administration. This product is not intended to diagnose, treat, cure or prevent any disease.

Ryan Brady
Ryan Brady is a Freelance Writer at mindbodygreen. She received her B.A. in Visual Arts from Yale University and her M.A. in Clinical Psychology with concentration in Spirituality and Mind-Body Practice, from Columbia University.
Ryan is passionate about holistic health, fitness, and spiritually-centered living. She loves using her knowledge and personal experience to help others improve their well-being. She brings this passion to her writing, as well as to her work at the wellness centers she owns in Atlanta, GA. When she's not working, Ryan can be found traveling, spoiling her dog, or experimenting with gluten free, dairy free baking.