Exactly What Tom Brady Eats Daily To Fuel His Impressive Fitness Longevity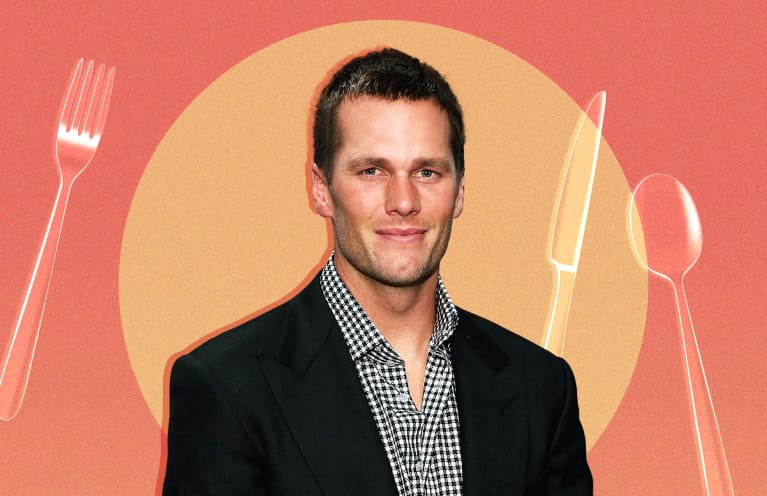 Our editors have independently chosen the products listed on this page. If you purchase something mentioned in this article, we may
earn a small commission
.
February 6, 2021 — 10:28 AM
This coming Sunday, quarterback Tom Brady is making history as the first person in the NFL to play in 10 Super Bowl games. Aside from performing this first-of-its-kind feat, Brady will also make history as the oldest NFL athlete to play in the event.
Though the 43-year-old is still young by most standards, he's practically a centenarian in football years. According to the NFL Players Association, the average NFL career lasts only 3.3 years, compared to Brady's 20. More recently, NFL athletes are choosing to retire early to avoid concussions and support long-term brain health.
These stats raise the question: Aside from his disciplined fitness routine, what kind of nutrition plan is fueling Brady's seemingly superhuman fitness performance? We chatted with the team at TB12, a health and wellness brand co-founded by Brady and trainer Alex Guerrero, to find out exactly what Brady eats every day.
According to TB12, Brady wakes up at 6 a.m. every morning and hydrates with 20 ounces (or 2.5 cups) of water. He'll wait about 30 minutes to an hour before eating breakfast, which consists of a nutrient-dense smoothie.
Brady's favorite smoothie, according to the reps, contains antioxidant-rich blueberries, bananas, seeds, and nuts for fiber, as well as TB12 whey protein isolate for added protein.
Following his morning working (between 8 and 10 a.m.), he'll refuel with a protein shake and a TB12 lemon electrolyte drink.
By the time lunch rolls around (12 to 1 p.m.), Brady typically enjoys plenty of hearty vegetables for an essential dose of plant-based vitamins and minerals and a piece of fish. Along with being a sustainable source of protein, fish also provides omega-3 fatty acids, which support brain health and may lower inflammation.
And yes, even Brady craves a midafternoon snack. Around 2 to 3 p.m., the Tampa Bay Buccaneers QB will eat nuts, or hummus with raw veggies or crackers, and wash it down with another electrolyte-rich drink.
Brady and his wife, philanthropist, supermodel, and mbg Collective member Gisele Bündchen, prioritize family meals for dinner. According to TB12, these meals are always nutrient-dense with a diverse array of vegetables. In general, Brady's nutrition plan focuses on consuming a meal with roughly 80% plant-based foods and 20% animal-based foods.
Oftentimes, Brady will sip bone broth with dinner, which supports gut health, fights inflammation, and may even reduce stress.
With all that pressure riding on a seventh Super Bowl ring, Brady could certainly benefit from stress reduction. That's why he prioritizes getting at least eight hours of sleep each night and, similar to Bündchen, engages in a meditation practice.
Want to turn your passion for wellbeing into a fulfilling career? Become a Certified Health Coach! Learn more here.