Eat This For Breakfast To Enhance Energy & Cut Cravings, Says An MD
Assistant Beauty & Health Editor
By Hannah Frye
Assistant Beauty & Health Editor
Hannah Frye is the Assistant Beauty Editor at mindbodygreen. She has a B.S. in journalism and a minor in women's, gender, and queer studies from California Polytechnic State University, San Luis Obispo. Hannah has written across lifestyle sections including health, wellness, sustainability, personal development, and more.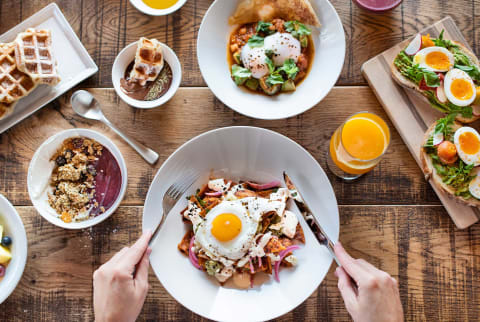 Image by Jarusha Brown / Stocksy
March 25, 2023
We carefully vet all products and services featured on mindbodygreen using our
commerce guidelines.
Our selections are never influenced by the commissions earned from our links.
Most people customize their daily menu according to tastes they love and, oftentimes, health goals they have. Some prioritoze muscle-building foods, others skin-loving foods, and some, simply balanced meals.
No matter where you fall, there's no harm in adding some dopamine-rich foods to your plate. On a recent episode of the mindbodygreen podcast, integrative medicine doctor Amy Shah, M.D., author of I'm So Effing Hungry explains how to do just that and why it works to cut cravings and boost energy—here's a quick overview.
What are dopamine foods?
What are dopamine-rich foods, you ask? They're essentially foods high in protein—yogurt, eggs, nuts and seeds, etc. "Naturally high-protein foods are the dopamine-rich foods, because they contain an amino acid called tyrosine, which converts into dopamine in the brain, and it's a great way to start your day," says Shah.
The link between dopamine & cravings.
Cravings are fueled by dopamine, says Shah, as opposed to nourishing your body. That said, you can "hack" those cravings by giving yourself a big burst of dopamine via protein-rich foods, especially early in the day.
"In the morning, you want to break your fast with dopamine-rich foods because you want that motivation, you want that drive, you want that energy," adds Shah. "Dopamine is closely related to norepinephrine1, which gives you that adrenaline boost in the morning." Protein-packed breakfasts also help you stay full2, so you're less likely to engage in compulsive snacking throughout the day.
High protein foods.
That said, you'll want to ensure you have some high-protein ingredients in your daily breakfast. It doesn't have to be the same dish every morning (unless you love the ritual of a consistent first meal), so feel free to pull inspiration from the foods and recipes below and keep them on hand.
Here's a quick list of some ingredients you may want to experiment with:
Eggs
Turkey sausage
Cottage cheese
Oats
Greek yogurt
Chickpeas
Lentils
Chicken breast
Smoked salmon
Recipes to try out. 
1.
Veggie-packed Breakfast Caserole
1 pound frozen vegetables of choice, thawed (you can also sauté fresh vegetables in olive or avocado oil if preferred)
2 to 3 teaspoons desired spices (sea salt, pepper, red pepper flakes, garlic powder, turmeric, paprika, and oregano)
8 eggs, whisked, or 2 cups liquid egg whites
1 cup cultured cottage cheese (optional)
Preheat the oven to 400°F. Line a 9-by-13-inch baking pan with parchment paper.
Heat the frozen veggies and spread evenly over the baking pan. If using fresh, sauté them before adding to the baking dish.
Pour the eggs or liquid egg whites on top and then drop spoonfuls of cottage cheese over the eggs & veggies.
Bake at 400 for 35 to 45 minutes or until eggs are set.
This dish will keep up to 5 days, covered, in the fridge.
2.
Mint Chocolate Collagen Smoothie
1 scoop chocolate beauty & gut collagen+
2 handfuls spinach
1 cup unsweetened oat milk (or milk of your choosing)
1 banana
½ an avocado
½ cup plain, full-fat Greek yogurt
1 tablespoon hemp seed hearts
5 drops pure peppermint extract
A handful of ice
A pinch of salt
2 squares dark chocolate (optional; Loewe likes to use Supplant, made from plant fiber waste)
Add all ingredients to a blender and blend until smooth. Add more milk to reach your desired consistency.
Taste and adjust flavors as needed.
1 cup plain unsweetened oat milk
Pinch of kosher salt
1 cup rolled oats
1 teaspoon jaggery
2 teaspoons ground turmeric
Pinch of freshly ground black pepper
2 whole cardamom pods
2 tablespoons non-hydrogenated plant-based spread
½ cup blueberries, for garnish
½ cup raspberries, for garnish
In a medium pot over high heat, bring 1 cup of water and the oat milk and salt to a boil.
Once boiling, add the oats, stir, and reduce the heat to medium-low. Add the jaggery, turmeric, black pepper, and cardamom pods.
Stir and continue simmering for 6 to 8 minutes, until the oats have swelled and are soft and the oatmeal is bright yellow. Add 1 tablespoon of the non-hydrogenated plant-based spread and stir.
Pour the oatmeal into a bowl and garnish with the berries and remaining tablespoon of non-hydrogenated plant-based spread. Serve immediately. Enjoy!
The takeaway. 
The next time you go to make your favorite breakfast, be sure to add some protein-rich (and thus dopamine-rich) foods to your plate. This way, you'll be able to enhance your energy for the day and limit unwanted cravings. Bon appétit!
Hannah Frye
Assistant Beauty & Health Editor
Hannah Frye is the Assistant Beauty & Health Editor at mindbodygreen. She has a B.S. in journalism and a minor in women's, gender, and queer studies from California Polytechnic State University, San Luis Obispo. Hannah has written across lifestyle sections including skin care, women's health, mental health, sustainability, social media trends, and more. She previously interned for Almost 30, a top-rated health and wellness podcast. In her current role, Hannah reports on the latest beauty trends and innovations, women's health research, brain health news, and plenty more.