How A Chef Is Spinning Dinner Gold Out Of What's In Her Freezer, Fridge & Pantry

Executive chef & author
By Abra Berens
Executive chef & author
Abra Berens is the executive chef at Granor Farm, a certified organic farm in southwest Michigan, and the author of three cookbooks.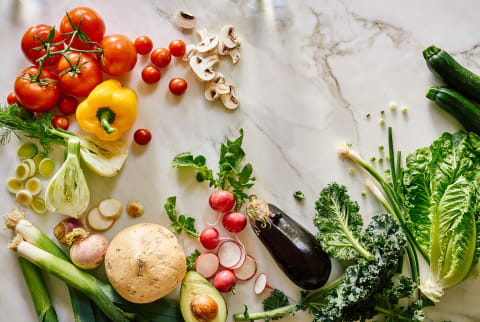 Image by Trent Lanz / Stocksy
April 15, 2020
I don't make New Year's resolutions anymore. Instead, I make it the Year of [fill in the blank]. Something (or a few things as is often the case) to focus on throughout the year—to pick up and set down, to come back to and build as a habit and then decide if it is worth keeping with me over time. This year is the Year of Pasta and the Year of Using It Up.
It has never occurred that a global catastrophe has helped me focus on my "Year of" as intensely as now. I've been using these last several weeks to really dive into what is in my freezer and pantry and find ways to spin that into gold each night. That, combined with the fun of making at least one fresh pasta or dumpling a week, has been a welcome way to channel the innumerable emotions coursing through all of us.
First stop, the freezer. 
I live in rural Michigan and am lucky enough to enjoy the space to have a chest freezer. Two, in fact, because when it comes to food storage, I'm a more-is-more sorta gal. Chest freezers are wonderful except that I always want to fill them, and the way that they are built means that things often get lost in the bottom. I took inventory and made a list of the things that I had the most of—chicken stock, a lot of different types of dough made for projects here and there, and quarts of eggplant stew from the summer. In addition to the things I had in volume were the random one-off things that hadn't yet found a home—one rack of lamb, one ball of pie dough, a quart of cooked lentils from when I made too much, a quarter bag of frozen peas.
I took care to not make the list too long because then the items would just get as lost in the list as they were in the freezer. Instead pick five things and focus on getting those out of the deep freeze and into a meal.
As I was sorting through everything, what struck me the most was the number of things that I was saving for a special occasion—a pound of jumbo prawns, a tin of very nice caviar, two rib-eye steaks. The first week of shelter in place, I'm a little ashamed to admit, my husband and I were eating like it was every holiday party combined—all the decadent things that I had been saving for just the right dinner party suddenly became a Tuesday night meal. We couldn't remember what day it was anyway, so might as well make every day Saturday to stave off bleakness of all that is swirling around us.
Next, the fridge.
We have an old fridge that is a real gem because it has deep, deep shelves that allow me to push things all the way to the back and leave them there for months on end. I took an hour and deep cleaned the fridge, mostly because it was gunky but also to simply lay eyes on the things that I felt were good enough to save at one point but had forgotten about over time. By simply being reminded of what was on hand, those items were fresh in my mind and over the course of the day wove themselves into dinner ideas.
I cook mostly with vegetables, so it is a touch surprising the sheer number of different animal fats in my fridge. I save the schmaltz and drippings from any sort of roast chicken or pork. We have a dog and have found her favorite treat, and ours, is the remnants of marrow bones after we have roasted and scooped the marrow onto toast with a big green salad. Every time we roast beef bones, there is a lot of fat leftover. Potatoes cooked in beef fat are one of my favorite flavors in the world, but I save the fat and then always forget to roast the potatoes in it.
Same with jars of jams, pickles, and relishes, so I combined like items. Why does one have two jars of half-eaten pickled jalapeños, or, count them: three jars of capers? It's hard to say, but now my fridge was much more reasonable with just a single, fuller jar of each.
At a restaurant I used to run in Chicago, all the cooks would play a game of how many containers of random ingredients could we use up. I knew I was about to start a second round, against myself, and I needed to know what was on hand. By reorganizing the fridge, I simply reminded myself of all the things past-Abra had made that could come in handy today.
Lastly, the pantry.
I, like I imagine most of us, have about 10 jars of ¼ cup or less of any given grain, legume, or dried pulse hanging out in the back of my pantry shelves. Again, simply pulling them forward, dusting them off, and feeling renewed excitement to cook with each ingredient has been an unending source of inspiration these days. I bought that teff flour for a reason; I should try making injera again. If not now, when? If not me, who?
Similarly, there are a lot of spices and condiments that didn't make it into my regular rotation. What better way to spend the time on the internet? Not scrolling but remembering how to use oyster sauce and the more traditional ways to use different spice mixtures.
With these ingredients refreshed in my mind, I started actually meal planning. I never meal plan because I'm privileged enough to be able to whip up a quick dinner with what is on hand most nights. My goal was to use up as much as possible and only have to go to the store maximum once a week. I started actually using my cookbook collection to look up those ingredients and get inspiration from other chefs and authors—an inspiration transfusion because I haven't been feeling particularly motivated or creative lately.
I am a list person. I have a daily to-do list for that day and the upcoming days. In the bottom right-hand corner of that list, I started making a list of dinner ideas anchored by the ingredients at the top of my mind. As I've worked through those ingredients, back to the fridge, freezer, and pantry shelf to bring forth whatever is lurking in the back corner. Then they go on the list. I am newly excited to make dinner and often make enough that breakfast and lunch can be forged from their scraps. Sometimes enough to bring a meal to a friend's house and leave it on their doorstep. It isn't like having dinner together, but it is something.
What I've been making.
There has been a lot of conversation about how we can get back to normal—to return to the things that we are missing out on by staying safe at home. I've been struck by how much was already here. I had just forgotten about it in the back of the fridge.
Here have been some of my favorites along the way:
Fish tacos made with cod scraps and homemade tortillas because for some reason I had two bags of masa on the shelf—blended the pickled jalapeños to make some sort of nontraditional relish
Boiled barley with eggplant stew and spinach salad
Rack of lamb with ramp spaetzel and the last of the mint jelly from an Easter who knows how long ago
Last of the teff Injera with Sri Lankan curried lentils, red cabbage slaw, and coconut braised carrots
Vegetable potpie made with leftover pie dough, all the random vegetables in the fridge, and a ¼ bag of peas from the freezer
Beef fat potato and carrot rosti with a big spinach salad and sour cream
Hand-rolled pinci pasta with shrimp and preserved tomato sauce
Cheese soufflés using up all the ends of pieces of cheese—they are easier than made out to be—with that caviar and potato chips because there's clearly no reason to wait
Want to turn your passion for wellbeing into a fulfilling career? Become a Certified Health Coach! Learn more here.

Abra Berens
Executive chef & author
Abra Berens is the executive chef at Granor Farm in Three Oaks, Michigan, and the author of three cookbooks: Grist: A Practical Guide to Cooking Grains, Seeds, and Legumes, was named a Best Cookbook for Winter 2021 by Eater. Ruffage: A Practical Guide to Vegetables, was named a Best Cookbook for Spring 2019 by The New York Times and Bon Appetit, was a 2019 Michigan Notable Book winner, and was nominated for a James Beard Award. Her latest cookbook is Pulp: A Practical Guide To Cooking With Fruit.
Abra started her chef career at the storied Zingerman's Deli in Ann Arbor, MI before going on to train in the garden-focused kitchen at Ballymaloe Cookery School in Cork, Ireland. In 2009, she founded Bare Knuckle Farm in Northport, MI, where she farmed and cooked for eight years, and then returned to the kitchen full time to open Local Foods Chicago, IL. As the current executive chef at Michigan's Granor Farm, Abra creates all of her dishes using ingredients from the restaurant's organic farm and hosts popular one-of-kind dinner events with the goal of connecting people with the best of South West Michigan's diverse agriculture.