paid content
 for

9 Fascinating Wellness Trends Inspired By Human Potential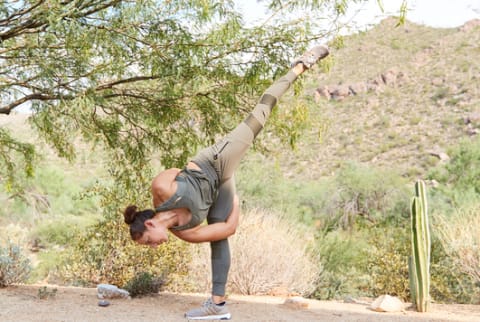 September 28, 2017
Earlier this month, we teamed up with INFINITI at our annual wellness summit, revitalize, to bring guests the latest and greatest in wellness tech. From tuning into the frequency of happiness to using a veggie-meter to test how many fruits and veggies you actually ate in a day, the activities all aimed to help us reach peak performance. The space where wellness meets tech is rapidly expanding, but these are our current favorite ways to geek out about fitness, nutrition, and health:
1. Tune your body to the frequency of happiness.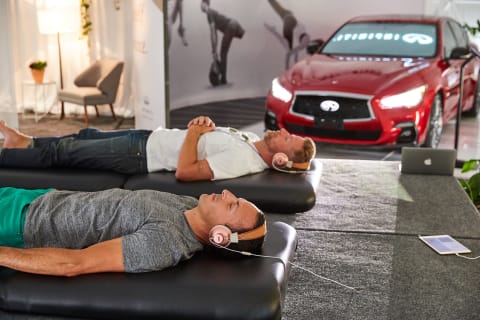 Kyle Godfrey-Ryan, founder of Tune.Studio, set up two beds, each equipped with a pair of around-ear headphones. Musical vibrations are piped into the client's ears, and the idea is that your mind, body, and breath will sync to them. Guests said they felt more relaxed after 15 full minutes of happiness beats. "I did it Sunday, the last day of revitalize and I was exhausted. After tuning in, I felt totally relaxed, refreshed, and revitalized. I would do it every day," said mindbodygreen's founder and CEO Jason Wachob.
2. Feel majorly inspired.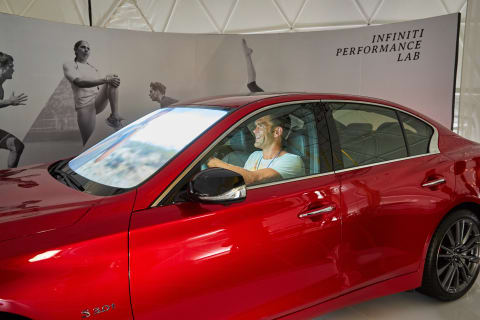 In a new-age art installation, videos of celebrity trainer Todd McCullough (known as "TMAC"), instructor and Shauna Harrison, yogi Tara Stiles, and CrossFit expert Kenny Santucci were projected onto the windshield of the INFINITI car. Guests hopped into the car to watch them, which was a welcome, cushy break from the hubbub of the event—a mini-recharge. Each ambassador revealed how he or she achieves "Peak Performance," and what means to them. Guests didn't want to get out once the videos were over! You can see all the videos together here [link to hub].
3. Test your veggie-eating superpowers.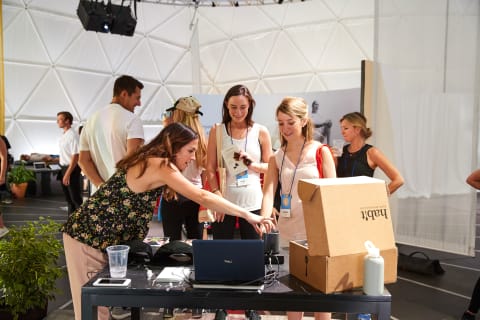 Stick your index finger into Habit's veggie-meter and it measures how many fruits and veggies are in your system by the carotenoid pigments in the skin of your fingertip. Rumor has it that scores improved over the weekend, thanks to the plethora of plant-based foods on-site.
4. Freshen up your fascia.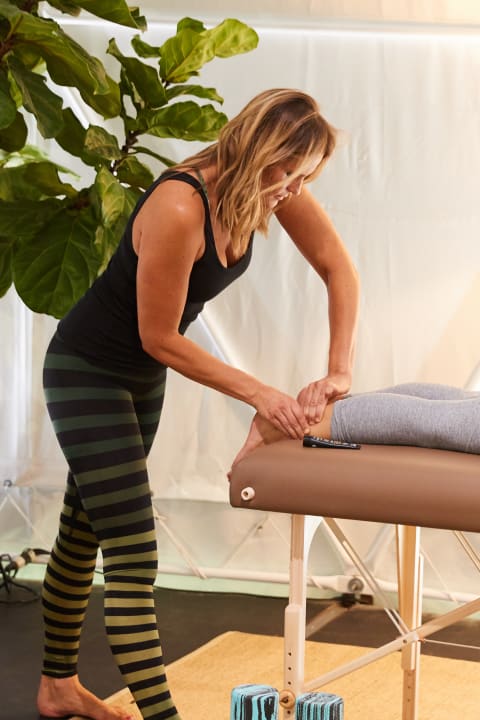 After a long flights, intense fitness classes, and sitting through content seminars, guests had the opportunity to book an appointment with mbg class instructor and foam-rolling expert Lo Roxburgh. Foam rolling not only feels amazing, but helps improve posture, restores structure, and offers major relief to sore muscles.
5. Strengthen your stride.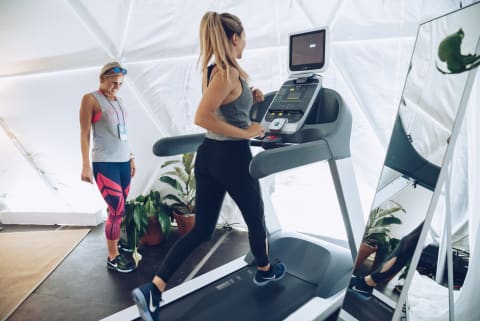 Ironman champion Hillary Biscay had a treadmill in the dome she used to read people's running strides. Even advanced runners can benefit immensely from a slight tweak in form, and a professional athlete who's run more than 60 ironman races in her lifetime knows a thing or two about form and longevity.
6. Demystify your metabolism.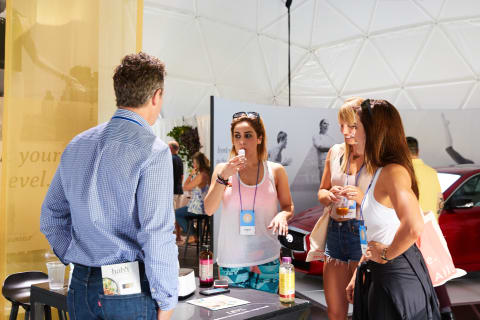 Blow into LEVL, a breath meter, not to see how tipsy you are, but to get a reading of approximately how much fat you're burning right this minute. The idea is to see real-time feedback on your lifestyle choices in order to understand when you can splurge or reel it in.
7. Charge your brain.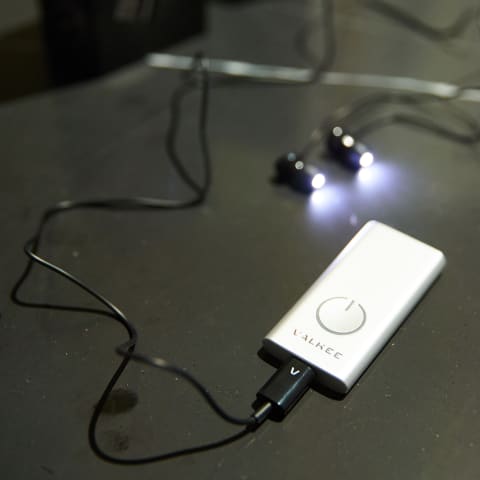 Yup, HumanCharger provides LED lights that go into your ears and boosts your mood and energy levels. The buds direct light into the most sensitive areas of your brain where it's needed most (so if you're sensitive to light, this may not be for you.) It's especially useful for weary, jet lagged travelers and seasonal affective disorder.
8. Take a deep breath.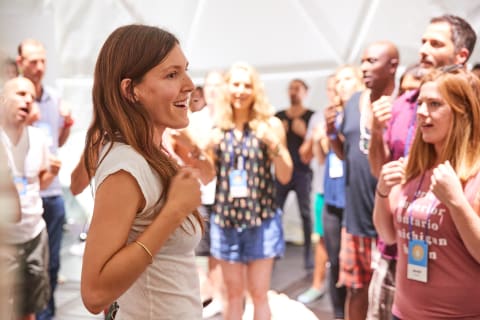 Breathwork teacher Ashley Neese, as well as dynamic duo Brian Mackenzie and Andrew Huberman, Ph.D., held breath-centric workshops in the dome. With Neese, class participants learned that the breath is what connects our consciousness and subconscious. Mackenzie and Dr. Huberman, on the other hand, stimulated the breath and focused on lengthening the exhale to help build carbon dioxide tolerance. Different strokes for different folks!
9. Get in a good sweat.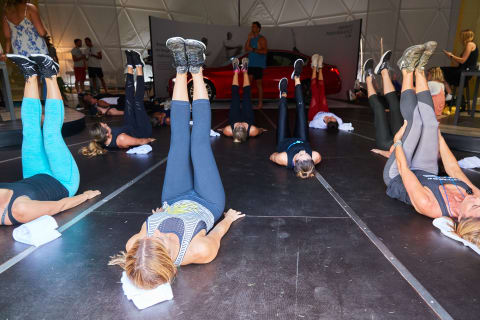 Todd McCullough taught his signature TMAC20 workout, an expertly sequenced series of movements designed to work your entire body using mostly body weight. Shauna Harrison led the group through one of the most challenging yoga classes ever, her signature Muscle and Flow sequence, combining bodyweight HIIT movements with challenging asanas. Both had guests breaking a sweat and coming back for more!